Frank Mansell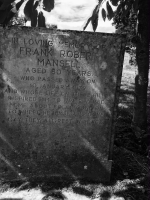 Frank Mansell.
It's the twenty-third of August 2016. Bobby and I are sitting at the Laurie Lee bar in the Woolpack pub at Slad in Gloucestershire. Him talking to anyone who will listen. Me thinking about Frank Mansell. A poet and close friend of Diddley's.
She grew up and went to her first school in Slad. A beautiful village in a valley near Stroud, made famous by Laurie Lee's iconic book "Cider With Rosie". His autobiographical story of growing up in a disappearing world. Where the traditional village life of centuries was being lost to the march of progress. Particularly the motor car.
He had a great friend in Frank Mansell. Another poet with his head in the clouds, writing beautiful words while climbing telegraph poles as a Post Office engineer. A demon fast bowler for the village club of Sheepscombe nearby to Slad.
What follows is Diddley's own account of her friendship with Frank. A suspicion of poetic licence not realised following Bobby finding letters and poems that revealed a real friendship. Between a fourteen year old girl and a forty seven year old poet. That was entirely proper but not something that would be acceptable today I suspect.  Frank fancied Diddley's mum Sarah. The feelings were not reciprocated due, apparently, to his excessively large underpants. But his friendship with her daughter endured until he died in 1979. By then long distance as she had married and moved away. Her most famous story being driven in his three wheeler Robin Reliant van a la Del Boy to Cherington lake. A beauty spot. To talk about vegetarianism. Astrology. And drink Glenfiddich whisky at fourteen……
When she and Bobby married, he was often taken to Frank's grave at Misserden in February at snowdrop time. To Sheepscombe cricket club, where a dramatised Laurie Lee perspective had Lee himself talking about Frank bowling and an actor running into bowl where the batsmen could only see the top of his head at the beginning of his run. The pitch being on the side of a hill. We would love to see that film again.
Frank the poet became Frank the cat in his memory. A cat who was buried after being knocked down by a car and reincarnated when it was realised as he purred by his own grave. Wrong cat.
Frank's most well known work is his book Cotswold Ballads. Her most prized possession. If you look at the frontispiece you will notice "Foreword by Laurie Lee". "Wood engravings by Robert Ball". Bobby's real name. She lost a record of Frank reading his poems with some sung by folk singers. Bobby wrote to the SNJ. The Stroud News and Journal. Some people replied. Including Robert Ball himself. Then a very old man. Bobby asked him if he called himself "Bob" and "yes" was the answer. So we had Bob Ball talking to Bob Ball and no mention of that fat bloke with braces. He sent the recording. Nowadays we can all enjoy it through the Sheepscombe village website>>
http://www.sheepscombe.org/frank-mansell/4582675963
And fittingly the recordings were played at Diddley's funeral. A poem by Frank himself and a folk song.
We love the stories about Frank. Love his poetry that evokes a very special relationship that Bobby and I now have with this beautiful part of the world. When we spread Diddley's ashes on Swifts Hill high above Slad they floated unerringly towards the Woolpack. And left us with a legacy to pass onto Diddley's grandchildren.
If you go back to the Sheepscombe website and click on "Cottagers Reply", you will hear Franks wonderful Gloucestershire accent for yourself and see below the cottage he referred to. The Salt Box. We went there and by chance met Robert Eaton who know owns the cottage. His was such an interesting conversation that we will save it for a future blog. Next February, when Bobby will bring his family at snowdrop time to be shown round Salt Box and hear more about their granny's young days. Me, Bobby, granddaughters Jasmine and Layla, Jay, Jasmine's partner and Bobby's first great grandchild. We will stand by Frank's grave and remember two of life's wonderful characters. Drinking Glenffidich by moonlight in a Robin Reliant van at Cherington lakes
Lighting a candle to Diddley
It seems Bobby is well into his Uley Brewery Pigs Ear. So this week's candle is lit in a pub. The Woolpack, Slad.
---