When Bertie met Toffer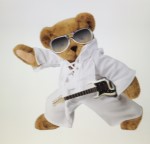 Toffer and Bertie Reminisce
Aldith and Bernard have been friends with Bobby and Diddley for a long time. They knew me as Bobby's bear who sat on the sofa with the children's bears and didn't do much. But thought a lot. When I started the blog I told them all about it.
When Toffer found out, it was only natural that he would want to meet me. Most bears would. Now Aldith and Bernard work for the National Trust at Polesden Lacey. A beautiful country estate. Bobby works for the National Trust too, on nearby Denbies Hillside. Details below. So, it seemed fitting that we should meet at both sometime, but starting at Polesden Lacey. The estate is beautifully situated in the Surrey Hills and we found a nice place with a spectacular view down the valley.
Bertie… So Toffer, thats an unusual name. Where does it come from?
Toffer… I came to Aldith when she was five years old from my cousin Christopher. He had chosen my name. I have had a sheltered life and this is my very first interview. And it's with you, Bertie!
Bertie… The honour is all mine, Toffer. You are my very first bear interviewee! All my other bear friends at home are boring. Never go out. Doubt if they even think, which makes some of us special.
Toffer… I did go to Dolgellau once with all the other bears that Aldith has.
Bertie… In a big heap? In a bag, or in a place of honour? When I went to Whitby with the grandchildren each year I was sitting on the luggage looking out of the window with people in other cars waving to me.
Toffer… I'm a lot smaller than you. And not so outgoing. I have also bought an old friend with me, "Fly", that Aldith has had since she was a small child. Here is a picture of him with the same teething ring and bell he had all those years ago in the picture when she was young.
And I have just remembered. They took me to the Antique Road Show at Dorking Halls in 1999 – and had me valued at £35.
Bertie… WHATTTT! I dont believe it. What ever did they have in mind? Surely not getting rid of you for a few quid? (Sarf London don't forget).
Toffer… I know Aldith does love me. We have been together a long time. During the day I rest on the bed with other bears and at night I am nearby on the laundry basket. I spend every night on her bed. And… she is going to take me out more.
Bertie… Well Toffer, this is your big chance. Your story could be read by lots of people and bears. When they see the pictures, I think they will be very jealous and want to join in. Just make sure Aldith takes you out more and don't be surprised if you are recognised.
Toffer… Thank you Bertie. I have loved today. Have you noticed while we have been chatting here, how many people have come to say hello to us and take our photographs. Even adding their own bears!!
Bertie… Everybody likes teddy bears. They make people smile. They make people happy. They even make people sing. Just listen to this from Elvis in 1957:
Wasn't he a handsome chap then! Younger readers should look at the audience in this clip. In 1957, Elvis in the music scene could have come from Mars. He changed everything. Was, and still is, the "King". The older generation is America was shocked rigid!
The ladies love having their pictures taken with bears. Next time, you must come to see me on Denbies Hillside.
www.nationaltrust.org.uk/polesden-lacey
www.nationaltrust.org.uk/denbies-hillside
---
Lighting a Candle for Diddley
Ahhhh .. those summer days. This is Lefkada, in the Ionian Sea, just south of Corfu. Very green and peaceful . So says Mary Brown. A great friend of Diddley's. This picture will feature in a future blog. Mary and Diddley (and Bobby) worked in the same office. Bobby tells me that Mary was the main matchmaker in setting him off on the romance of the year and seventeen wonderful years married to Diddley. It was Mary to whom Diddley went for comfort when she thought her cat Frank had been killed on the road. Mary who stood by the grave as Diddley buried Frank in her best Laura Ashley dressing gown. And Mary who celebrated his reincarnation when Frank turned up to purr by the grave and they realised. Wrong cat…… (see Frank Mansell earlier blog).
Mary knew Diddley as "sweet pea", in reverence to her love of those heavenly flowers grown for her by Bobby and picked for her desk at work.
And now, fittingly, Mary lit a candle for Diddley in the family chapel of friends in Greece. A friend who had also just lost her loved one. Thank you.
(If you would like to light a candle as Mary has done please let me know…Bertie)
---