Cats
"I've bought you a book, Bobby" said Diddley one day in 2013.
"A Street Cat Named Bob". I only bought it because I like the name!"
"You once bought me 'Greyfriars Bobby' for the same reason" said Bobby. "Good book, that. All about a dog, etc."
"Well this one's about a cat. I hope you like it." said Diddley.
Cats
Frank
It's fair to say that Bobby never really liked cats. Living in Dorking, it seemed they all used his garden as a toilet. When he fell in love with Diddley, she came with Frank. An old tabby. With attitude and a history of triumph over adversity. Named after Frank Mansell, her childhood poet friend.
When she moved to Laurel Cottage from Brockham, a village two or three miles away, he disappeared. Six months later re-emerging in Brockham where he was recognised. Back he came to Laurel Cottage and had clearly toughened up from his experience. And never strayed far away again.
In those early years, Bobby was always working creating a new garden and a refurbished house. He soon got used to the fact that Frank was always there too. He even watched 'Match Of The Day' with him sitting on the top of couch. It was hardly surprising that Bobby started to love him. Looking for him wherever he was particularly in the garden. Even when he bought half dead rats home as a present.
We even heard about his reincarnation when he was run over and buried by Di and friend Mary in her best Laura Ashley dressing gown. Accompanied by a purring Frank. They had buried the wrong cat! Eventually, to floods of tears, he met his maker at the vets and is buried in the garden at Laurel Cottage. In a Laura Ashley dressing gown. A Winchester Cathedral White Rose marks the spot.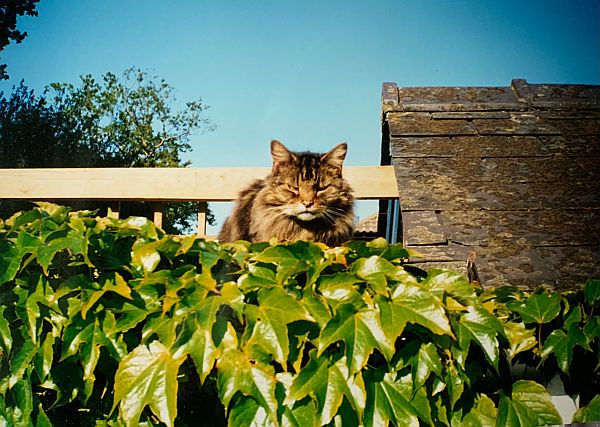 Marmite
Written by Marie.
Marmite was our baby before we had babies. I had always loved cats, but Andrew needed a little more persuasion. Marmite chose him by jumping on his lap and sitting quietly. The choice was made. Marmite was to be ours. The cute little black cat with the half black, half white chin was to be our gorgeous, cuddly cat for the next 14 years.
Marmite was definitely a lap cat in his later years and could somehow sense someone was sitting down from another room, leaping out from wherever he had been sitting to jump on their lap, curling up in a little ball once he had turned round about five times trying to get comfortable. Anyone who he sat on would have the pleasure of his gorgeous purr as well as a nice wet patch from his dribble!
Marmite was not named by us, but by one of our special needs pupils. At the time she was supposed to be naming a white sibling to be owned by my colleague, and was very insistent that the cat should be Marmite despite being the wrong colour! So, when the gorgeous little black cat chose us, we knew at once his name should be Marmite! It turns out that the only cat she knew was called Marmite so it was not perhaps the most creative name but we loved it anyway!
Marmite was always making us laugh at the funny places he chose to curl up, from the washing basket, to being squashed up in the dolls' house! But perhaps the most surprising thing about him was his complete lack of miaow. He never once made a noise. He was the kindest cat ever, who welcomed little Pebbles into the house, putting up with him sitting on top of him and eating his food and was very good with children.
Marmite also was a friend of the street, surveying passer's by from the top of the pillar by our fence, who somehow all seemed to know his name. He was forever sleeping on our neighbour's bed with their cat, playing with Tigger two doors down the street and Black Jack, the dog across the road (they would rub noses affectionately whenever they met). Marmite is missed by us all!
Rodney
Written by Fliss.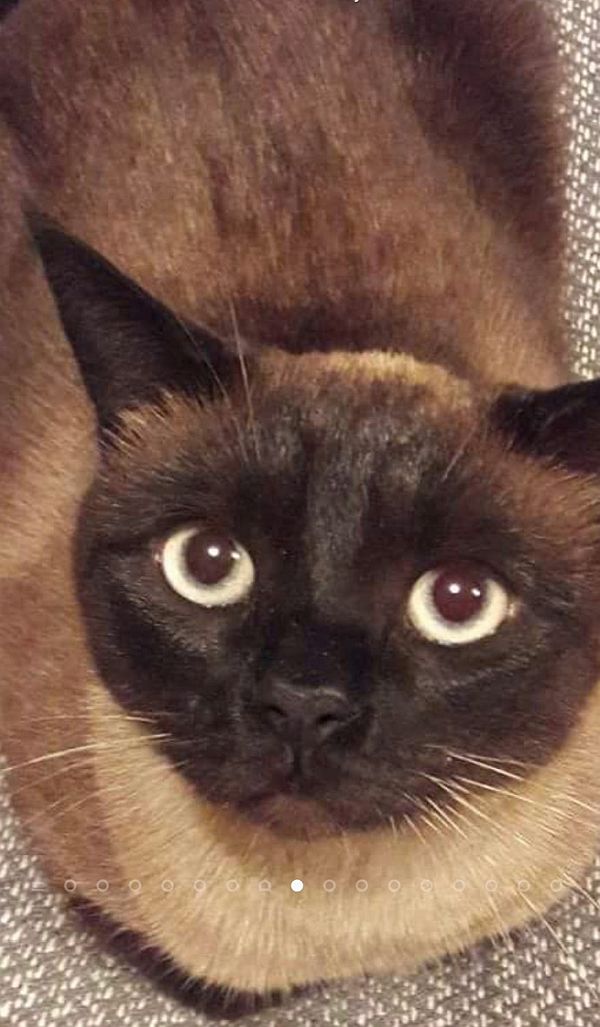 I'm Rodney Mephistopheles Mugwump Judd. I am named after the Judd/Batchelor family's naughtiest cats. I came to live with Herslef when I was just 4 and a half months. I'd had two Hoomummies already. I was a real Hoolikitten and Herslef had legs and arms that looked like a patchwork quilt. I would jump and hang on!!!! Small wonder Hoomummy 2 called me Rodney Scissorpaws!!!
I am a Burmese, with a touch of Peckham. I know I'm handsome and I like assisting Herslef. I have a special skill in putting my bum up to the camera during work meetings. I have also reset all her screen settings so well that the IT team couldn't figure out what I'd done!!! I probably have my own 'cat attack' file with them. Skill, eh?
My best skill is caring for Herslef. She has something called Epilepsy, which means she can hurt herself when her brain is misfiring. I stop this by sitting by her and making sure she's OK when she comes to. I have to remember not to leave my claws out when stroking her face… She said the scratches take a bit of explaining!!!!
So that's me… I'm a havoc causing Hoolikitten with a soft side. I know I'm handsome and gorgeous and modest too and I love Herslef!!!
Mr Pussy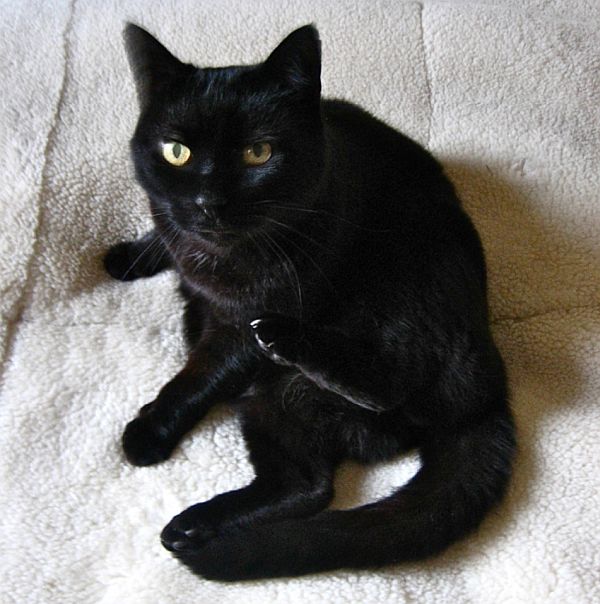 Mr Pussy was the Gentle Author's (GA) beloved and favourite cat. As our readers know, Bobby sees the Gentle Author as a friend and the original driving force behind the creation of Mindfully Bertie. That course in Founier Street, Spitalfields, was the spark that ignited our great adventure. And we are back in the Town House in Fournier Street for an Advanced Blog Course in late October.
Schrodinger
Schrodinger was the church cat at Shoreditch Church. Nobody knew where he came from. He wandered in one day and made his home there for over two years. He spent long, lonely nights patrolling the church. And on occasion spent the night in the crypt among the dusty coffins. In essence he was a loner.
When the Reverend Paul Turp retired, the GA was asked if he would like to give him a new home in Spitalfields. At first it must have been difficult for Schrodinger. Used to a large church and the ability to vanish and reappear at will that gave him his name. It was a somewhat nervous relationship at first. But now he is at home in Spitalfields and has often appeared in the stories of Spitalfields Life. This is the latest.
Bob
Bob became the most famous cat in modern London and beyond. Books were written and eventually he was immortalised in a major film. A tale of a down at heel busker who rescued a street cat who repaid him by being his constant companion. Together busking or selling the Big Issue his fame spread far and wide.
A publisher became aware of the friendship which led to the book that Diddley bought Bobby. The book became a best seller and a very successful mainstream film followed.
Bob met his maker in 2020 in a road accident. We were delighted to hear that a wonderful memorial to Bob was recently unveiled by James and friends of Bob on Islington Green. Its the perfect meeting place for all those friends we have in Islington.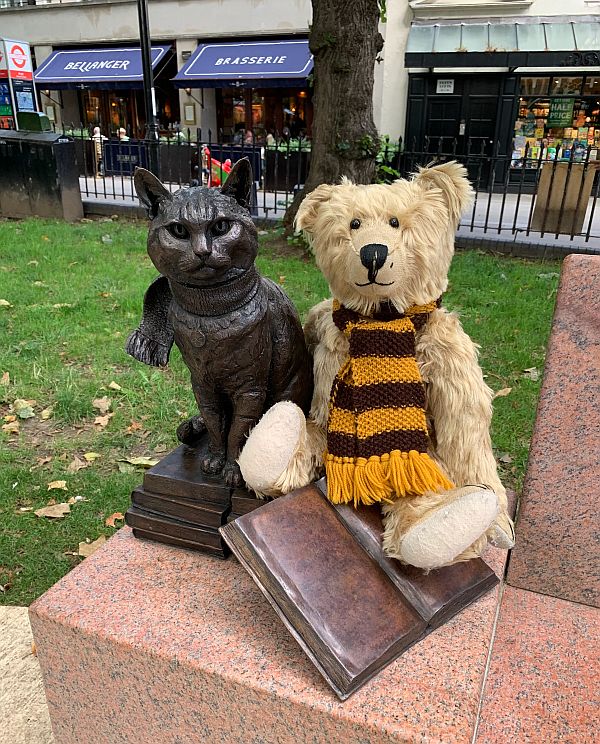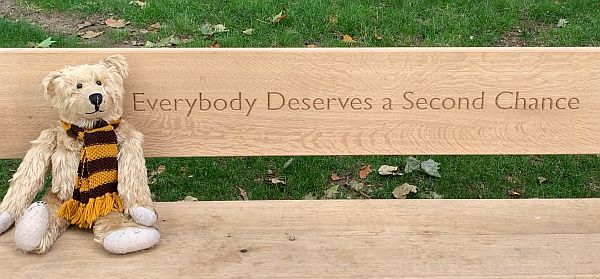 In Memory of Peter
See also Fantasy and Illusion.
From the funeral Order of Service.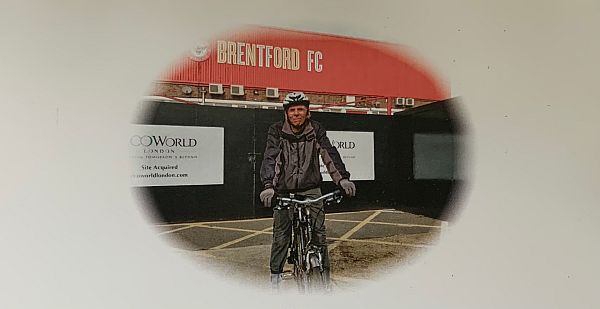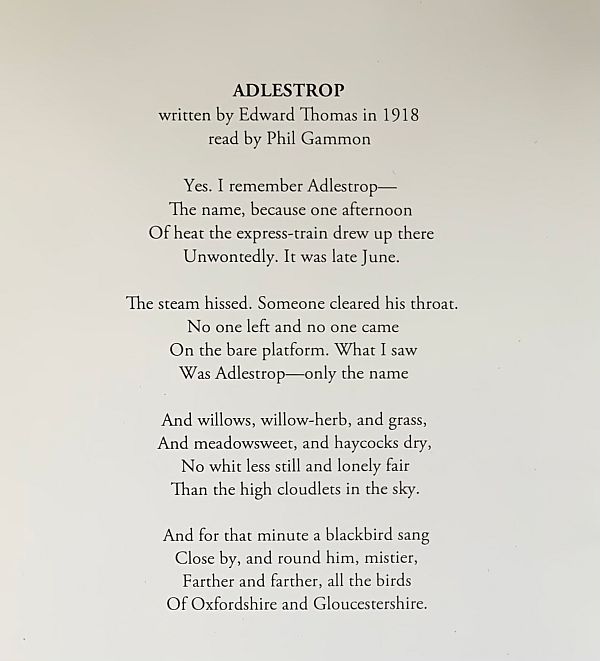 Lighting a Candle for Diddley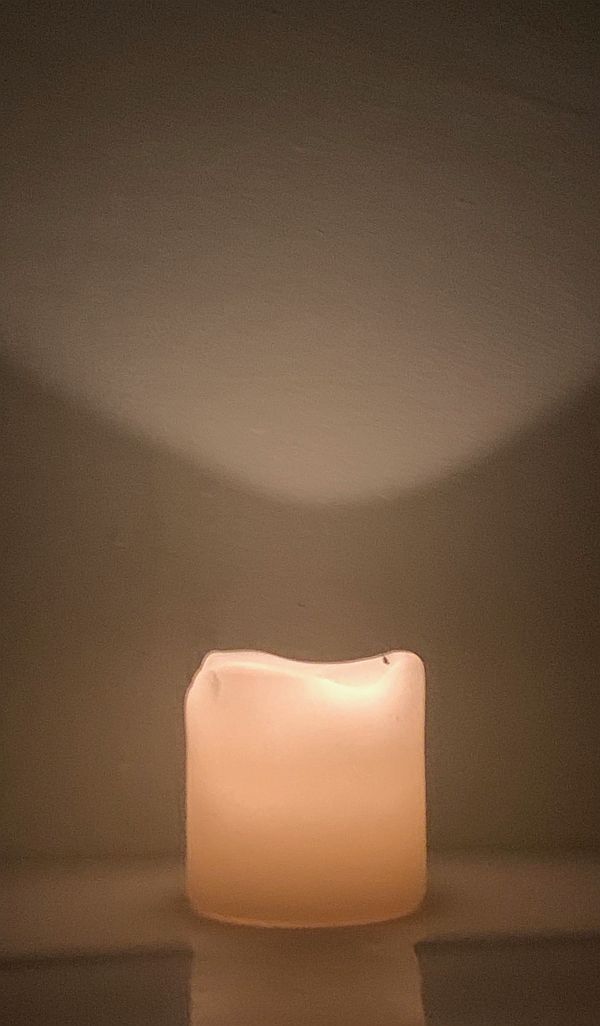 —————-
---