Paratrooper's Bicycle – One Picture, 500 Words
One Picture … 500 Words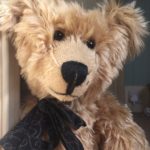 We were staying with Chris and Angie down in the Cotswolds last February, when Chris showed us a picture that really caught our imagination. We remembered how successful BBC Radio 2's "500 Words" competition for children had become. And thought how about "One Picture… 500 Words" for Mindfully Bertie? Not a competition, but a chance for our readers to share a special picture and 500(ish) words about it. If you fancy joining in, just send your picture and story to for consideration. The picture that inspired the idea follows, together with Chris's story.
The Picture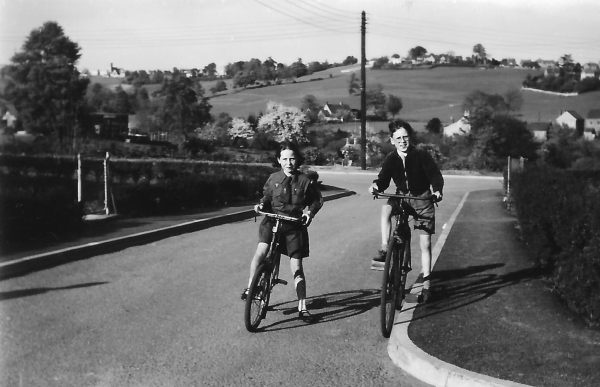 Chris: "Harpers Road, Cashes Green, Stroud. I believe this was taken in late April 1956 after the bike had modified pedals so I could ride it. My sister Elizabeth, who is on 'her hand me down' bike, is in her Brownie uniform probably just about to go out to the Brownie pack meeting. In the distance to the left is Whiteshill Church and directly behind us is Farmhill."
The story of an ex Paratrooper's Bicycle
I had learnt to ride bicycles before the age of ten, usually on my sister, Elizabeth's 'hand me down'. I had wanted a bike for a while but nothing was taken for granted in our Cashes Green council house in the 1950s, so imagine my surprise on opening the odd shape brown paper parcel on my tenth birthday.
Two wheels and a dark army green curved folded frame, of what was an army surplus Paratrooper's Bike. Dad helped me unfold it and tighten the cross bar wing nuts, straighten the handle bars and kick the pedals out. I tried to get on it but the Brooks saddle and the pedals were too far for me to reach.
The pedals were just spindles that would slide through the frame when the bike was folded. The saddle was lowered and Dad made up some wooden block pedals to fit over the spindles, one of many modifications the bike would go through in the next eight years and the thousands of miles I cycled on it.
Living in the Cotswolds one couldn't ride far without gears, so a Sturmey Archer 3-speed gear hub was fitted. The local cycle shop was forever adjusting it as the gears jumped. This was successfully overcome when he made up a longer gear cable to go around the frame. Fitting anything to the frame was difficult due to tube size being smaller than a normal bike frame. A modified pannier frame was fitted and the colour changed from the dull green to Valspar Gloss Flame Red. I also changed the horrible handle bars to a semi drop type. These mods were prompted to deter the boys at school folding the bike up.
1958 saw the first cycling trip Youth Hostelling with Dad and my elder sister Jane. The trip was to the Brecon Beacons National Park. Later that summer I cycled to a summer school and came off on some gravel. The only time I can remember having an accident. The following year we did another cycling trip through the West Country to arrive at a caravan site near Corfe Castle.
In 1959 I moved to a boarding school and was without my bike for my first year other than the holidays. However, that summer holiday I rode it to Buckhurst Hill, Epping Forest, to stay with a school friend. The journey didn't start well, as I approached Cirencester the front spindle broke. It was repaired by a cycle shop in town and I was on my way to Oxford within the hour.
September 1960. I rode my bike back to school with no map just a memory of the car journey. It took me about 5 hours for 45 miles. Coming home for Christmas on a cold frosty day but glorious and sunny until I got to Bull's Cross above the Slad Valley. Here I was greeted with a pure white sea of cloud. Just visible to the west was Painswick church spire. As I freewheeled down into the cloud the beauty was gone, replaced with freezing fog. I made that in 4.5 hours; the last 8 miles being the worst I had ever ridden in.
On my last day at school, friend Chris and I caught the Liverpool train from Banbury and then rode to to his home in Southport. The ride from Southport a week later was the last big journey. Through Chester, Shrewsbury and returning to Stroud.
In September 1962 I started Art College in Stroud and rode every day until Christmas. Then with the bad snow I found my Dad's old bike was a better ride on the winter roads. So my bike languished in the shed and I have no memory of what happened to it.
Interesting links:
WW II BSA Paratrooper Folding Bike
Chris
Lighting a Candle for Diddley.
—————-
---