Fireworks and Bonfire Night.
Bonfire Night.
Well, dear readers, you may have concluded that Bobby has an obsessive nature. Currently split between writing stories and cardiac rehabilitation. The latter including an element requiring him to get thinner. Lose weight. Not for aesthetic reasons, but a desire to stay lucky and alive. And I have found one answer for him. Give him a really interesting story on the spur of the moment and, in his desire to seek further information, he forgets to eat! Right now, he's consumed by Bonfire Night. It's nearly midday and he is still searching the bleedin' internet for information. So, Bobby, please have some breakfast. Even if it is just a melon! Hahaha.
Bobby: "Gone back to Shredded Wheat. Only two now, compared with Diddley telling the world I ate six every day and saw off Jack Charlton and Ian Botham as light weights!"
Bertie: "Well, Bobby. You could never be called a lightweight now. Hahahahahaha! But, in view of this current obsession, I am giving MB up this week and handing the full story over to you."
By the way you do realise, dear friends, that when I write a story it's with you in mind. Good words, strong style, appropriate pictures. All for your pleasure. When Bobby writes, he couldn't care less about you. It's entirely for his own selfish obsession seeking knowledge and recording it for posterity. I catch him sometimes looking back through what he has written in the past. It's a bit like 'Cider with Rosie' for him. It doesn't matter how many times he has read it, he always gets pleasure the next time.
Fireworks and Bobby.
Brocks Fireworks.
This all started just yesterday evening, when I made a nostalgic trip back to the Brockham Bonfire display. Such happy memories, that feature at the end of the story but, for now, this is all about Brocks Fireworks.
I was brought up in Brocks Drive, North Cheam. Surrey then, but the London Borough of Sutton and Cheam now. My dad told me that the name came from the Brocks Firework factory that was there before the massive housing developments of the 1930s, when London extended outwards. Brocks Drive was built on what had been Park Farm. All the rest of the roads on the estate are named after towns on the Thames. Windsor Avenue, Egham Crescent etc. Odd that, since it is nowhere near the Thames. And, of course, I went to Park Farm School.
Gloves? Yes. They were my dad's that I pinched for Bonfire Night described further on. Later that year my sister, Wendy, and I cycled to Brighton and back. About 100 miles.
Brocks Fireworks were founded in 1698 in Islington and became the biggest firework company in the world at one time. They moved to Sutton (North Cheam) in 1901, in the area between Gander Green Lane, Windsor Avenue and Marlow Drive. 200 acres. Once farmland within Park Farm, the site was chosen for 'its remoteness and space which enabled safer production of fireworks'. Sheds and bunkers were dispersed across the site and were connected by a narrow gauge railway. At this stage, it was the largest fireworks factory in the world. In the 1930s it produced 96,000 fireworks and 200,000 sparklers DAILY for worldwide distribution.
During World War 1, Brocks switched operations to become a munitions plant. The workforce expanded from about 400 workers to 3,000. They produced millions of explosive devices. Grenades, fuses, signalling flares, explosive bullets, incendiary darts, gasses and missiles. They worked long hours and wore clogs, rather than hob nailed boots, to lessen the chance of sparks. But it was dangerous work. Five workers were killed in explosions during the war. A memorial was erected at Sutton Cemetery and, in recent years, it has been restored.
London overspill turned massive areas of the Home Counties into suburbia and Brocks moved away to Hemel Hempstead. Brocks Drive was one of the first roads built and my mum and dad, Sid and Dorothy, bought No 138 brand new in 1934. My mum had lots of stories. One of her favourites was that skylarks still nested just beyond her garden.
Brocks had become synonymous with big displays in Victorian times and were particularly associated with the Crystal Palace of Joseph Paxton fame. Moved from the Great Exhibition in Hyde Park to what is now known as Crystal Palace. It is particularly ironic that another of my mum's stories was about the night the Crystal Palace burnt down and she could see the glow in the sky to the east. Note the 'Crystal Palace' in the name which Brocks adopted in the 19th century. The fireworks for the big royal occasions were made by Brocks in North Cheam. Gander Green Lane borders the Park Farm Estate and was there before it. Nowadays it is the home, just up the road, of Sutton United Football Club.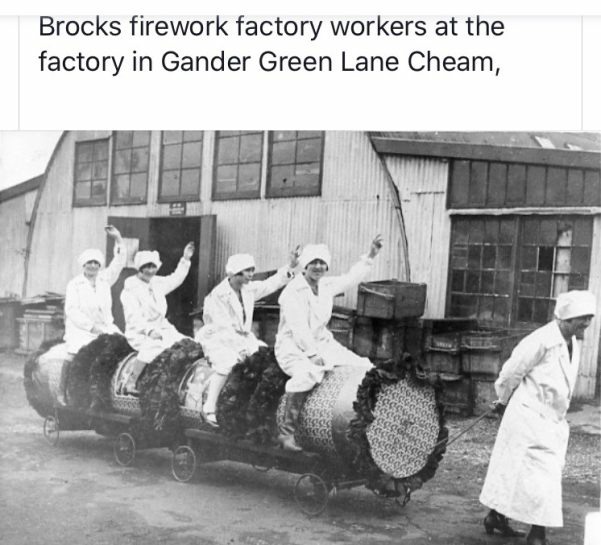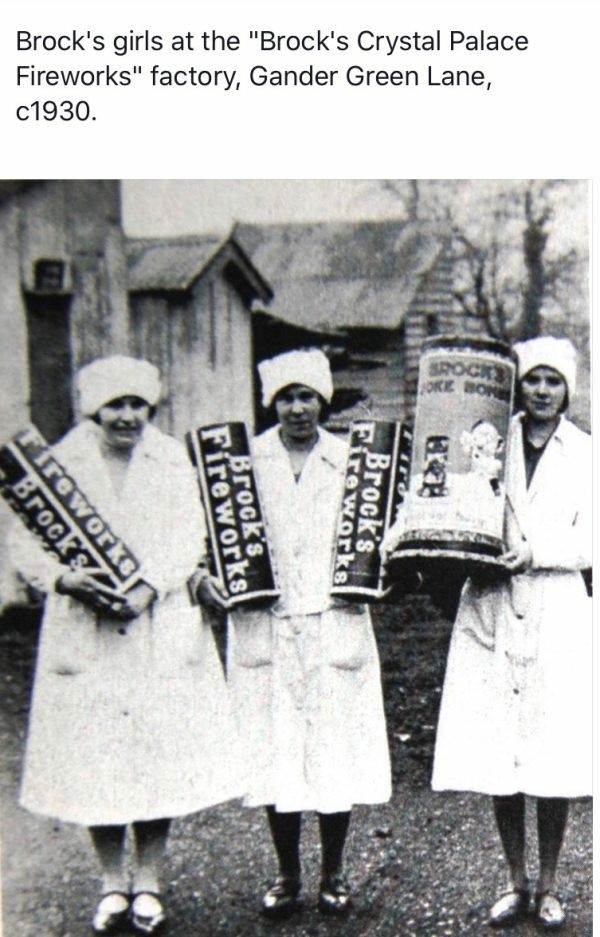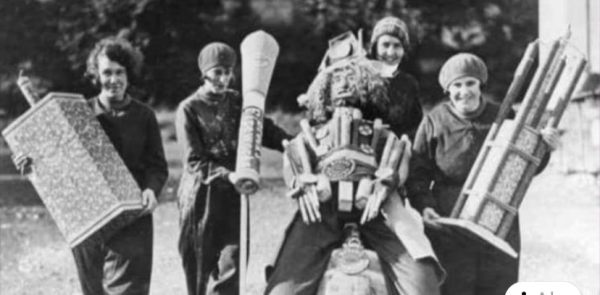 Notice that the workers all appear to be women, although only one is recorded on the memorial.
Bonfire night in the 1950s.
The enormous displays of today were unheard of to a young boy growing up in Brocks Drive.
For me and countless others, Bonfire Night was always November 5. Your dad would get a small pile of wood ready the day before. If you were lucky, he might even buy a modest collection box of fireworks. Brocks, Standard or Pains. Or, you saved up your pocket money and you bought some at the newsagents. November the 5th came and off to school you went, full of anticipation for the evening. Back home, after dark in an unlit bedroom, I would gaze out across dozens of long thin gardens waiting for the bonfires to be lit and later the fireworks.
My dad cycled home later than some. He lit the bonfire and out came the fireworks. Some banned now. Catherine Wheels and Jumping Jacks to name but two. Dad would nail the Catherine Wheel to the fence and light the blue touch paper. If it didn't start spinning – poke it with his finger. The Jumping Jacks were my favourite. You lit them and threw them on the ground between people, where they jumped about banging and frightening the living daylights out of everyone! Spewing flames, they were bleedin' dangerous, but such fun. There were Roman Candles and one solitary tiny rocket as the finale. Some fireworks didn't go off, so you threw them in the fire hoping they would blow up. And, finally, you kept a couple of "Cannons" to ceremonially blow up the Halloween "Pumpkin". Which, in those days, was more likely to be an impoverished Turnip. Or a Swede, if you were posh. Never saw a Pumpkin. The next day, you would search the streets on the way to school for spent rocket sticks that had rained down all over the place the night before.
It was seriously dangerous looking back. A&Es dreaded it. In later years, a boy at school only had one eye after being hit by a firework. And it led to seriously barmy behaviour in boys and later men like me.
Barmy Behaviour.
One year, my friend Clive and I reckoned we could turn a rocket into an aeroplane. An essential piece of equipment was my dad's elbow length leather gloves (see picture of me on my bike above). It was obvious. You made a wing out of stiff cardboard and glued it to the rocket. It had to be hand launched. Hence the leather glove. So that's what we did. Clive and I. I had the glove and the rocket with a wing. He lit it. Hahahahahahahaha. And it shot out of my hand and buried itself in my neighbours greenhouse. We decided that our triumphal idea of a rocket taken off and gliding down was bleedin' dangerous!
But we still had my dad's big leather gloves. And we still had penny Bangers or threepenny Cannons (that made a bigger bang). So we had one glove each and walked round the shops at Priory Road. Grasping a Banger, which the other lit. Walked up and saying hello to some old lady and the banger went off inside the clenched glove. Hahahahahahahaha.
Bertie: "Are you sure you want to tell people this?"
Bobby: "That's how it was. Sutton County Grammar School, a pinnacle of respectability, expelled two boys who managed to blow a hole in the bike shed lamppost.
And finally for this barmy bit. It didn't stop when I got married. But did shortly after the night of November 5, 1970-ish. We had a bonfire party. People were invited. Lots of grub. And now, as a responsible husband and father, I had the pyrotechnics under my control. And it was good. Leading up to the big rocket, which was launched from a milk bottle. It fizzed, but as the flame shot out, the bottle fell over. The rocket shot off horizontally, just missing our guests, straight through the kitchen window – which was open. The curtains were partly closed and the rocket embedded itself in them and they caught fire. Soon put out, but I never bought another firework again. Ever.
Brockham Bonfire.
When the seventies came, those back garden affairs started losing their appeal. The big displays came into their own. Many on a money earning basis. Charity, whatever. Safety standards were nowhere near as stringent as today. We started a tradition of going to the best local display at Brockham Green. Some people took their own fireworks. That had to stop. The most striking feature was the height of the fire. Until one year, when bad weather led to its burning unevenly. It tilted alarmingly and ever since has been less than half the height of those halcyon days. Gradually traffic, parking, charter buses and a lot more organisation came in. Most dramatic of all was when the fireworks were taken away from the Green and are now organised in the field behind the houses and pubs. Nowadays, Brockham Bonfire Committee consider the display to be the "biggest in Britain". This year, 1,200 fireworks costing £60,000 went up in smoke. Local charities stand to benefit. Where once I gathered memories of all those family occasions, now I walk on my own. Along the muddy coach road from Dorking through the woods with masses of happy people. Content to see the happy families all around. Despite its size, it still has a very local, village feel about it and I love it.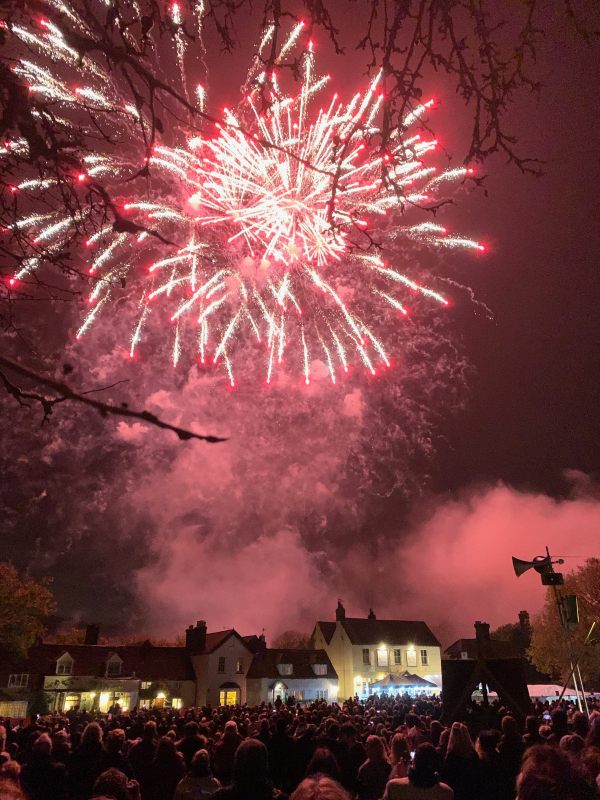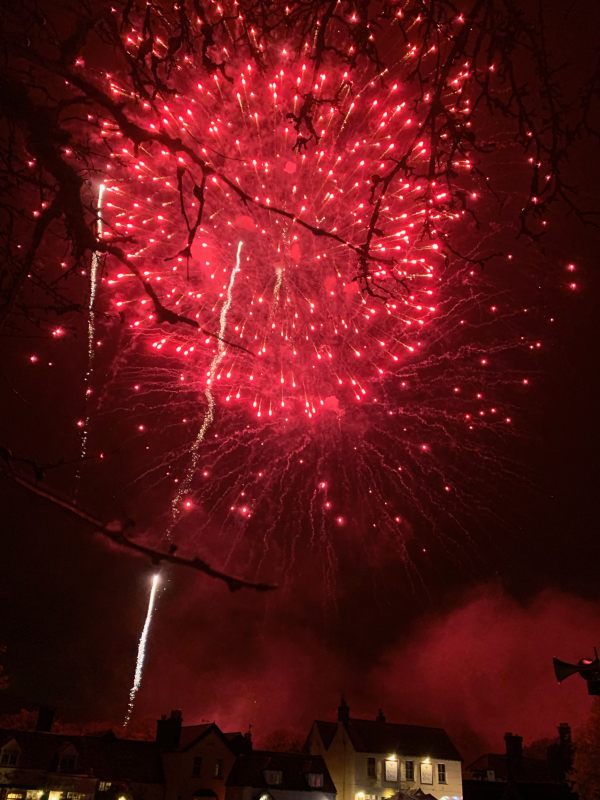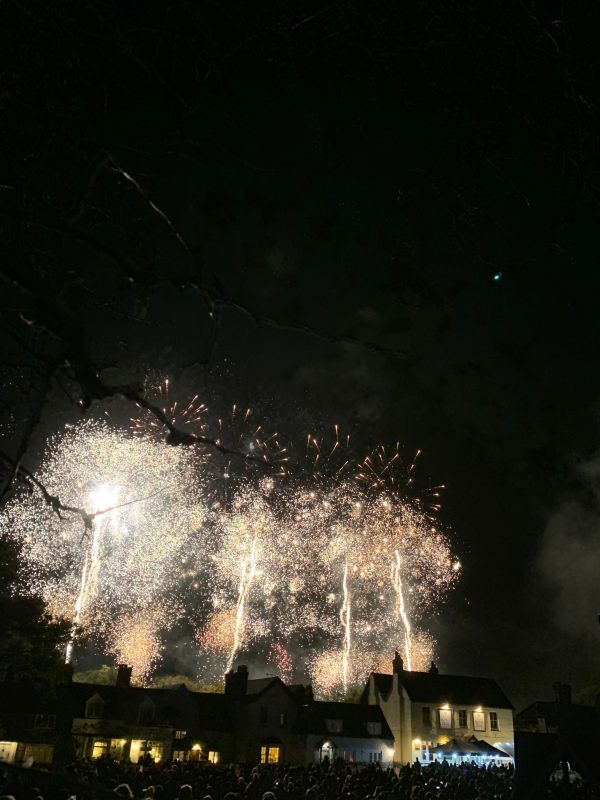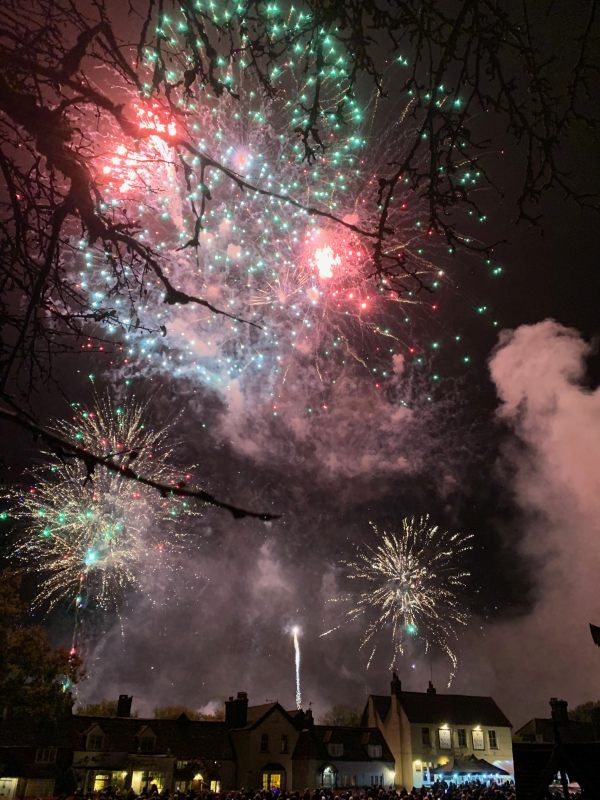 Lighting a Candle for Diddley.
Last Sunday was our local church's "Time to Remember"" service. Where, during the service, the Reverend BSA will read out a long list of people that are missed. Either by death, estrangement or distance. But mostly in memoriam.
See: Let There be Light.
——————
---