Teddy Bears' Picnic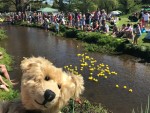 Welcome to the 2018 Teddy Bears' Picnic. The sun will shine and we shall have fun.
And we certainly did enjoy the Teddy Bears' Picnic. On a glorious May Bank Holiday Monday, the cricket field at Abinger Hammer in Surrey became a sea of colour, picnics and teddy bears. The River Tillingbourne flows right through the middle. Just a few inches deep, it is the ultimate "catch a stickleback and put it back" stream. Amazingly, with so many human beings invading their habitat, there were lots of sticklebacks, and other tiny fish, in jam jars and buckets.
Abinger Hammer is named in honour of the iron industry that once graced the valleys nearby. The clock tower showing Jack the Blacksmith who whacks his bell on the hour.
The Picnic is held to raise funds for two schools. Surrey Hills Primary School, where Bobby's granddaughter Kyla May is a pupil, and Peaslake Free School.
So hold onto your hats, slap on the suntan cream and we are off to the Teddy Bears Picnic.
"But first get that iron out, Bobby, and smarten up me bow tie. In situ, since it got wedged and I am not taking me head off for anyone."
"… Gorrr pass the sick bucket"
Love you, Kyla May!
"Nah. I fancy a bit of Elvis. How about this? Right oh, cock."
"Are you saving the best to last? Well yes. For the second year running, I have written a story for the programme. Really proud, mate…"
And so, as the sun started dipped, all the happy people, with their teddy bears, started going home. Unlike some events, there was very little litter and that was cleared up by everyone. But, like Glastonbury, some things had suddenly become surplus.
So, as we look forward to next year's Teddy Bears' Picnic, we look at how sad life can be even for a CB radio teddy bear. Remember them? Get your tissues ready.
PS
Lighting a Candle for Diddley.
Diddley loved the Teddy Bears' Picnic. Her picnics were miles better than Bobby's. Her bench is close by and young Kyla May lit the candle to remember our lovely lady.
– – – – – – – – – – –
---