A Day at the Acton London Transport Museum
Not Bertie's Day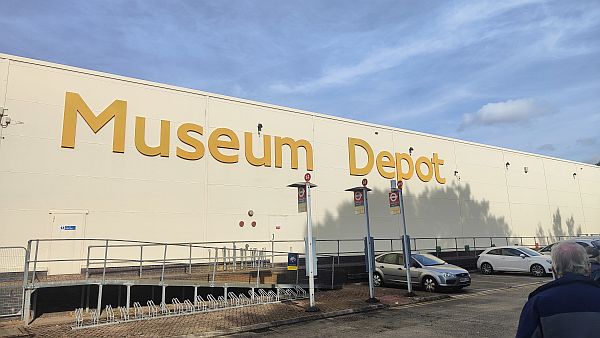 Bertie: "You promised me. You bleedin' PROMISED me! You promised to take me to the Acton London Transport Museum."
Tim: "Yes, I know. I'm sorry. But it just didn't work out. If I get to go again, then I'll see if I can take you then. It was just unfortunate that Andrew was so busy arranging the Farewell to Bobby, and it just wasn't possible to get you."
Bertie: "Fair enough, but then you have the bleedin' cheek to take another bear IN MY PLACE! Without asking! I don't even know who this Charlie is. How dare you. Whose blog is this anyway?"
Tim: "Sorry, Bertie. No offence intended at all. I just felt it was important to have a representative of the Bear community come along. And, I think you'll like Charlie. Let me introduce you."
Introducing Charlie
Tim: "Meet Charlie. I sort of "did a Bobby". In the absence of you, Bertie, I needed a bear – not only to accompany me to the museum, but also for the "Lighting a Candle" photograph. So, we trawled around London, ending up in the Covent Garden market. And there he was. Couldn't resist. Named him 'Charlie', in honour of our new King. Over to you, Charlie."
The Acton London Transport Museum
This was a bitter-sweet day, back in September. When Tim had mentioned to Bobby that he was planning on going, like a shot Bobby invited himself along too! Tim knew he, and Bertie (eventually!), thoroughly enjoyed their last visit back in 2017, and I was secretly looking forward to Bobby's wisdom on the exhibits.
So, it was a lonelier tour – and a much quieter one! It was interesting to note certain differences since Bobby's last visit. Most notably, there were no rides to be had. No buses were running, and the miniature railway looked sadly forlorn and neglected.
Useless fact: There are seven stations serving Acton! Acton Town (District & Piccadilly Lines), West Acton, North Acton & East Acton (Central Line), Acton Central & South Acton (London Overground) and Acton Main Line (GWR & Elizabeth Line).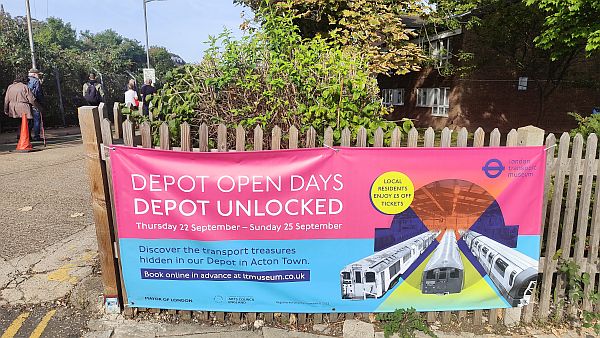 We shuffled along in the queue, showed our tickets, and were in. Even got in half-an-hour earlier than our booked slot, because we got there quicker than we expected.
Once inside, we looked at the first exhibits and then noticed that there were guided tours. So we signed up for the next one! This took us to a couple of behind the scenes places, and gave us a bit more in-depth info on some of the history.
All the exhibits in the depot are operational. Sadly, none were running today.
Sister vehicle GS13 was operating on the last Dorking Running Day.
One of the benefits of the guided tour was going behind the tram seen earlier. Of particular interest was the section of conduit slot. In central London (the "posh" parts!), overhead wires were not allowed and the trams had to get their power through a central rail – as seen in the Kingsway Tunnel blog.
One of the oddest and, perhaps, most interesting possessions in the collection is the Spiral Escalator. Probably never actually used, it was installed in 1906 at Holloway Road Station but very quickly abandoned. It was discovered during refurbishment work in 1988.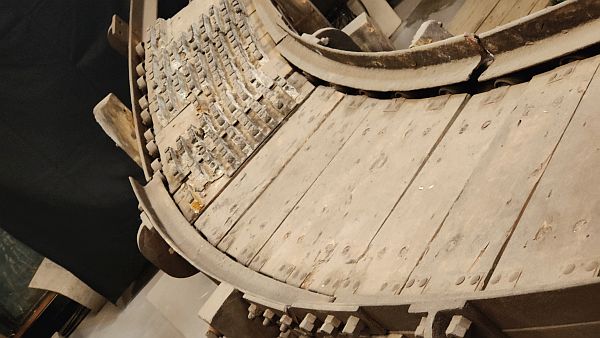 In 1911, more conventional escalators made their first appearance. The once very familiar wooden one finally disappearing as a result of the Kings Cross fire in 1987.
Whilst enjoying a well-earned cuppa, we shared a table with Mark and Tom, a couple of volunteers from the museum. Somehow through the conversation we discovered that we not only had a mutual interest in canals – but also had some very good friends in common too! Tom has his own inspirational blog, which we would highly recommend.
We had a great day, and this is only the edited highlights. Maybe one day we will go again.
Lighting a Candle for Bobby and Diddley
There was only one place we could go – St Martin-in-the-Fields.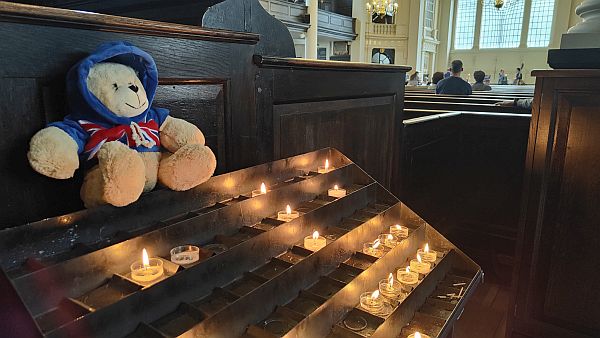 ---