A Day at the London Transport Museum.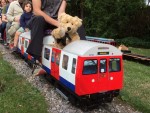 The London Transport Museum.
Bertie… "A whole day at a museum! How boring is that!"
Bobby… "Now, now Bertie. This is a special museum. Wonderful for children, bear's and old chaps reliving their youth."
So, I was shoved unceremoniously into that red rucksack for atmospheric Acton. And what a surprise was waiting for me. Brilliant! A bear bonanza. The story is mostly mine, but I have allowed Bobby to wallow in a little nostalgia here and there.
The London Transport Museum at Covent Garden is a cornucopia of delight for big boys, small boys, bear's, old boys and any females who love train sets and colourful design. I hope that's not chauvinistic… The museum has hundreds of thousands of exhibits. Many kept at their Acton Depot. A large warehouse facility large enough to store whole trains and approximately 320,000 other items. Fully equipped for open days a few weekends a year, where many volunteers help to run truly memorable occasions.
The 2017 open weekends have not been announced yet, but I recommend you sign up for the London Transport Museum's free newsletter on the website.
www.ltmuseum.co.uk/whats-on/museum-depot/open-weekends
There are lots of other events including visiting ghost stations which appear on this newsletter. Very popular too. Acton Museum is right opposite Acton Town tube station.
From now on this is largely a picture blog. With captions and a little "When was young" from Bobby…
If this is your cup of tea, TfL still run a handful of these old buses on Route 15. Trafalgar Square to Tower Hill. With a conductor. Oyster cards and passes. Clippies consigned to history.
But, what is inside that warehouse……..
Inside I realised just how big the London Transport Museum is. Tube trains, buses, trams and thousands of signs and other memorabilia.
And so to buses.
And so it's over to wallowing in nostalgia.
Bobby…
My dad took me on one in 1952, the year they went forever.
Electric. Replaced by diesel buses, now poisoning London…
Make sure you watch this through. It's a world from my own lifetime. That tram ride with my dad went down the Kingsway tunnel. It's still there and you can see the tram tracks at the Southampton Row end. I'll take some pictures for a future blog.
Big, quiet. Fast. Electric no fumes. 1962. Replaced by diesel buses now, poisoning London. These were a much bigger part of my young days. Trolley buses went from Kingston and Sutton. Local routes I used. The following video shows a London of bomb sites, pre fabs and virtually 100% British built vehicles. How did we survive without mobile phones, iPads and so on. We went out and made our own fun. The trolley bus….
Bertie… So there you are. That little section took hours while Bobby poured over those old films. Was it really that long ago? It was for him. But I could see fun in the London Transport Museum. Lots more girl volunteers. The chauvinistic remark was just that.
Bobby will put open days for Acton on the blog. See you there.
Lighting a Candle for Diddley.
St George's Cathedral, Southwark. Close to the Imperial Museum. Not particularly exciting from the outside. But I wanted to light a candle for Diddley and went in and found a cathedral with a fascinating history. For another time.
---
---