A Day out with Thomas.
A Day Out With Thomas.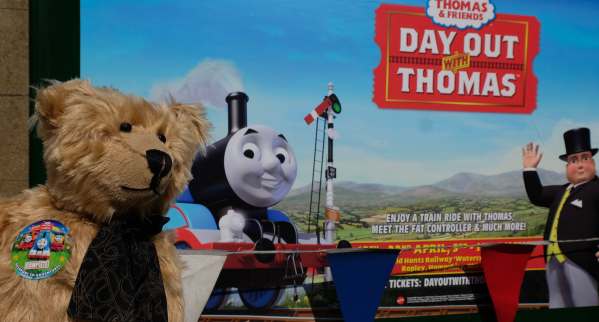 Play this:
Dear Christopher,
Here is your friend Thomas, the Tank Engine.
He wanted to come out of his station-yard and see the world.
These stories tell you how he did it.

I hope you will like them because you helped me to make them.
Your Loving Daddy
So wrote a father to his son in the early forties. The Rev W Awdry to his son Christopher, who wasn't well at the time. He wrote the stories and his wife thought them good enough to be published. Others agreed and an illustrator was found to turn the stories into a book. The original illustrator was Reginald Payne, who is largely forgotten. From book three the illustrator became C Reginald Dalby who also re-illustrated the early books. So who was it who dreamt up the idea of faces on engines?
When Bobby was very young, he was given that first book. "The Three Railway Engines". And never forgot it. One story in particular has stayed with him forever. The Sad Story of Henry. What follows is Bobby's short memorised version. Not the original story.
The Sad Story of Henry.

Once, an engine attached to a train
Was afraid of a few drops of rain –
It went into a tunnel,
And squeaked through its funnel
And never came out again.
Henry loved his beautiful green paint with red lines. You might call him vain. One day it started to rain and he thought "Oh no. It will spoil my beautiful green paint and red lines". He went into a tunnel and refused to come out.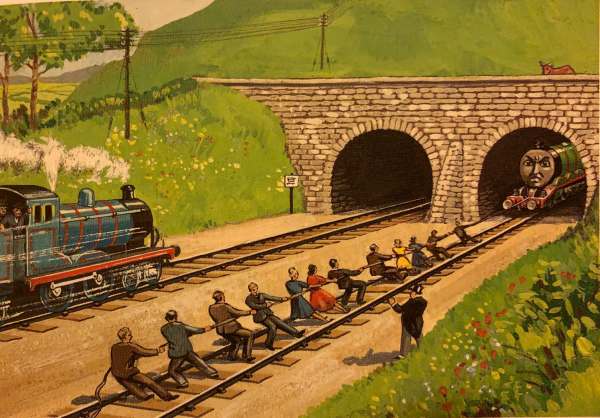 They tried to pull him out.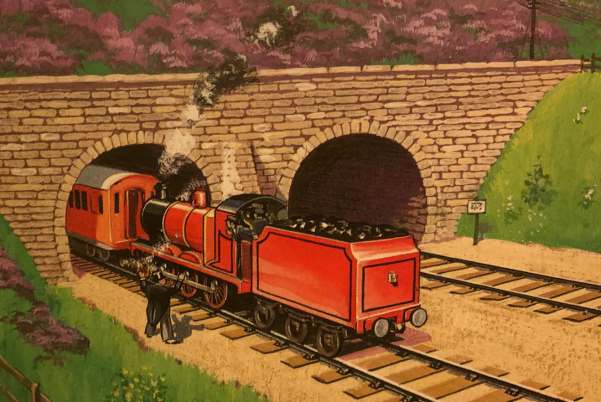 They tried to push him out.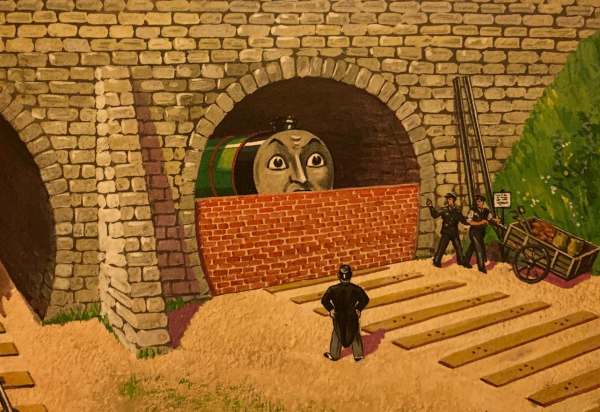 Nothing worked. So they took the rails up and bricked him in.
Henry was so sad. The other engines went by into the neighbouring tunnel. Edward peeped cheerfully "Hello Henry. Hello Henry."" Big Gordon roared "Serves you right. Serves you right".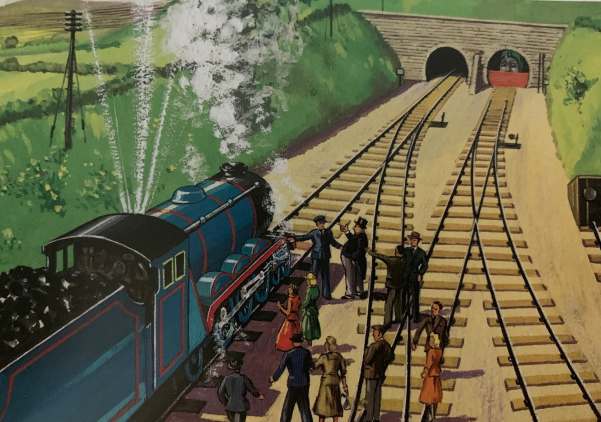 Until one day Gordon broke down right by the tunnel with a Very Important Train.
The Fat Controller couldn't find an engine strong enough to pull Gordon's Very Important Train. In desperation, he asked Henry. They knocked down the wall and put the rails back. Started Henry's fire and drove him out of the tunnel.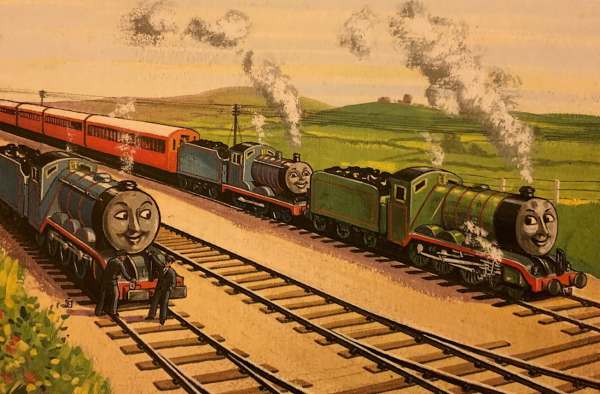 With Edward's help, they saved the train and the three engines were friends happily ever after.
Whilst typing up this blog Tim, our Technical Director, recalled his own childhood memories of Thomas.
Tim: "Like Bobby, I grew up with the Thomas stories. My father passed down his own books to me – one of which was an original edition. I read them from cover to cover numerous times. However, I remember something that either Bobby has forgotten, or was unaware of. I had the set of 7" vinyl records, wonderfully narrated by Johnny Morris (of Animal Magic fame), which date back to 1961. Whilst Bobby might enthuse about the Ringo Starr TV series, to me that was a travesty. Johnny Morris was, and always will be, the voice of these Isle of Sodor stories for me.
Sadly, during a moment of stupidity in my teenage years, these records were traded in for a song at a second-hand shop. But even now, should I read a "Railway Series" story (although the books have also now long gone), it is ALWAYS in the Johnny Morris voice. Even when I was typing up Bobby's résumé, there was Johnny Morris's voice in the background adding in a couple of key missing bits. When they tried to pull Henry out, the Fat Director (as he was originally known) excused himself from the action by saying "My doctor has forbidden me to pull" and, when then tried to push Henry out – "My Doctor has forbidden me to push"!
So many happy memories. And all because one man's son (Christopher, who I had the pleasure of meeting and talking to at a "Thomas" event at the Eastbourne Miniature Railway many years ago) was ill!"
The story as recalled by Bobby was actually spread across two books. Fortunately, the Johnny Morris versions are not consigned to history. Through the wonders of the internet, they live on in the archives of YouTube. So, in the interests of being the informative blog that we are at "Mindfully Bertie", the links to the two stories as narrated by Johnny Morris are below. We shall leave you to decide for yourselves who is the best narrator.
– – – – – –
Thomas didn't appear until book three and quickly became the favourite. A cheeky little blue tank engine with attitude. That attitude got him into a bit of bother in another story in the film that follows shortly.
For years and years and years, Thomas the Tank Engine was just books. Until finally it became a television series to great success in the 1980s. Since then, it has moved on to greater and greater sophistication but, for many, that first TV series was the best. Here's just one episode showing to great effect the model trains and scenery. Perhaps most of all the theme tune and the inimitable narration of Ringo Starr.
Thomas gets tricked:
I wonder what the Reverend Awdry would make of the massive international success of his creation. The ultimate being its appearance on full size heritage railways. At times very amateurish. At other times very expensive in terms of the franchises created. The Watercress Line in Hampshire has stayed faithful to the original concepts and looks. Supposedly for children, grandads love it. None more so than Bobby. This Easter he was so excited to take Jasmine, Jay, Little Jay and me to a Day out with Thomas.
The sun shone on a perfect day. "Here we go. here we go, here we go".
2012.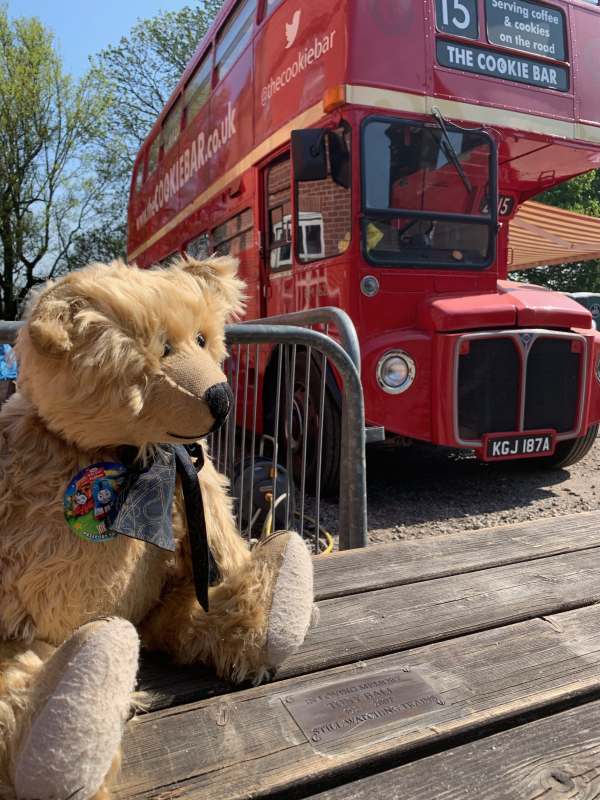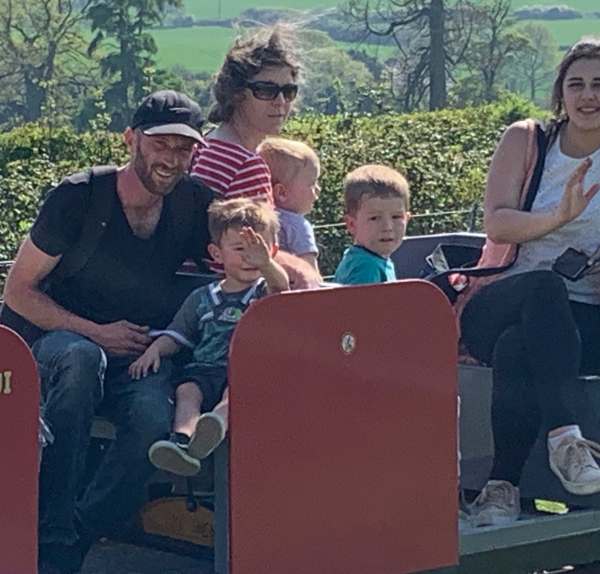 – – – – – – –
And finally if you ever wondered what happens to all those faces at the Watercress Line the rest of the year, here's the answer.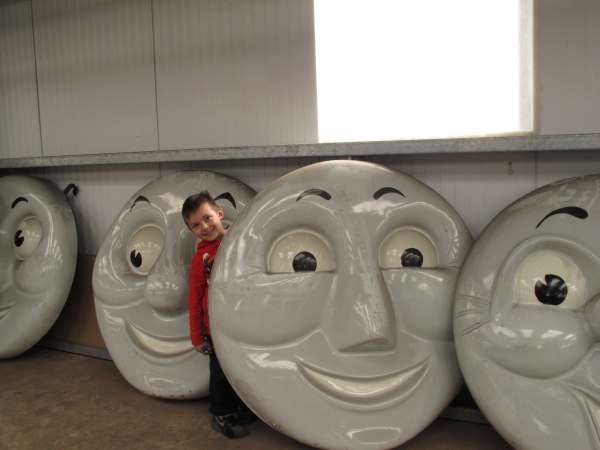 Lighting a Candle for Diddley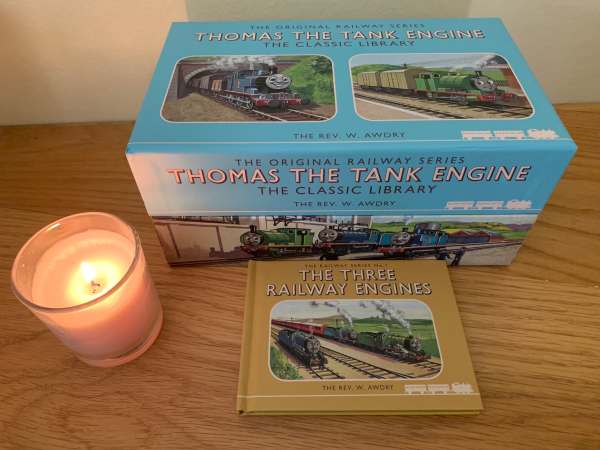 ---