A Trip to Brooklands.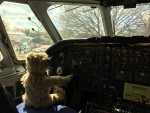 Brooklands.
On the top deck of a No 410 London Country bus, Bobby was presented with a dilemma. Sitting there with one eye to his telescope, he was surveying the parked aircraft at Biggin Hill Aerodrome. 1961. Reading the registrations out for his girlfriend to write in his notebook. Suddenly, she declared: "I'm not doing this any more. It's me or plane-spotting". Poor young Bobby made the wrong choice that day and continued making it for years to come. But, like so many of his generation, he never lost his love for all things mechanical. Planes, trains, trams, buses, boats. All were fair game in a world where you made your own entertainment. And still do, as evidenced by the dominance of that age group at all things old and mechanical today.
He pursued his love with regular visits to his favourite shop. Lens of Sutton. Just up the hill from school, selling new and second hand transport magazines. The shop in a precarious position; perched above a quarry now occupied by a giant, hideous B&Q. Lens of Sutton is legendary and many transport books on sale today will have credits for pictures to "Lens of Sutton". Bobby still has a whole shelf of Ian Allan Booklets bought in that shop in the 60s.
It was inevitable that he should want to build things. VC10s. Routemaster buses, rockets to the moon. His dad, Sid, had been an engineer all his life and, despite it being a "bleeding awful way to earn a living" (Sid's words for later stories), Bobby just had to give it a go. Never mind "wasting" his grammar school education, his "brilliant mind" (errrrr). Never mind the two hour bus ride each day. He was going to build VC10s at Vickers Armstrong's factory at Brooklands at Weybridge. Sid didn't try to stop him. He had worked and grumbled for over forty years at KLG Sparking Plugs.
Dorothy, his mum, couldn't even find his bike clips – let alone influence his future career. "I'm having a heart attack" her favourite ploy to avoid taking responsibility, as she slid to the floor with melodramatic grace.
Joining 28,000 fellow workers on his first day, he experienced piece work (how to fiddle it), blacked by the Union for not joining instantly. Collecting a full set of tools and signing for them. A tour of the factory, to see the first VC10s before their first flight. Trans Canada Vanguards in the paint-shop. Segregated dining. The worst, filthiest jobs given to ethnic minorities bused in by the thousand.
On the second day the noise, the dirt and the bus ride made him realise that this was a big mistake.
On the third day he walked out at lunchtime. Handed his tools back. Hourly paid. Tuppence halfpenny less tax. Tears on the way home. The labour exchange followed….. "Have you considered the Legal and General?" Needs four O levels. He bought a bottle green suit. Made to measure..Foster Bros. and got the job. Dorothy was so pleased. After years of telling everyone all three of her children had gone to GRAMMAR SCHOOL. She could now add respectability as Bobby went off on a no 80 bus in his bottle green suit. The first and last suit he ever wore there during the next thirty years. He would still be there if chucking him out in 1992 hadn't succeeded in pushing him into making a right choice to balance that wrong choice made in 1961.
But he can say. Honestly. That he worked for Vickers Armstrong at Brooklands. And built VC10s.
The story of Brooklands is legendary as the birthplace of motor racing. World land speed records. That incredible banked racecourse. Sections of which are still there.The aircraft factory came later and achieved its own legendary status. And now many years later it is a world class museum. There is so much to see and do there that you really need to see for yourself. Including the history and front factory gates of KLG Sparking plugs. Our family are heavily involved there and the rest of this blog is a random photographic record of a couple of days there with the family and grandchildren. Two special events. The MG rally. And the bus rally. But never forgetting those two and a half days in 1962 that started a love affair with that most majestic of all British aeroplanes. The VC10.
I recommend this YouTube. It's a laugh. It shows you the Museum. And I don't mind another bear called Bertie. There is only one Mindfully Bertie and he is Brooklands Bertie. So that's OK. And he's here with me, complete with racing overalls, goggles and helmet:
Elizabeth and Tim's granddaughter Ella at the MG Rally.
I Don't Believe It!
Bobby's two and a half days were memorable for bearing witness to the construction of the first VC10. What a privilege. But he learned a very odd fact. Unlike Boeing in America, Vickers construction plant was not quite big enough for the VC10. In height that is. So the plan Bobby was privy to was to build the aeroplane. Take its tailplane off to get it out into the open and put it back on again. It was then towed across to Rolls Royce, and Vickers were not allowed to touch it until they had installed four Conway engines. Eventually it would only take off just once from Brooklands to land a few miles away at Wisley where flight testing took place.
And now there are two Berties at Laurel Cottage.
For further reading: www.brooklandsmuseum.com
Lighting a candle to Diddley and to Amber.
A separate blog follows celebrating the life of Amber. Diddley's daughter.
————————-
---