When Little White Van met Little Miss Naughty.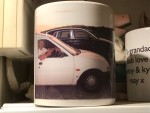 Little White Van.
This is the first ( and maybe the last!) story about LWV. Little White Van. The time he spent with Little Miss Naughty. As you can see, it is an alternative story written in the Mr Men book of that name. Scribbled in a Youth Hostel at Trefin when Bobby, in his younger days, backpacked the Pembrokeshire Coast Path. Stopping at Youth Hostels en route.
It's up to you to decide as believers in talking, thinking bears whether or not the same claim can be made of a Little White Van!
I Don't Believe It!
"Holy €$¥%! A wave has blown through the first floor window at the lighthouse." So exclaimed Giselle Eagle on Skokholm Island a few days ago.
To be read to soothing music:
Look where the first floor is and bear in mind the lighthouse is some fifty foot above the sea. Its also been there 100 years. The wave took out the entire window frame and smashed everything in the room.
Giselle and Richard were at the other end of the island photographing the waves shown below.
We are used to disasters. Happens all the time. We sympathise. We may contribute to appeals. But ultimately we are glad it wasn't us. The British Isles and Ireland have had their fair share, but not on the magnitude of some lately. Hurricanes in the Caribbean et al. So when one does come our way we eulogise about it. Commemorate it. Never forget. So how bizarre should it be that hurricane Ophelia's weakening strength crossing the Atlanta should still create mayhem exactly forty years to the day since the great storm of 1987. In London, we thought Armageddon was coming when the sky went an eerie orange red from stirred up fires in Portugal and desert sands. But on the west coast things were much dicier. Ireland and Scotland and our beloved Dream Island in Pembrokeshire Wales had nothing between them and America.
Being hit by a fifty foot wave in a lighthouse must be awesome. But this lighthouse is on top of a cliff and relatively sheltered. Can you imagine what is was like not so many years ago when lighthouses were manned. And further out, a few miles from Skokholm, stands the Smalls lighthouse. The most remote lighthouse operated by Trinity House, that we visited in August. Stories of lighthouse keepers going mad abound. See Kenny Birdringer.
Looking at the Skokholm blog, it's back to normal. Winds dropped. Seas calmed down and they are ringing birds for the last period before the island is abandoned for the winter. Volunteer work parties will try to get over to do some temporary repairs to see out the winter before they return next spring for another summer on Dream Island.
_______________________________________
Lighting a Candle to Diddley.
Bobby: "I loved Little White Van. The first time I came to Laurel Cottage I drove the van in a boiler suit, flat cap and with a sarf London accent said. "Take it or leave it". It was an alter ego par excellence."
"Sadly it went the way of most Little White Vans. Consumed by rust. I would love to have it now but instead am content with the one van in the house. A 1952 Dinky Toy."
______________
---