Blog for Betty Boop.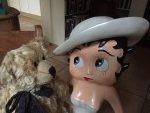 Betty Boop and Bobby.
Bertie… "WHAT! You did WHAT! How MUCH? What's she doing here?
You have always said that no one could replace Diddley. No one could love you as she did, and then shove you in the madhouse the next moment. No one else could be Beryl the Peril to your Dennis the Menace. You and her were a match made in heaven and hell. And all within five minutes."
Bobby… " now now Bertie, you don't…"
Bertie… "DON'T YOU 'now now' me. You told everyone at the church, and since that it was just you and me again. Without me you wouldn't have a blog. Wouldn't have all these girls wanting to talk to you. You would be a lonely old git."
Bobby… "Bertie… It's my birthday. I wandered up West Street (Old Bears) and there she was. It was love at first sight. It was freezing. She looked cold."
Bertie… "Tell her to put some bleeding clothes on then." (sarf London). "All the same, these girls. Wheedle their way into your affections, and then you wake up and think… oooo errr. Was that such a good idea? I'll give her a few days before you get fed up with her and she lands up in the shed."
Bobby… "Look, Bertie, she fullfills all my feminine ideals. Forever young, curvy, sexy, cheap, mute."
So who was Betty Boop?
Bertie… "I'll put up with her for a week and she will be in the shed."
Bobby… "Funny you should say that. Betty came from Shabby Chic. We did a little deal. I mentioned the teddy bear shop across the road. The one with the wonderful window of teddy bears. The ones you were not important enough to be photographed with. The one where all the bears have gone. Not a trace. Just boring old antiques. Or, as my friend said: 'They only come out for Christmas. Nobody buys them, because they are too expensive. They are just there to get you in the shop. After Christmas they are back in a box. Back in the loft. Until next year.'
Christmas and now… where have they all gone?
So, Bertie, shut up moaning about Betty Boop, and realise how lucky you are!"
Lighting a Candle for Diddley
My friend Tim, the Technical Director, notes that many of our readers will not know who Diddley is or was. So next week's blog will put that right. It will be a tribute. Not sad, but a celebration of a funny, loveable character. Based on the funeral tribute, with lots of pictures with those she loved. Lighting a candle will continue as long as the blog does. For many people, including Diddley herself, it is a very spiritual way of remembering loved ones. So, here is Diddley herself. Lighting a candle to her own beloved mother in Norwich Cathedral.
---