Thinkings of Old Bears.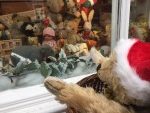 Old Bears.
The mist hung low over South Holmwood village. I didn't want to go out in the damp. Not good for my mohair. Bobby wanted to go to football in Sutton and I thought "You go, I'll stay here cosy and warm. I can listen to Kate Rusby again!" Old Bears Syndrome?
The Frost is all Over
Much later he finally returned. Very grumpy indeed. No driving. Buses and trains took so long. I couldn't disguise my disinterest. He knew this would be the case, but at least the "U's" won.
On the way, he had jumped off the bus in West Street. Dorking's internationally well known street of antique shops. Beautiful old buildings, including the former teddy bear shop where he and I had first clapped eyes on each other. Now a gift shop, next to the delectable Gorgeous Gerties tea room. The latter once a record shop with listening booths.
These days, the domination of antique shops is being challenged by shabby chic; coffee shops; a bike shop. Even a posh ladies underwear shop, that changes its display seemingly everyday. So Bobby tells me…
As he walked along that attractive street, he was delighted to see a lovely window display full of teddy bears and other animals. So enticing he thought I might like to meet them. Here is what Bobby did.
Bobby… "I went into the shop and gave the slightly snooty assistant my Mindfully Bertie card. I asked if it would be OK to bring my bear down to have his picture taken in the window display through the window from the pavement? They would all appear on the blog."
"How old is your bear?"
"25. I bought him in the teddy bear shop that used to be almost opposite."
"Oh no, I don't think so. We are not interested in new bears. These are antique. Collectors pieces. We couldn't be associated with a modern bear. But my son owns the bears. You may ring him to discuss your proposition."
"I only asked for a picture!"
"I'm sorry. Good day."
Bertie… Standing back out on the pavement, Bobby knew he had to tell me…
"WHAT! BLEEDIN CHEEK" (sarf London). In other words I am not good enough. Not old enough. Not tatty enough. I am a toy. Not a sophisticated deep thinker, but simply a mate of Paddington and other common bears.'
Bobby… "She never said that, Bertie. Just that you were not old enough. Too modern…"
Bertie… "BUT… I am a one man bear with a full service history. Only you Bobby. Just think of the adventures my readers know about. What do we know about these antique bears? They are old. Very old. Fragile. Destined to lead sheltered lives in a cabinet or bookshelf. Out of reach of the worst that can be inflicted upon them… CHILDREN! 'Don't touch that bear. It's very old and valuable. Not for children or anything else.'
Or even, God forbid, an investment to be locked away from sunlight in case of fur fade.
But, of course, I do think a lot. This is Age Discrimination. I actually feel sorry for these old stagers. Longing for a child's warm embrace, which they probably remember from a long time ago. Wanting to be loved. Talked about. Making people laugh and smile as I do. Even writing a blog, like the one you are reading now."
So, together with Bobby 2, we went down to West Street and looked through the window at these sad old bears. They are very attractive in a Downton Abbey way but their fun days are over. If they could see me looking through the window, I wonder what they saw. Seeing me in a laughing child's arms about to go for a ride on a 93 bus with my special friend Bobby 2.
It's like seeing a steam engine in a museum. An aeroplane in a collection. A stuffed bird in a Victorian bird cage. Dead. Stuffed. Cold boiler. Never to feel the wind under your wings again.
Bobby didn't ring the son. He knew a bear cemetery was no place for me. Or the disappointment the teddy bear snobs might suffer when they find out who could have been in their window display rather than outside looking in.
Despite these reservations it is a lovely window display.
With half an hour to while away time until the next 93, we had a stroll down West Street. If you are ever in Dorking do have a look.
West Street, Dorking.
Four pubs: The Kings Arms, possibly the oldest building in Dorking. 1405. The Star. A musical pub. The Old House, a lovely old pub with a wonderful mural on the wall welcoming you into the town. And Cobbetts. A micropub. No music, but books and the biggest selection of beer known to man.
"PS"
The staff in Waitrose are so helpful.
I don't believe it!
Christmas was always going to be difficult for Bobby. And was. Leaving a miserable Boxing Day uplifted by a country walk. He needed to meet his Al Anon friends in Islington. Tuesday 27th December. A Public Holiday. Bus, train, walk through Islington. No buses, so an hour's walk to the station. Nice morning and downhill. Train fine…! The meeting as uplifting as ever. Troubled brows overwhelmed with honesty and laughter. A real tonic.
So, onto St Martin's in the Fields to light candles for Diddley and sister Wendy. A rehearsal for a Viennese evening. Young orchestra. Free to watch. "Excuse me sir. We are shutting now for the evening concert". Bobby looked around. No orchestra. A deserted church. Nice way to fall asleep.
How about a treat, given the improving mood? A film at the BFI. (British Film Institute). Accepting that an expensive taxi would replace the last bus home. £11.65 for five minutes and three miles. Until Bobby can drive again.
"Meet me in St Louis". 1944. A young, beautiful, Judy Garland. "Meet me in St Louis" itself on the Strictly Christmas Special. Here's some unforgettable songs from 72 years ago.
The Trolley Song.
Have yourself a Merry Little Christmas.
The Boy Next Door.
Order was restored. The policemen with machine guns on Waterloo Station smiled. The taxi driver apologised for charging £16.65. (I don't believe it!). "Sorry mate. Public Holiday."
"That's OK. It's been a good day" ….. (yesterday is history, tomorrow a mystery, so live for today)
Lighting a candle for Diddley
West Street has its own church. The United Reform church. So this week's candle is lit there.
Merry Christmas Diddley. We really miss you.
Laurel Cottage
Happy New Year
---
---