A Tale of Two Cities: St David's and London.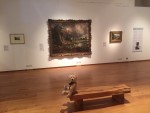 A Tale of Two Cities.
Over just two days, Bobby and I spent cultural time in Two Cities. The smallest in Britain. St David's in Wales. The next day the largest. London. Population over 8 million, compared with St David's at 1,600. The link might have been cathedrals. The definition of "city" requiring a cathedral. London has many. St David's the glorious one.
For our Tale of Two Cities, the link could have been music. St David's is world famous as the centre of spiritual Wales and its joy of music.
London has many churches and cathedrals, including our favourite. The musical centre of excellence. St Martin's in the Fields. But no, the link to our Tale of Two Cities was John Constable.
Bobby and I had that wonderful week on Dream Island. Skokholm. See my blog last summer. With days to spare, we stayed on in Pembrokeshire. The last day planned for an exhibition at Oriel y Parc. The controversial, but for many somewhat futuristic, gallery/information centre/café. The city full of artists.
The exhibition was just one painting. A whole gallery for just one. But what a painting. For six months, a masterpiece took pride of place in St David's: John Constable's …."Salisbury Cathedral from the Meadows". This was a magnificent way to display such a famous painting. A privilege that few paintings can ever have enjoyed. Last September, the painting moved on to other venues before eventually returning to the Tate.
Bobby and I were on our own in that gallery. An old chap and a bear. A lady came in. Asked about reasons. Like Joe in Joe's Story, one truth came out. The devastating affects of alcoholism. She had lost both parents to the disease. Then helped with the pictures.
The picture was split into sections to educate the viewer. Here are just a couple.
It was only while writing this Tale of Two Cities blog that I noticed the reflection of gallery lights on the painting. The only, and to me unnoticeable, downside of viewing this picture in such a rural setting was the need to protect it behind glass.
We left for a long drive home, in the knowledge that we would be back at Islington the next morning for Al Anon. Back to St Martin's in the Fields to light a Candle. Right opposite the National Gallery. Home of world famous paintings. Including iconic John Constable paintings.
The comparison was astonishing. In London, crowds of tourists looking at hundreds of paintings in quite gloomy rooms. No glass. No me either. Security kept me hidden away. In St David's, just one picture and associated information in a dazzling environment. Ultra modern preferred to old fashioned traditional.
Diddley had been an art student in her youth. Thought John Constable excellent for biscuit tins. Bobby told her she was an art snob and he simply loved Constable. Not just for art but for the romantic recording of life in the countryside way back when.
I don't believe it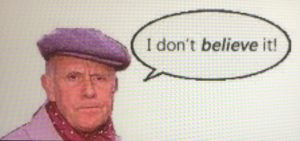 John Constable's painting of Salisbury Cathedral from the Meadows prevented the Highways Agency building a desperately needed bypass across the meadows. The successful objectors using the loss of the painting's iconic view as the reason.
Lighting a Candle to Diddley.
In St David's Cathedral. Memories of sitting with Diddley on Easter Monday 1999 in the front row. A choir singing Handle's Messiah. An address in Welsh and then English. Unforgettable. Wales is Bobby's first love. Particularly those wonderful islands and St David's.
So, here's a Welsh male voice choir to sign this week off with……
---
---