Bobby's Rant
Bobby's Rant.
"Cor blimey! I dunno! Poor old Bobby's in a right old two and eight. I think lockdown is getting to him. He sent this message to his friends in London early morning and no one replied. Probably thinking 'silly old sod!'. He also sent it to a very respectable lady of the cloth and apologised for swearing. And she replied agreeing with him! How she felt old and irrelevant. I tried to cheer him up by reminding him of the brilliant things he had done during the lockdown. But he insisted on publishing his rant, swearing an' all. And the Rev lady's reply. Sorry."
Bobby's Rant.

Will I ever go to London again? Will I see out my days Zooming?

Am I the forgotten generation left in nervous limbo while the rest of the world fights their way into a Nike shop? With old people dying of the virus every day, a younger generation goes to raves. Or attacks statues of my heroes. Where I was never prejudiced before, but could be now given that I am now surplus in their world of discontent. If I was a Bible man I would say this is Armageddon.

Will I ever go to London again? I love the big city but 'over 70 and high risk' means it won't be for a long time. But it's OK! London is coming en masse to the Surrey Hills and covering them in BBQs, rubbish and dog sh*t. While they want equality, so do I. When In Rome, do as the Romans do. I love sharing these hills with the people of London. And other cities. I am a Londoner myself. But there is a Country Code which you should abide by, as I abide by the rules in a city. The Country Code…

So in short: Come here. Enjoy it. And take your cr*p home.

The Rev's letter (part).

All well here, but very put out by ageism that has come upon us all over seventy having been classed as "vulnerable". I do not wish to be wrapped in cotton wool and told to sit quietly in a corner until death eventually catches up with me. I want to live life, not exist. I shall continue to protest!

Take greatest care.
Bertie: "Is that it? Simple isn't it What you bring with you – take it back with you. Some National Trust Countryside car parks do have dog poo bins. They say DOG POO on them. Not crisp packets and BBQs. In London open spaces have waste bins and cleaning personnel. In the country you don't. RESPECT mate!
Can we lighten the mood now, Bobby? The readers like your pictures. Come on. Cheer up. It's been a wonderful spring."
Bobby: "OK Bertie. And don't forget granddaughter Jasmine has moved just a few miles away. Di would be proud of all of us. I've bought a ticket for the Duxford Airshow in September hoping to be able to go. And, since I am only buying Charlie Bigham pies from Waitrose through Anne, I am saving the money I used to spend in London to buy an electric bike."
And goldfinches have a tiny nest just above the front room window buried in the wisteria. You can just see the tiny beaks of the young ones. Fingers crossed for them!"
Missing London.
Missing London. March 8… Our last day in London.
Our course with the Gentle Author in Spitalfields. Staying in Room 311. Who would have thought that day would be our last in London in 2020?
Lockdown.
Lighting a Candle for Diddley in Spitalfields.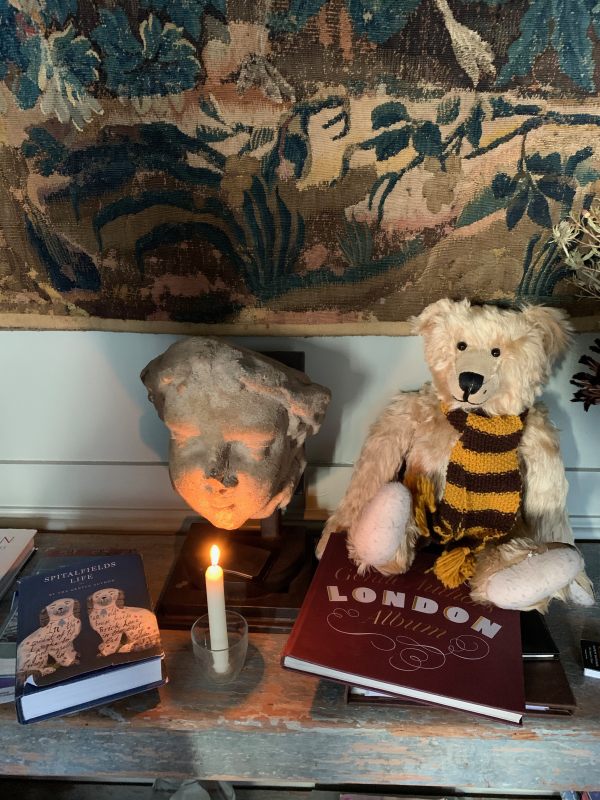 – – – – – – – – –
---