Bobby's April Breakfast Birdwatch.
Breakfast Birdwatch.
Each year, the RSPB (Royal Society for the Protection of Birds) organise a Big Garden Birdwatch. Taking place over the last weekend in January, we are asked to spend an hour watching birds in our gardens and recording what we see. And then entering those results on the RSPB website. If you haven't got a garden, a balcony or just a window is fine. The results website asks what the environment is where the survey took place.
Just once a year a timed hour, just looking out the window, seems an awfully long time. A time in which to concentrate, in case you miss a fleeting glance of an interesting bird. Clearly it appeals particularly to bird lovers who feed the birds in winter.
The results for 2020 are now in.
Nearly half a million people took part in what was the 41st year the RSPB had run the survey. There were some heartening results, but all set against the enormous reduction in the bird population in those 41 years. Have a look. The humble house sparrow came out top, but not in the garden of Laurel Cottage where goldfinches won the day.
When lockdown came, the RSPB came up with a great idea. Breakfast Birdwatch. One hour a day, every day, between 8 and 9am. At Laurel Cottage just looking out the bedroom window down on the bird feeders and scouring the skies for flyovers. Bobby decided to devote the whole of April to it. One hour every morning. Since it was more a fun thing requiring social media input, he just did it for his own satisfaction and wasn't so rigid about the time of day. Sometimes posting his notepad on Facebook.
It became the raison d'etre of getting up each morning. A chair, binoculars, notebook and pencil. Hot drink. He absolutely loved it. Always with the intention of collating his results into this story. In recording numbers in January, you only count those you can see at the same time to avoid duplication. He was going to do a short piece on each species seen, but decided that was too much. But there were some interesting observations. And he did have off days, distracted by phone calls or mood. In all he succeeded in doing 21 days out of 30. And here is his hand written chart showing the results of his birdwatch.
Observations.
Laurel Cottage is very close to open countryside and yet surrounded on two sides by very big trees. The garden has a lot of cover and the acer tree is perfect as a feeding station.
Some species were seen every single day. Particularly Goldfinches and Siskins that love Sunflower hearts. Bigger birds, like Great Spotted Woodpeckers and Starlings preferred suet fat balls. All the Finches liked the tiny Niger seeds in the glass container. Some common birds were hardly seen. Coal Tits being one. A pair of Greenfinches were always together. True love. The Woodpeckers always landed on the tree trunk and worked their way down in classic Woodpecker fashion. Nuthatches always fed upside down. Chaffinches were very nervous and easily frightened by the other birds. Red Kites, Buzzards, Ravens, Swans, Heron, Geese and Peregrine were all spotted with binoculars flying over Redlands forest.
An additional interest was the advancement of the garden and countryside during spring as you see from the pictures.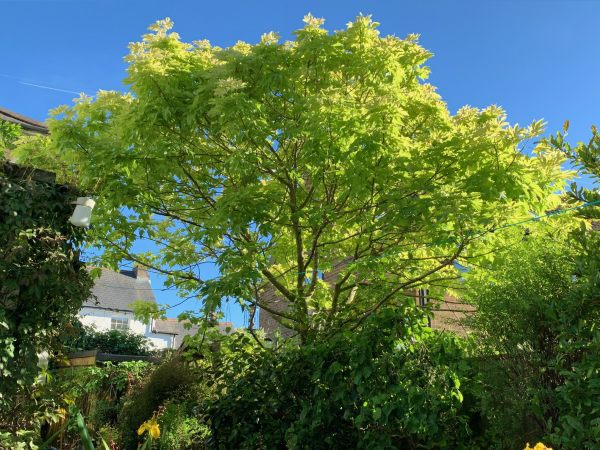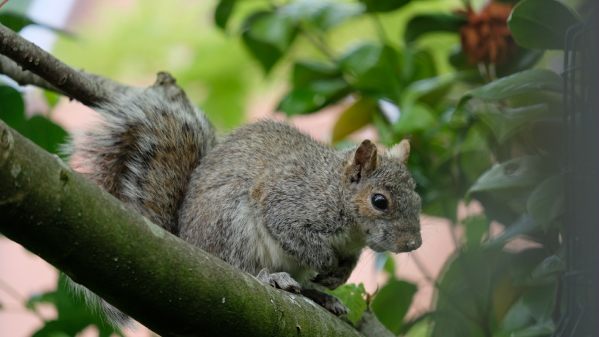 So the birdwatch ended. It had been a real experience.Twenty one hours looking out the window. A few more writing up the results. It wouldn't have happened without lockdown. But it also presented a dilemma. In the past, Bobby has never fed the birds in summer feeling that they should go back to the countryside and find natural food. But this year was different. He would miss the morning Birdwatch that had become a kind of meditation. Checking the RSPB website, he learned that feeding the right food in summer is fine and can be a help in bad weather. But he was running out of food. He recommends Haiths. And ordered 20kgs of Sunflower hearts, fat balls and Niger seed. 20kgs is delivered in a very strong sack. Or usually is. This time, it arrived in a FedEx plastic bag with no explanation other than they had clearly damaged the packing. With no idea how much was lost, or where the food had been recovered from he told Haiths. They were very good and offered a discount. Which was turned down, as it wasn't their fault.
So we carried on feeding the birds through May and doing the occasional recorded hour. The birds were starting to leave the garden. All bar one. The wonderful Siskin, that didn't even arrive until March and dominated the feeders thereafter. Until 1 June.
June 1. He looked out the window to see two dead Siskins on the flat roof below. How sad was that? Had he poisoned them? Straight down to the garden. All the feeders were taken down and washed and disinfected. £40 of bird food was dumped and he resolved that this was a sign to stop and start again next winter. Not forgetting the Rat that had appeared in May. He checked with Richard, his friend on Skokholm Island, who felt that the Siskins had flown into the window while being chased or chasing each other.
We miss the birds on the feeders. The Woodpeckers every day. The Goldfinches. But most of all, the Siskins. We will wait anxiously to February/March next year when they return. In the meantime, Robins and Blackbirds are nesting in the back garden and a pair of Goldfinches high up in the Wisteria in the front.
It was fun. No regrets. And that tree…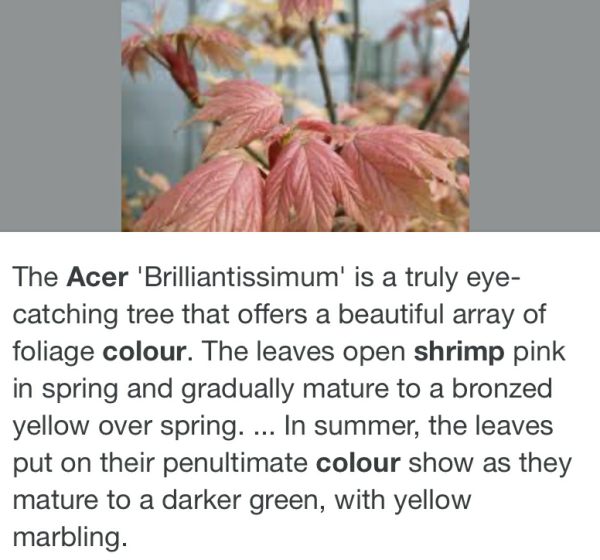 Lighting a Candle for Diddley.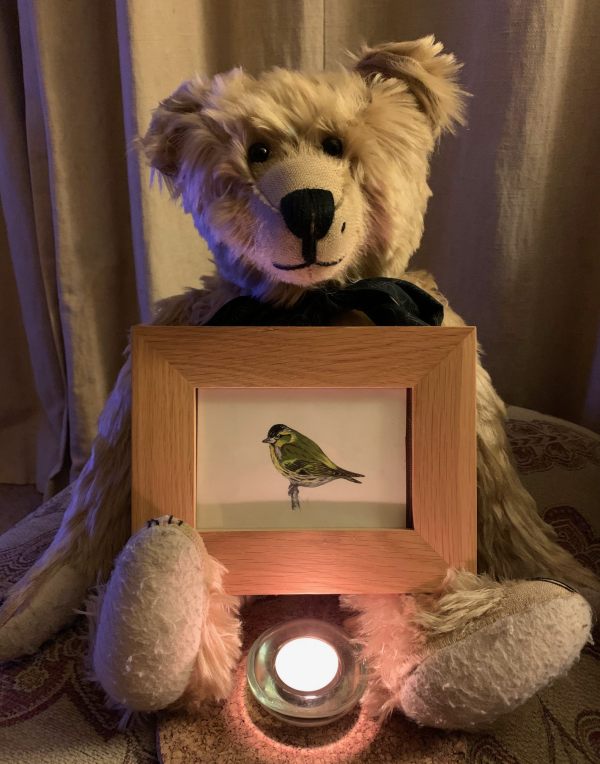 One day, our stepdaughter Jessie asked me what my favourite bird was. I said "Siskin". A few days later, this turned up painted on the back of an envelope. Whereupon it was framed and placed in a place of honour in the picture gallery.
---