Cotswold Reverie.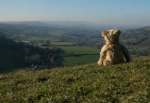 Cotswold Reverie.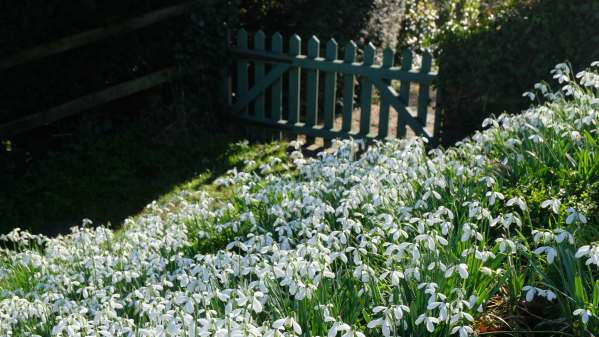 As we headed west towards the Cotswolds, the radio was on and we were cruising. No rush. The "scenic route" is shorter in miles, but much longer in time. Bobby had forsaken the boring motorway route to drive over the Berkshire downs near Wantage and into Gloucestershire. The County sign announcing Cotswold Country. Through Farringdon, Lechlade, Fairford. As we bypassed Cirencester, I could see him daydreaming. Thinking of times gone by. All those similar journeys with Diddley. Seeing her sitting beside him as usual and finding a teddy bear instead. When she would also become very quiet and would brush a tear away. Passed the signs to Sapperton, Coates, Minchinhampton. And on they would drive, knowing that she was back where she belonged. Not perfect for her, because of life's tribulations. But now, with Bobby, finally with someone she loved.
He has assumed those feelings without even realising it. The fun and clamour of his 75th Birthday seemed miles away as we climbed Swift's Hill once again on our own. 15 February, exactly 20 years after he proposed at Slimbridge. Exactly three years since he spread her ashes at this spot as she had asked back in 1998. One day, he will bring Jasmine this way. Of all the grandchildren, she was closest to her granny and shown a real desire to walk in her footsteps where she grew up.
Up, up, up we climbed. Not a big hill, but getting bigger each time we climb it. And finally to Laurie Lee's poetry post, from where Bobby had launched her ashes to be carried downwind, downhill unerringly towards the Woolpack pub. Once more, we had honoured our pledge and our love for Diddley.
Swift's Hill
Did you know that there are 14 different trees that bear catkins? Take a look here: www.treeguideuk.co.uk/mini-guides/catkins.
The rest of this reverie is a bit like that day he watched the Flying Scotsman on the Bluebell Line. No expectation. No rush. No plan. Just… dreaming of how life could be.
We stayed at the George at Frocester. Fourth time running.
There's quite a lot of pictures. You might like to play The Lark Arising, which seems ideally suited to the mood.
The Lark Arising.
Slad.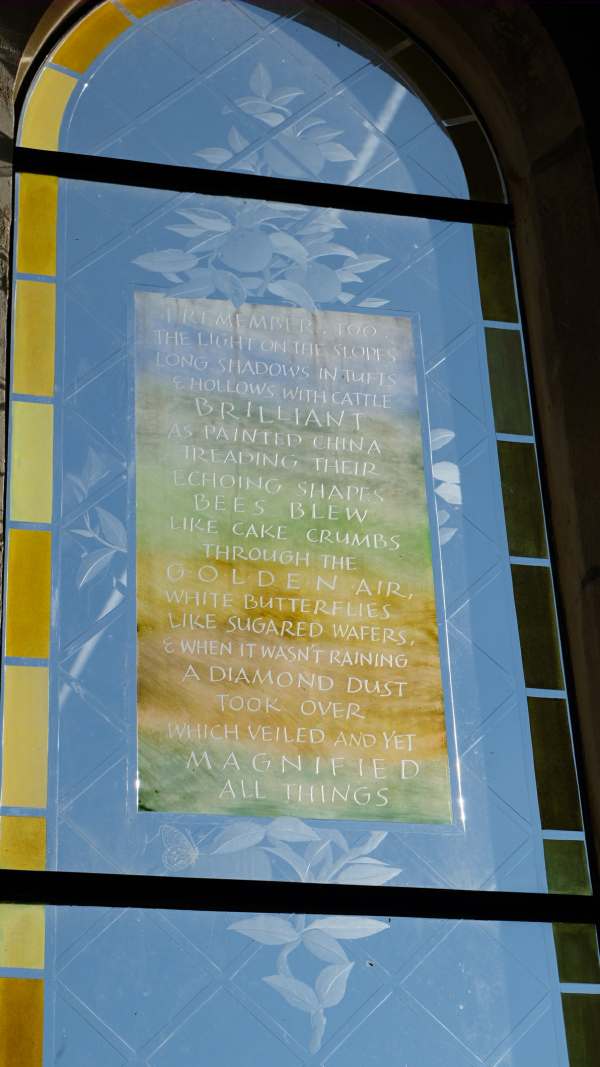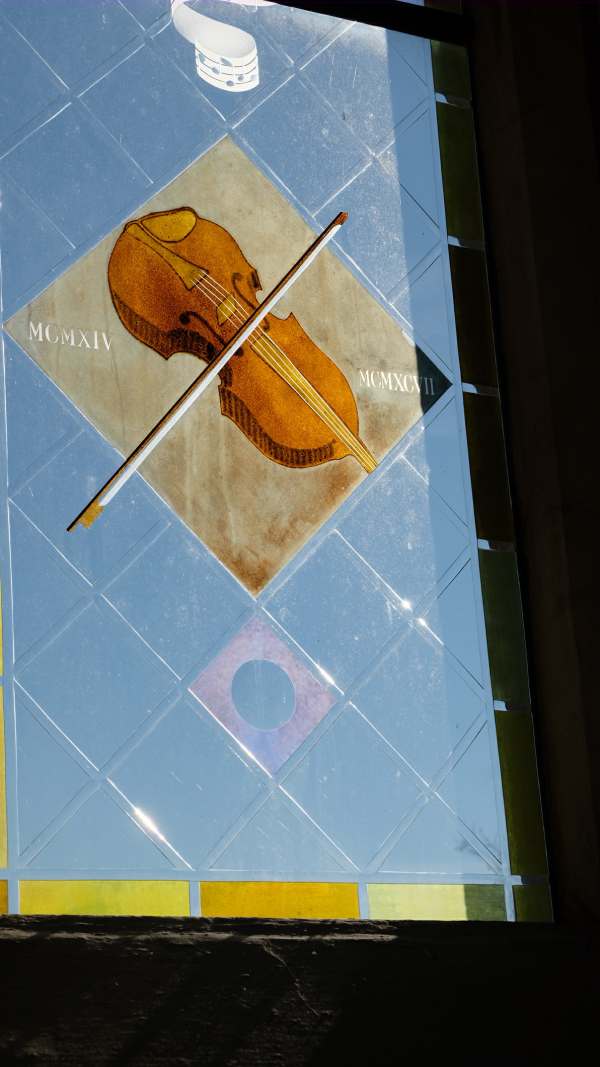 Painswick.
Coaley Peak.
Famous viewpoint looking over the Severn Vale, the Forest of Dean towards Wales. The Cotswold Way runs through here.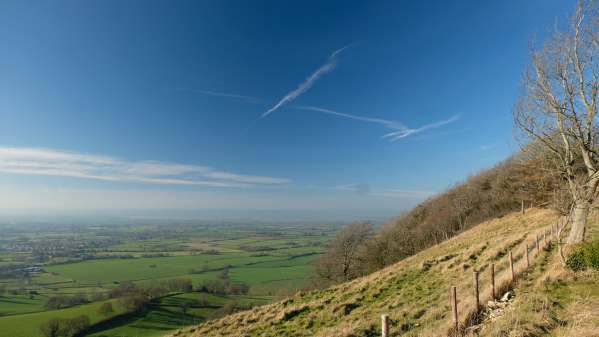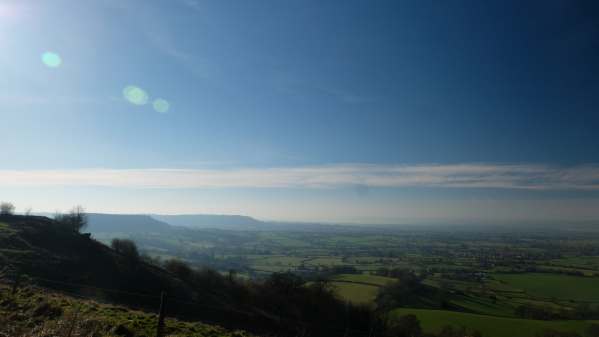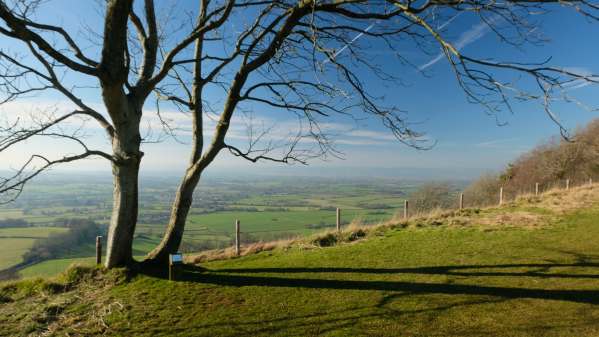 Coaley Peak. We dropped by here on our way to Colesbourne Park. Wonderful views to Wales.
Colesbourne Park.
The "Greatest Snowdrop Garden". Possibly, but how on earth did they miss this garden years ago? Each year they went to a new snowdrop garden. Sometimes miles away. She even bought snowdrop earrings and wore them every February. Sitting in the tearoom at Colesbourne Park surrounded, it seemed, by couples of a certain age it was only natural that a little melancholy should slip in. Just 68, today she should be here with him. In a way, she was for a while. And yet, those insecure thoughts were hard to hide. He had left me in the car. Didn't want the attention I create. And then found himself talking to the ladies serving the tea and home made cake. Wanting them to know that he wasn't Johnny No Mates. That he once had a beautiful wife. A lady who loved snowdrops. Out came the business cards and he told them the garden would be immortalised in Mindfully Bertie. They promised to look. It was late. The garden would soon be closing. Would he like another cup of tea and as much lemon drizzle cake as he could cope with?
By now, most people had gone. A young lad walked in. One of the family. A famous family: the Elwes. Flat cap, waistcoat, Hunters. He really looked the part. Perfect manners. He listened intently, as Bobby told him about the Snowdrop Fairy and wanted to know more. Yet another business card was produced.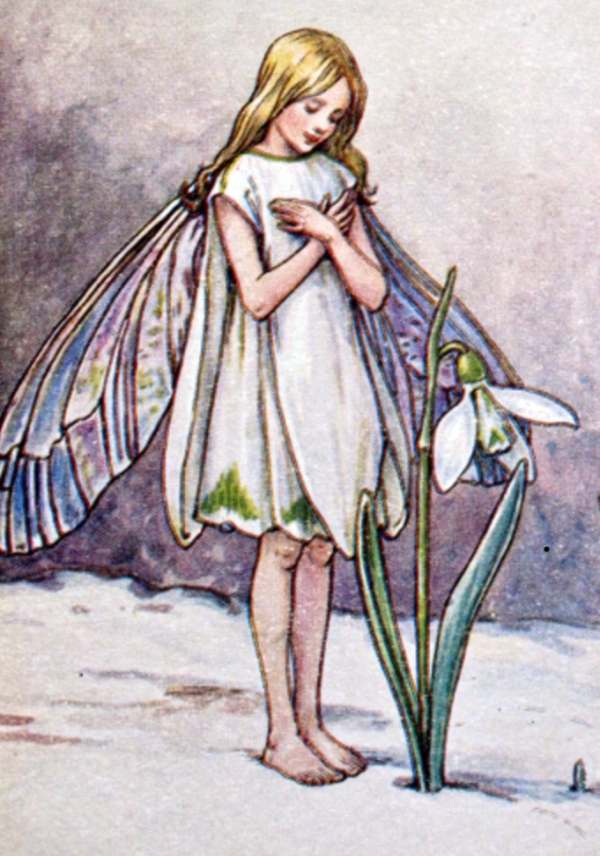 It's sad that, on a perfect day in a glorious place with friendly people, someone can feel so lonely.
It soon passed and now he had the garden almost to himself, which is when most of the photographs were taken.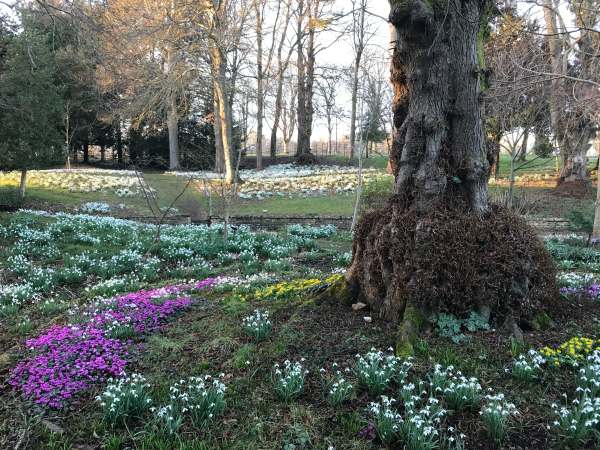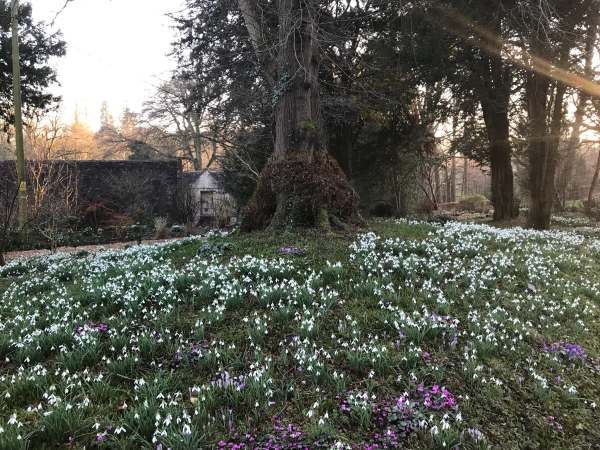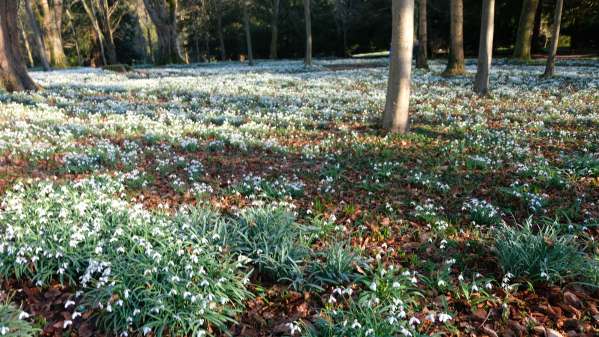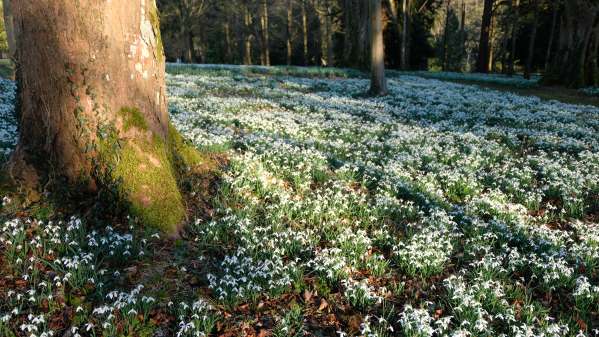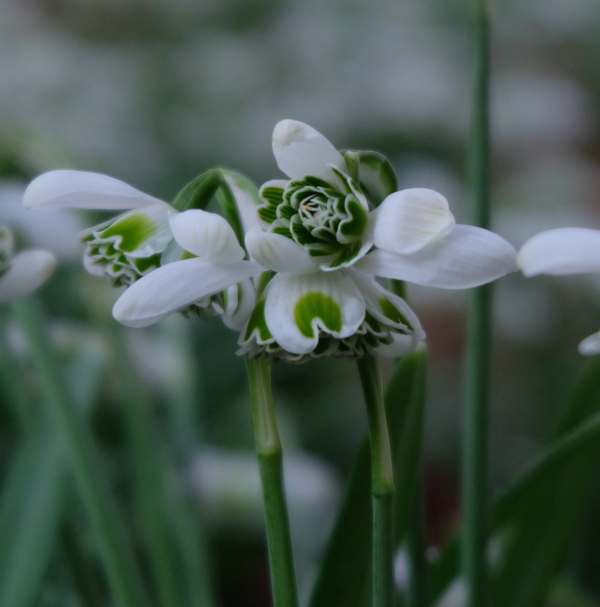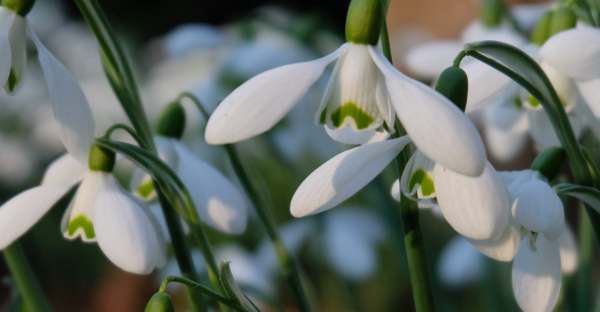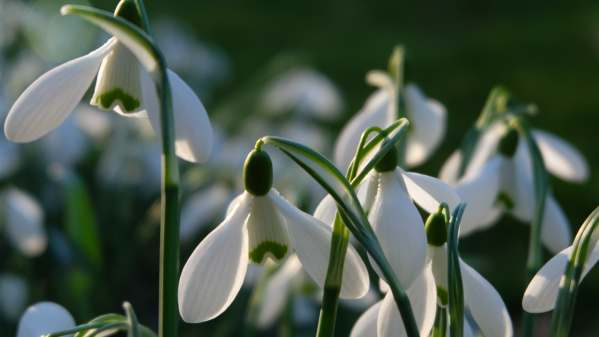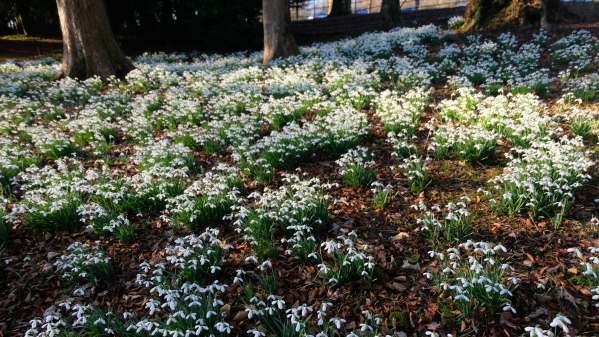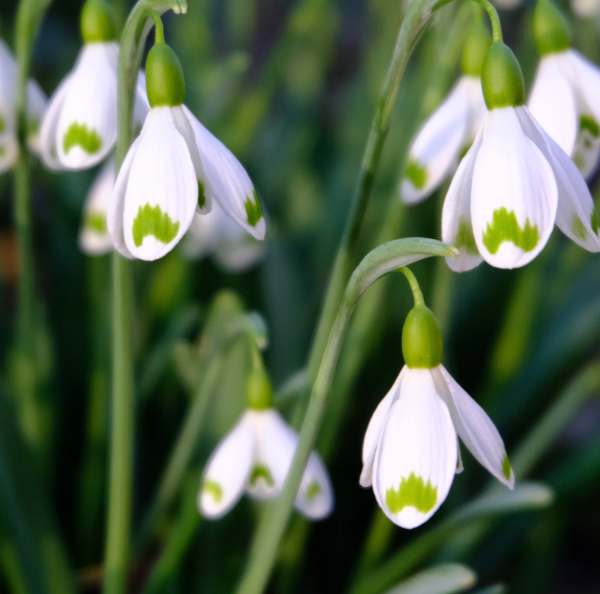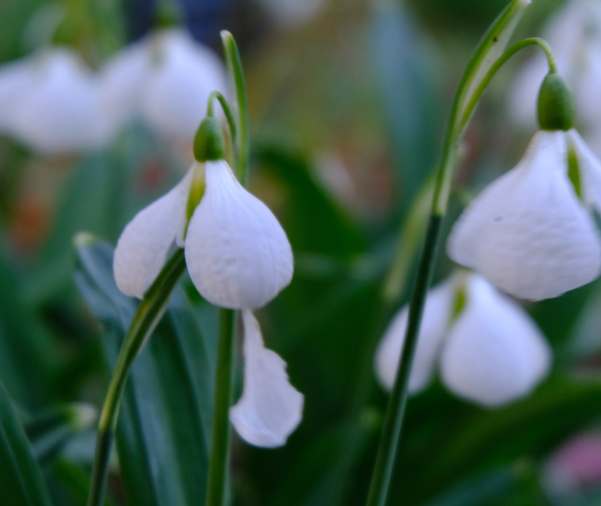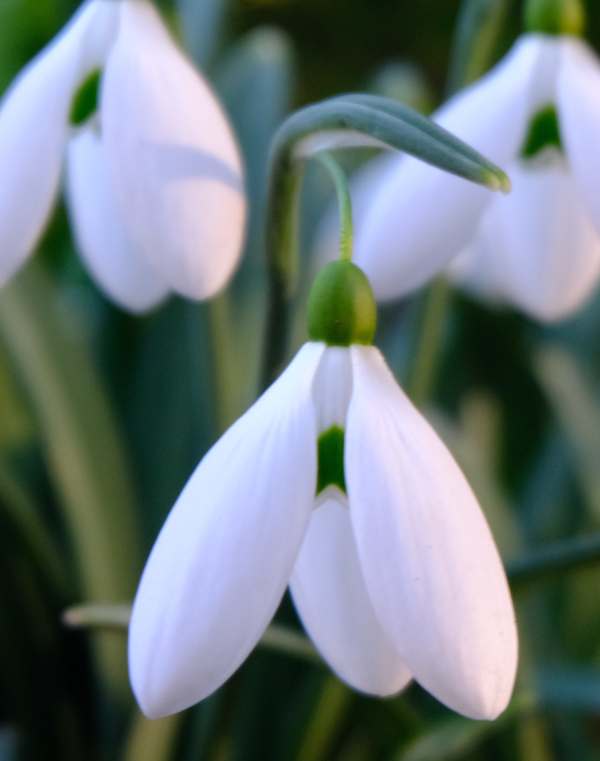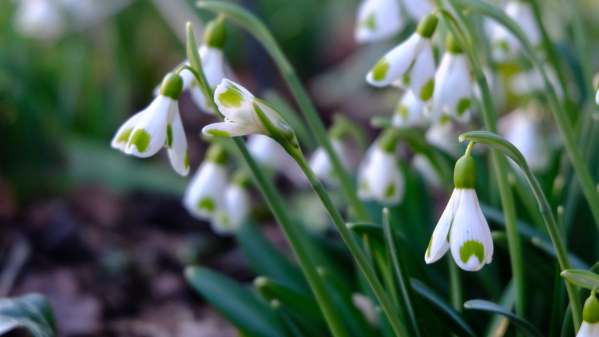 Slimbridge.
Slimbridge was too wonderful for words. In particular the late evening Swan Lake feed and commentary that Bobby had introduced Diddley to on their engagement. By the time you read this blog, the migratory swans and ducks will have left. So we shall save that part of Slimbridge for next winter when they return. And share the glory of ducks in their breeding plumage.
Eider courtship:
Goldeneye courtship:
We have only shown you British ducks here. Some of the pictures could be wild ones flying in for the winter. There is far, far more to see at the Wildlife and Wetlands Trust. Here at Slimbridge and at their other reserves. Our local one is Arundel. But back to Slimbridge.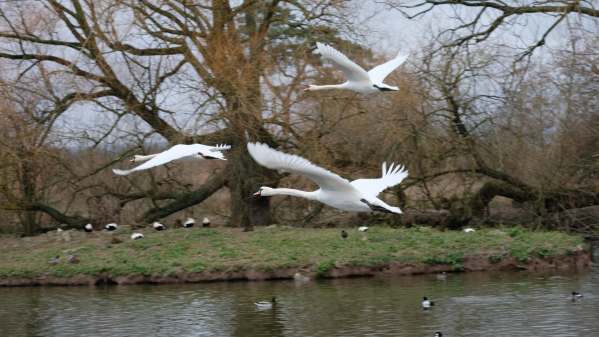 There are those purists who consider Slimbridge a "Zoo". Many of the birds are, of course captive. They can't fly away. As many more are wild and choose to spend their time there. Particularly in winter, attracted by the security of the reserve. And food, of course. To achieve its aims of conservation, the WWT has to make its reserves attractive to visitors.
Many birdwatchers go there, particularly in winter, to see the vast flocks of wildfowl outside the reserve on the Severn Estuary. And, most importantly, some very rare species have been bred in captivity to save them from extinction. So, a quirk of the reserve is its collection of flamingoes, representing all six species in the world. Not sure which is which!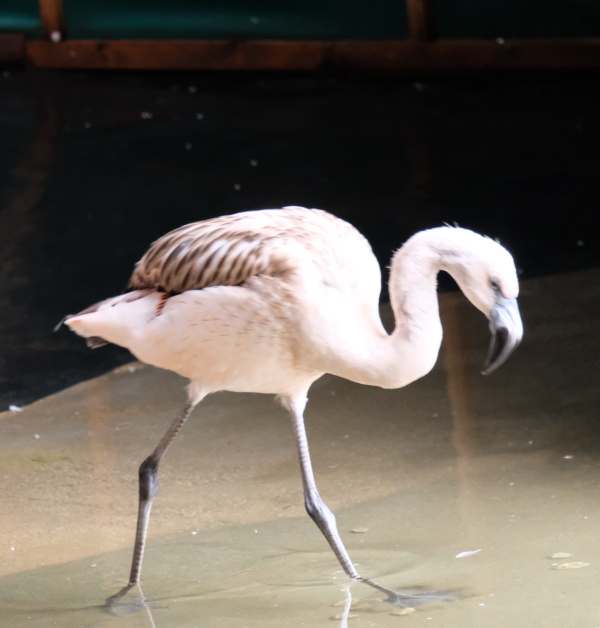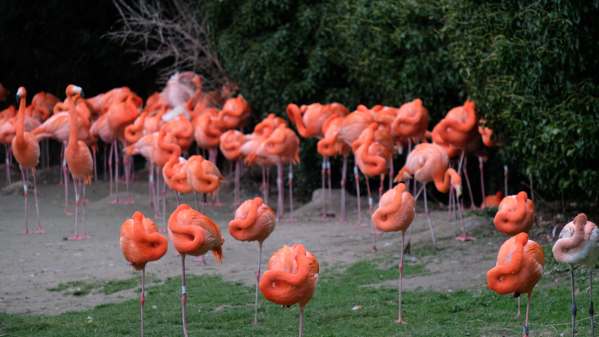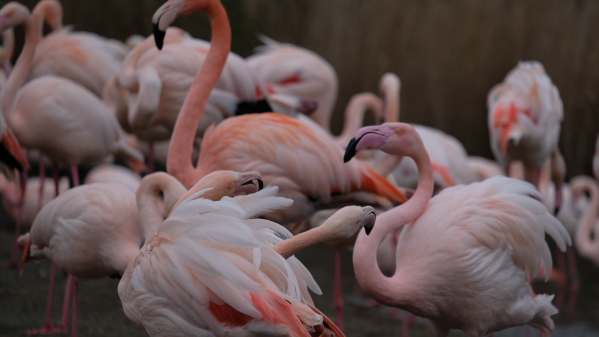 Each evening in winter, visitors may go to the Penn Hide for the Swan Feed. The "hide" is a heated chalet type building, with large picture windows. The warden of the last 37 years comes in and starts a talk that leads to him walking around the fringe of Swan Lake giving a radio commentary. We hear about the Bewick swans and so much else. Too much for this story. So we will return next winter for a blog just on the Bewick swans.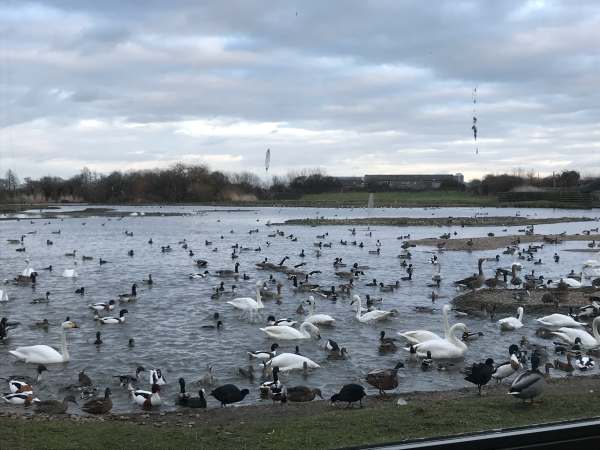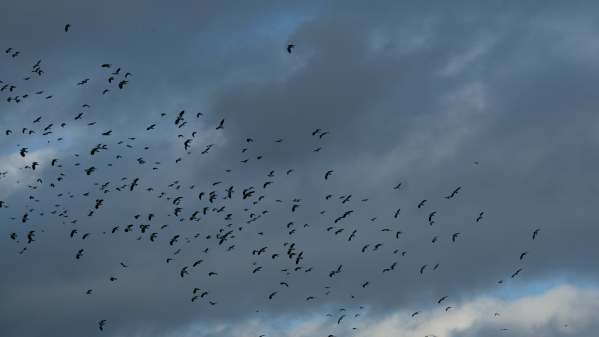 Bobby and I were the last to leave Penn Hide. As the light dropped, the spectacle was so magical that we forgot the time until the warden came in and said "I am really sorry. The grounds close in a few minutes.". What a way to end the day. Unforgettable.
Friends of Skokholm and Skomer Reunion at Bishops Cleeve.
Not for this story, but always held within a few days of 15 February just down the road near Cheltenham. A day of meeting many friends from the islands and listening to presentations by internationally famous seabird scientists and enthusiasts. Featured many times on Mindfully Bertie, including a distant view of Skomer on our St David's Walk blog just two weeks ago.
Miserden/Frank Mansell.
See his story in one of our earliest blogs. This visit is an essential part of our reverie.
Also in the same graveyard…
Lieutenant RFC First World War. Wing Commander RCAF second World War (RFC – Royal Flying Corps, that preceded the RAF. RCAF – Royal Canadian Air Force). Read more at www.findagrave.com/memorial/136547677/hunley-macdonald-sinclair.
See her obituary:  www.independent.co.uk/sport/greatest-female-show-jumper-dies-1321693.html.
And just for the blogs this March we will treat you to a Frank Mansell poem.
Staying in Nailsworth with Chris and Angie.
Friends reunited. A walk a pub lunch. A good read. And good company.
A glorious walk above Stroud. Just look at those Cotswold walls covered in moss: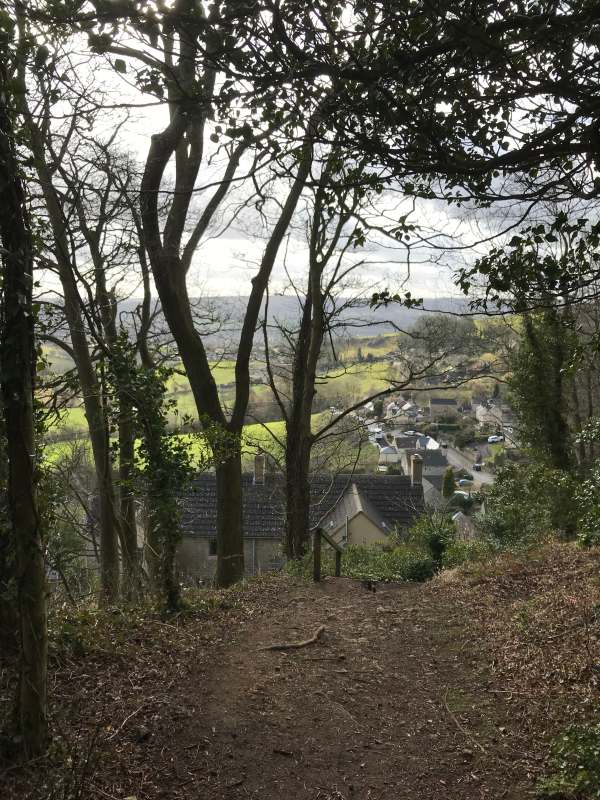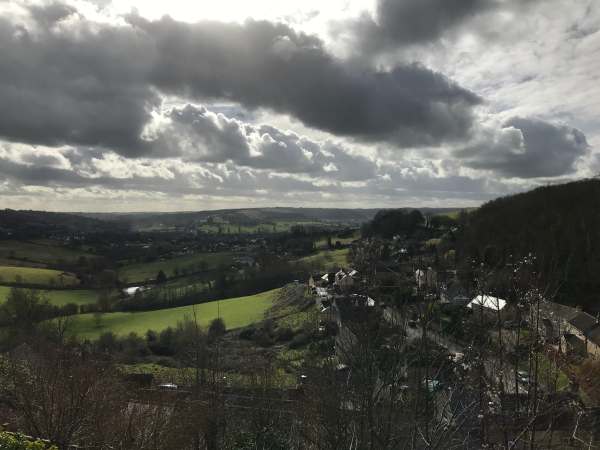 And finally, we are reminded of Wordsworth sitting on his couch "in vacant or in pensive mood". A little melancholy reminded us that through Bobby, Diddley had seen the natural world in all its beauty. Had even been a warden on Skomer Island. Through her, he had experienced the love he so badly needed and can still express in Mindfully Bertie. So don't be sad for what has passed, but be glad he had that opportunity.
Lighting a Candle to Diddley.
——————
---