Holiday Special: Oh Mr Porter!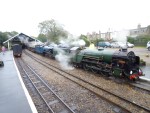 Oh Mr Porter!
Dear friends of Bertie. This is a holiday special.
I hope you like old films. Bobby loves Will Hay. None more so than that classic of British Comedy. "Oh Mr Porter". If you have seen it, watch it again. We have just done that. So with a bit of suggestive music hall thrown in – here you go…
The world we live in has never had so much communication. And yet, I wish I had grown up with music hall. It must have been tremendous. Mind you, the bearded chap shouldn't come back to our railways from heaven.
And so to the main feature. Oh Mr Porter! Cup of tea. Stop half way for an ice cream. No fags. We hope you enjoy British comedy from a long time ago.
Lighting a Candle for Diddley.
Diddley loved heritage railways. The Real Ale Special on the West Somerset. The Beer Festival on the Welsh Highland but, best of all, the Hythe Express on the world's smallest public railway. The Romney Hythe and Dymchurch. A tiny bar selling RHDR Steam ale and copious amounts of red wine!
---
---