A Day in the Life of a Trainspotter.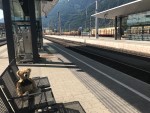 Trainspotter.
Way back in 1954 Bobby's dad, Sid, bought him an Ian Allan Train spotting book. He still has it. That, allied to Sid's own keen interest in all things mechanical, led to his son's enduring interest in such things. Given that being a trainspotter was the main hobby of schoolboys in 1954 it is hardly surprising that that generation is still prominent today. Heritage steam railways, traction engine rallies, bus rallies, airshows all have their committed supporters from those halcyon days. It's an interest that endures to this day and explains Bobby's unusual preferences when travelling abroad.
Sid was a character. Sarf London. I never knew him but I have much in common with him. Common being the operative word. Bobby promises me that he will write "My Old Dad" soon.
With this in mind, we are leaving Austria for Italy on our Continental Railway Journey. This week's story is the first in a series of A Day in the Life of a Trainspotter that will pop up now and again. Michael Portillo might be inspirational, but his journeys in the main relate to where the train takes him. Bobby's are more about the trains themselves.
---
A Day in the Life of a Trainspotter.
Tom van der Waal (see Lammersdorf) offered us a lift to the station, but Bobby wanted to go by bus. School bus to be exact. After five years of failures, he thinks he has mastered the timetable. Or rather, when the few buses there are don't turn up at all. Basically, Austrian Public Holidays in May ……… or Schulefrei (no school) at all. I checked and we were OK for the last bus of the morning, 07.38, which turned up dead on time.
Twenty minutes to the station through the mountains. Beside the lake. Down the gorge. Full of schoolchildren to Spittal an der Drau. The main town for the area, and the main railway line too. Pronunced Spi..tarl. An der Drau. On the River Drau. Known by many names, this river eventually running into the Danube in Croatia.
Spittal with a population of 15,000 (Dorking 11,500) is typical of this area of Austria. Spotlessly clean, beautiful public gardens and facilities. Quite a bit of industry along the river/  railway line. Much of that logging and the like. Perfect maybe. We mentioned this to the lady shopkeeper, who told us her daughter worked in London for Vivienne Westwood. Perfection can be boring and hard to maintain. Like the distinct, noticeable absence of non Germanic backgrounds. Here is a map for information:
The plan for the day was to catch a local train to Villach. A big city. And then the connecting train to Venice.
An hour and a half wait for the local train we needed for our connection at Villach.
Bobby …. an hour and a half! Brilliant. Walk through:
Spittal's lovely gardens to the station and its splendid pastry shop . Then just sit on the platform and watch trains for for an hour. What more could you want?
It's not Clapham junction in many ways. The station itself is on another planet. Ladies in uniform empty the stainless steel separated waste bins every day. Or, rather, one does while the other sprays and cleans the exterior. The platforms are quite austere with a lack of advertising. But ultimately practical with lifts and escalators. And cheap, too. One main line train heading for Salzburg and Munich. Right through the Alps via Badgastein. The way we came and a spectacular slow train sliding through the mountains. One for Portillo maybe. Lots of freight trains. Logs one way. Containers both ways, and enormous long trains carrying 100s nay 1,000s of new Volkswagens.
And finally our train. All along the river and lakes to Villach, and a train of more mature vintage with a giant electric engine all ready for Venice. And no brief encounter this year with Giselle. Another trip of numerous tunnels and finally through the mountains to Northern Italy and Venice, so different in character to Austria just the other side of the mountains.
We will revisit Venice for a different take on this fabulous place. But all of you please note. Until you have arrived in Venice by train, you have not lived life to the full.
Lighting a Candle to Diddley.
PS
The Mindfully Bertie" team is small and dedicated:
Me, naturellement
Bobby
Tim
Tracey
Oakley.
We all like holidays, but are dedicated to giving you a story each week. Tim, as Technical Director, took over while we were travelling round Europe. Now he together with Mrs Tim (Tracey) and Guide Dog Oakley will be off on their own adventure in a couple of weeks. Trains again to and around Scotland, plus a canal boat trip in the middle down the Caledonian Canal. I'll ask him to send pictures each week. Bobby cannot stand in for Tim's expertise, but he can write stories that fit the circumstances in advance. You may not notice any difference, but they will be shorter for a while.
---
---