Skokholm Island. A Welsh Trilogy. Part 2: Kate Strudwick, Musician.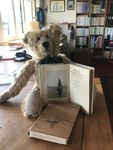 Kate Strudwick: Composer, Writer, Musician.
Bobby has met all sorts of people on the islands. Richard Brown (Warden) told him last year that ornithologists are only one group. There are artists, photographers and people like a Bobby who loves wild, free places that have an element of safe passage about them. But, in all those years, he has never met, to his knowledge, someone like Kate Strudwick.
Here's our interview.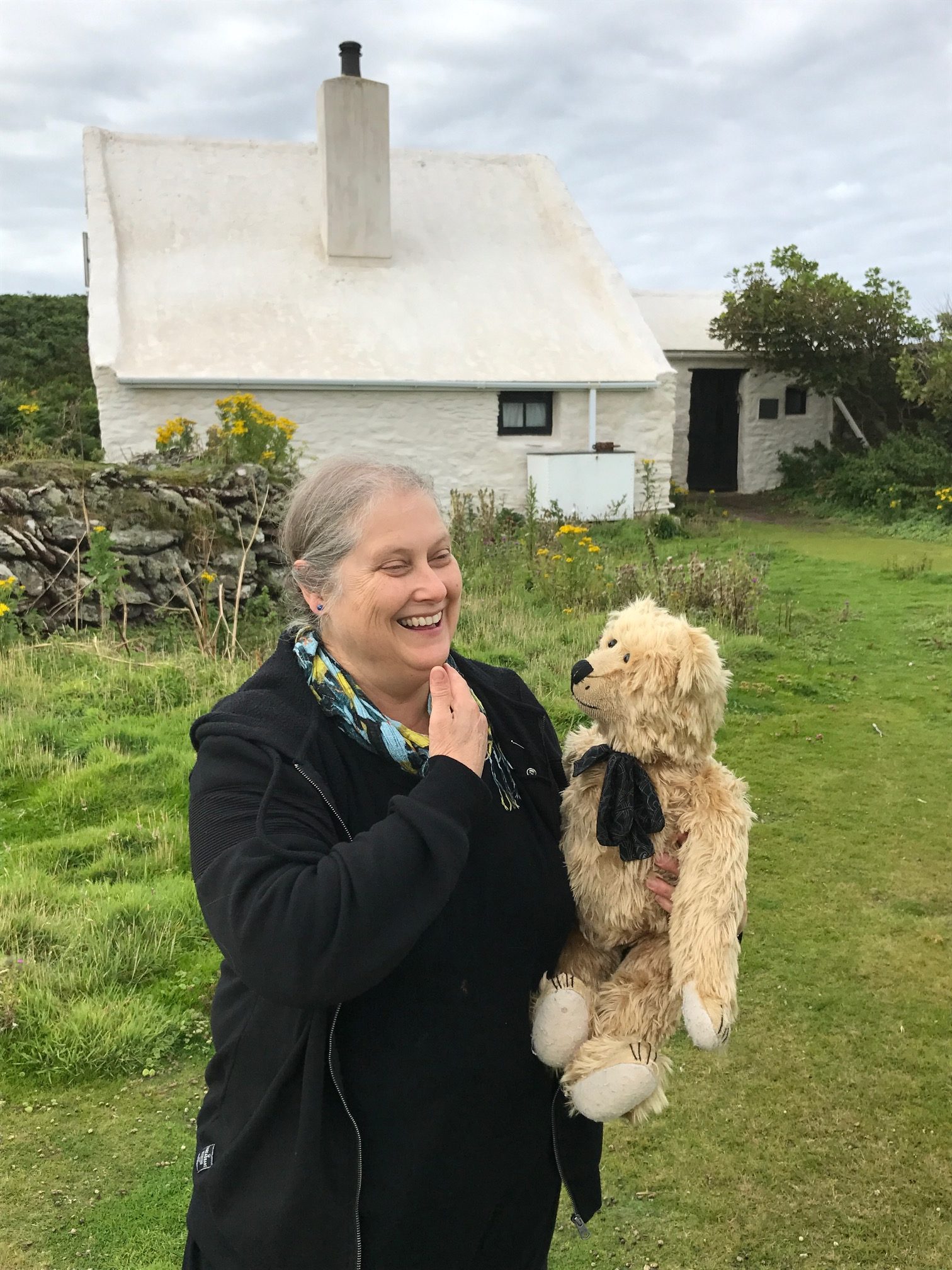 Bertie: "Well Kate. I guess this is the first time you have been interviewed by a bear?"
Kate: "Yes, and it's my first time on Skokholm Island."
Bertie: "You tell me that you are a Pembrokeshire lady. That many years ago you gave your grandad a book for his 80th birthday. "Orielton". The human and natural history of a Welsh Manor, by Ronald Lockley. Years later, the book came back on his passing. You doubted he had ever read it. But you did."
"That book was the start of a fascination with Ronald Lockley. It was local history. He was well known for his strident views – particularly on the oil terminals that were coming to Milford Haven. That book inspired you to read the many books that Lockley had written."
Just a few of many. "Dream Island", first published in 1930, is still in print. The photograph showing the latest version (2016) with a foreword by author Amy Liptrop.
Bobby: "Those of us who know the islands – have been and stayed on them – have had Ronald Lockley's name engraved on our very souls as the patron saint of Skomer and Skokholm. Particularly Skokholm where he lived, made his name, set up Britain's first seabird observatory. Became an expert on rabbits and birds – especially the incredible life story of the Manx Shearwater. See last year's stories September and Dream Island."
"But, from your studies, how do you view him?"
Kate: "I doubt that he was a saint. He was certainly headstrong and passionate, but not a very good farmer. There is a fine line between being a visionary and being delusional. His life went through phases, but he was forever the romantic. He realised that writing was his gift. He married Do (Doris). Was it convenience or true love? I have a suspicion that she felt a little left behind in later years."
Bertie: "So after all your research you have finally landed and stayed on Lockley's Dream Island. The last piece in the jigsaw. Lived in his house and seen the moods dictated by the weather of island life. Seen the plaque on the cottage describing his brilliant mind.
Kate:
"It's been inspirational. Not just Ronald Lockley – but the birds, the people, the atmosphere. I would really like to come back, but am conscious I may be taking the place of an ornithologist."
Bertie: "Ask Richard (the warden). The Trust needs people to stay. Those who do are from a variety of backgrounds, not all dependent on birds. Artists, photographers, people with more obscure interests like, slugs, lichens and clouds (Bobby)."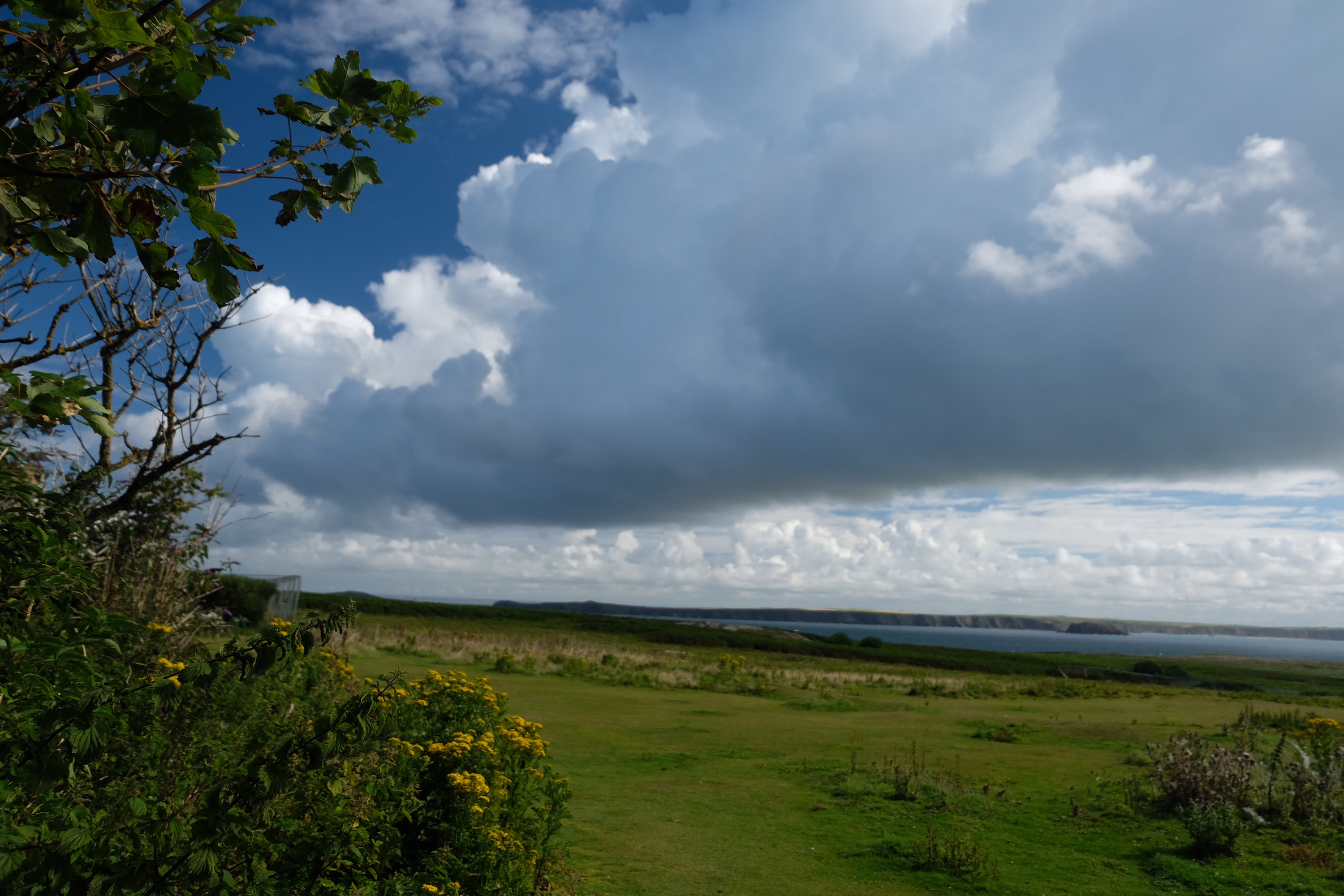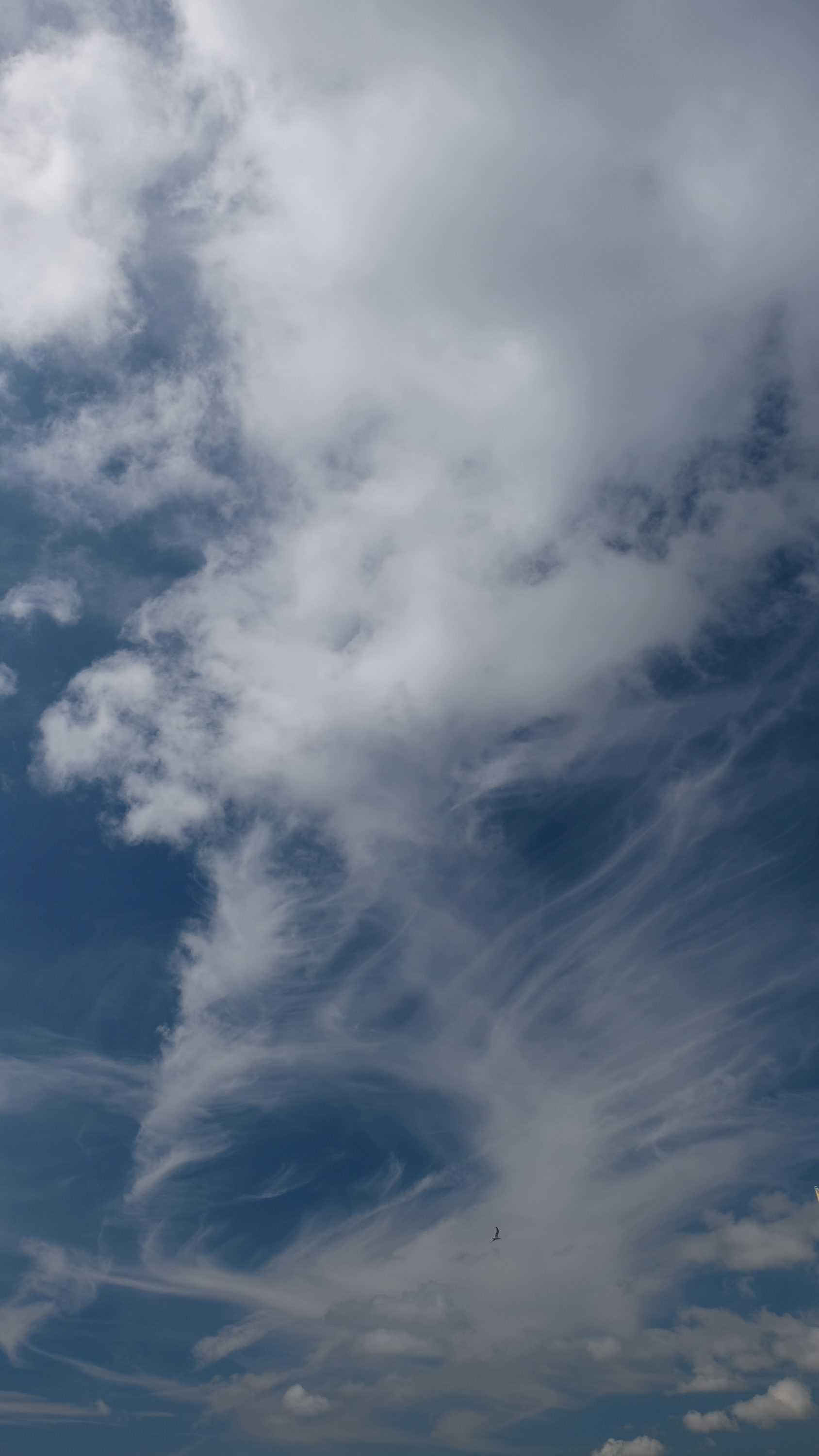 https://cloudappreciationsociety.org
Bertie: "The greater the variety, the better the mix. Your interest has turned more heads this week than anyone else, and now you are going to meet the current "Gods" Steve and Anna Sutcliffe on the mainland. Who knew Lockley. Formerly Skomer wardens and been Involved with the Islands for a very long time. Steve led the project to rebuild the buildings on Skokholm. When you see the blog, please put a comment on about your meeting."
Kate: "To be honest, my time here has increased my interest in the natural history of the island."
Bertie: "In other words, Kate Strudwick, you are becoming a true islander!"
Bobby: "We talked about your father working on Sunderland flying boats from Milford Haven just after the war. You must check with Steve, but I seem to remember that, when the appeal came to buy the island for the Trust, money came from former pilots. Some from Canada, who saw Skokholm as the last and first landfall flying out over the western approaches during the war.
Bertie: "Like Lockley you also have an abiding interest in rabbits, of which you have several."
"And, most importantly, you told us that you want to set Lockley's words to music. Being involved in a folk group. Allan Yn Y fan."
Kate: "I have some ideas for sung cycles of this music … "Getting here" ( by boat across the sea ) … Alice Williams ( the wrecked schooner … see the blog Dream Island) … Relationship between him and his wife … rabbits."
Bertie: "Thank you so much for this Kate, and thank you especially for putting Bobby off his daft idea of sending me to the Teddy Bear Hospital for my wonky head. As you say "I wouldn't change a thing". I am as perfect as can be!"
Bobby: "And finally, each night everyone on the island is invited into the cottage for the "log". A record as an official bird observatory of everything seen on the island that day. It's an important social occasion, and very atmospheric in Lockley's old cottage. On this occasion, we were privileged to enjoy Kate's poetry and music.
Bobby: "We loved Lle Arall/Another Place. Click on "music" and scroll down to track 01 Mil Harwich Wyt).
Lighting a candle for Diddley.
Continuing our Wales theme, we can go back to last year when we visited Laugharne – of Dylan Thomas fame. Just over the county border into Carmarthenshire. He another of Diddley's favourites. We hoped to light a candle in the church, but it was locked. So we lit an imaginary candle in the form of a £1 coin to place on his cross. I can imagine various reasons for people placing coins on his grave, but would love to know the real one.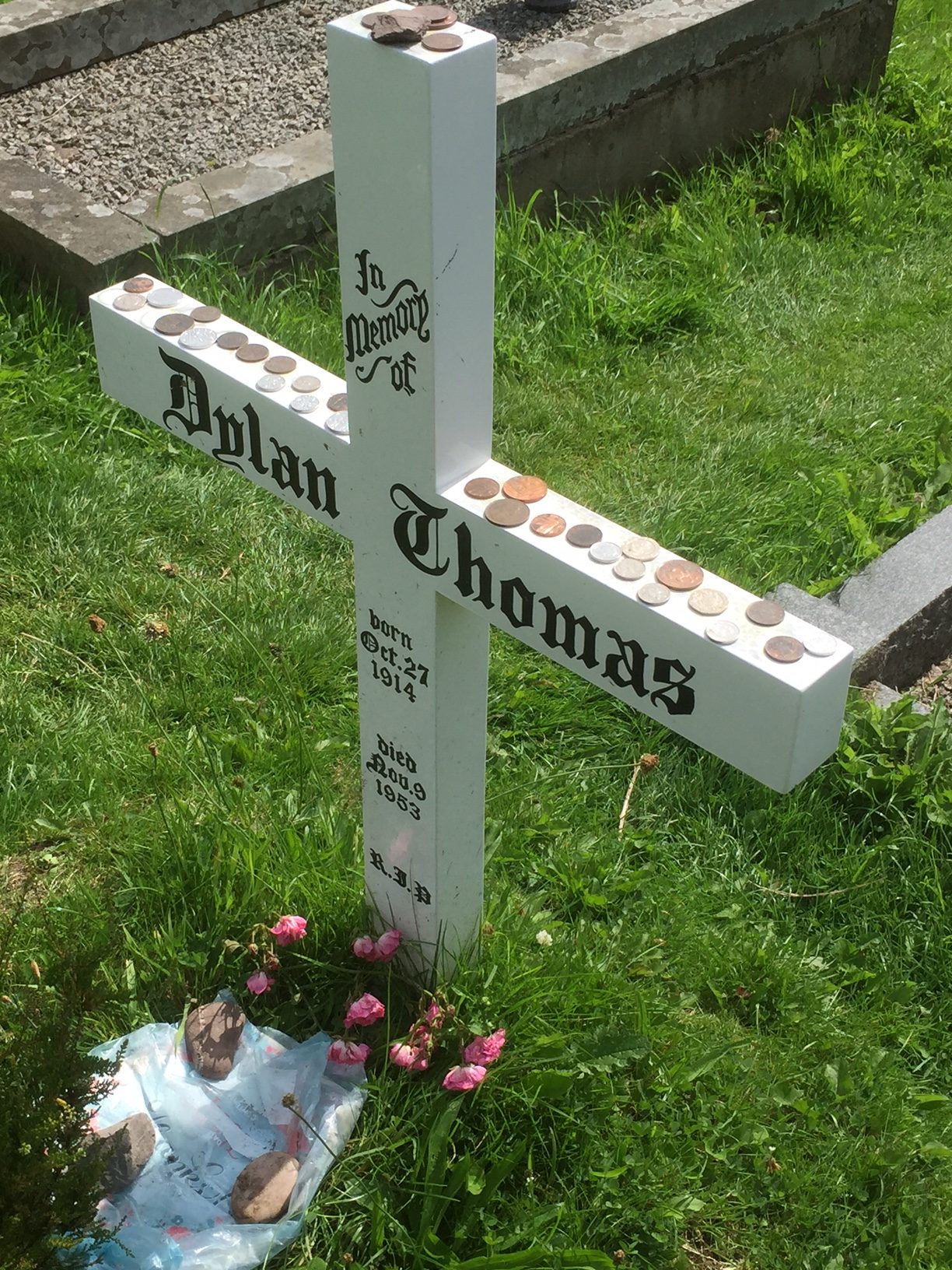 – – – – – –
---