Small Talk Saves Lives.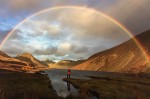 Small Talk Saves Lives.
Hasn't it been a wonderful autumn! Here in the Surrey Hills that surround Laurel Cottage, the beech trees take your breath away. But, as I write this, the temperature is dropping, the wind gathering, followed by the leaves. Or as Eva Cassidy sang…
The falling leaves
Drift by my window
The falling leaves of red and gold.
I see your lips
The summer kisses
The sunburned hands I used to hold.
I miss you most of all my darling
When autumn leaves start to fall.
Or listen to her melancholy rendering:
We were reminded of this beautiful song as it was played on the car radio, cruising through those spectacular Surrey lanes. Followed by a chat with a gentleman. Talking about a mental health campaign. Specifically: "Small Talk Saves Lives". A joint initiative between British Transport Police, on behalf of the Railway companies, and the Samaritans. He played a recording of Sarah Wilson talking within the campaign.
Bobby wanted to tell everyone about it, but was nervous that Mindfully Bertie was supposed to be fun, something a little entertaining and a break from the problems of the day. Mental health had come up once or twice and he didn't want to keep banging on about it. I reminded him that the GAD blogs had been well received and the timing of this just before Christmas was very appropriate. Christmas is one of the most stressful times of all. John Lewis and others evoke an idealised Christmas that may well be the aim of many. For others, it is a time to survive and look forward to the first snowdrops. So we agreed that we should ask you to read the following link or at the very least scan down to listen to Sarah Wilson's short video.
www.networkrail.co.uk/communities/safety-in-the-community/safety-campaigns/suicide-prevention
Have you noticed how many stations now have Samaritan help notices on the end of platforms? They have also been placed on lonely railway footpath crossings out in the countryside. This is all to do with this Small Talk Saves Lives campaign.
When Bobby worked for the Highways Agency, they had particular problems with certain bridges. Following the example of the Clifton Suspension Bridge, they installed Samaritan phone numbers at each end of the bridges to help prevent tragedy. Sometimes all you need is someone to talk to.
The first most of us know about suicides on the railway is travel delays. Obscure messages, that provoke a range of response from 'how sad' to 'how selfish'. How could anyone do such a terrible thing and subject those they love to lifetimes of "why couldn't we help you". " Was life really that bad". "How awful to feel that desperate". For who are we to judge from our apparent mental stability?
And now, with Bobby's agreement, I am going to relate a story a friend told us a few years ago.
James, Jim for short (not his real name) was going through a period of family strife. Weeks, months passed and gradually the situation deteriorated. Jim had no idea how close to the edge he was until one day he was pushed right over it. Sleepless nights followed and mental collapse that forced him to go to the doctors. The doctor expressing his opinion that it was a miracle that he had stayed sane that long.
Anti depressants inevitably followed and a complete change of personality. Still heading downhill, he found himself at Surrey Mental Health for the Elderly. Was given more pills and started having suicidal thoughts. They became an obsession to relieve the distressing symptoms. Surfing the net in the middle of sleepless nights he planned his own demise. At no time did he consider the affect it would have on others. This was his private battle that not another living soul knew about. Some of those sites even suggested that if you were looking at them you needed serious help.
For Jim, it could only lead to some form of action. The following is told in a light hearted way but, as Jim describes, he remembers the panic and adrenaline rush with sheer disbelief now in retrospect.
First idea – Drown in the River Ouse like Virginia Wolfe. Round and round he walked in a turmoil from Lewes Station. Until, exhausted, he got back on the train. Arriving home, his wife asked "where have you been?". "Lewes". "What do you want for tea?"
Second idea – Jump off Beachy Head. By train to Eastbourne. At Haywards Heath he changed his mind and went home. "Where have you been?" "Beachy Head to kill myself". "What do you want for tea?"
Third idea – Suffocate. Stick a bag on your head. He did and tore it off in terror. Before tea.
Fourth idea – Hang himself. Google "tying a noose". Where to do the deed? Would the beam break? Would the rope break? Could he do it before tea?
Fifth idea – Drown in the river. Too shallow. Go home for tea.
Sixth idea – Drown in the Regents Canal. Train to London. Walk the canal in a panic. Hand himself into a policeman on Kings Cross Station. Or panic stricken go to hospital. In the Euston Road. A&E. "Yes can I help?" "I feel suicidal" "Sit down over there and wait". He was taken through a secure door and led down into a basement room to await assessment. A nurse dropped in. He told her how this time he had a bag full of envelopes and notepaper to write to everyone. But hadn't written one. After two hours, the panic had subsided. No-one had come and he avoided security and left the hospital. His phone rang on a bus. A doctor. "You OK? "Yes." "Good." Back home. "Where have you been?" "What would you like for tea?"
For that is what he did.
There is am amazing coincidence here. Bobby likes Radio 2 on Sundays. Only Sundays. And always listens to the Rev Kate Bottley early in the morning. From a non religious standpoint, he finds the programme uplifting. Particularly where she lights virtual candles in remembrance of people we love. She related a story of how she was approached on Kings Cross Station by a young man. He told her he was thinking of taking his own life and asked her to pray for him. She did and she chatted and never forgets him. Praying for him every single day… Small Talk Saves Lives.

If you want to hear what she said, it's on BBC1 player for a few more days. Click here for link. 38 minutes in.
Seventh idea. Maybe there were others, but this seemed most attractive to Jim. Jump in front of a train. A survey would be needed to choose the best station. He settled for Raynes Park in having an odd layout of platforms and many non stop trains roaring through. It was such a good idea that he related it in front of a full house at St James Theatre in London years later to Ruby Wax in her mindfulness show. Apparently she didn't blink eyelid and thanked him for wishing her Happy Birthday. By this time he was cooking his own tea.
Action. All these ideas came within a very short period of panic day after day. The doctor and the visiting nurse from mental health for the elderly had got onto olanzapine. Anti psychotic. And were double subscribing. Tea was agreeable but appetite was diminishing. Until one Saturday morning, exhausted, Jim just wanted to sleep and wake up free of the madness. Taking a handful of the doubly subscribed pills he settled back for a good kip. Unbeknown to him his wife thought that was what he was having. Until late afternoon she rang his sister and mentioned pills all over the floor. Within minutes the ambulance arrived and he woke up in hospital. Humiliated. Thinking everybody was looking at him. What a shit! What a horrible pathetic man! Would the hospital be nasty to him? They offered him a few months in a mental hospital or go home and fight it on his own. His next door neighbour took him home. "What do you fancy for tea?"
Months followed until he started seeing a brilliant counsellor. The corner was turned. Jim was on the way back. Those meetings took months to arrange. The parlous state of the NHS and the Dickensian attitude to mental health helped to create a situation that could have been averted with the right talking therapies. Against medical advice he threw every single pill down the toilet and stuck it out for a brave new world. One of rainbows and wonderful people.
Jim asks me to tell our readers he is not against medication. For some it may help through a bad time. But there is evidence that anti depressants can cause suicidal thoughts in very vulnerable people. He also asks that the next time you hear there has been an incident on the railway you think of his story. It could happen to someone you know. The reality is that many suicide attempts fail, leaving people alive – but terribly injured. Destined to spend the rest of their lives in torment.
At the height of the panic, Jim rang the Samaritans every single night. Sometimes twice in the night. They are not trained to give you solutions, but to listen. As long as it takes. Jim is eternally grateful to those Samaritans who listened. Night after night after night.
Jim recognises that he was lucky. That the life he enjoys now came so close to being extinguished. And leaving a truly dreadful legacy for his family and friends. Not by intention, but by temporary madness caused, he feels, by the medication he was given. His view substantiated by the Daily Telegraph:
www.telegraph.co.uk/science/2016/03/14/antidepressants-can-raise-the-risk-of-suicide-biggest-ever-revie
I am really grateful to Jim. It's hard to believe that the Jim you see now could ever have had those terrible thoughts. He is not mentally ill. But for a few weeks you could say that he was. But, like Bobby, he is very sensitive and needed to find ways of protecting himself though self awareness. We met him through Al Anon. Another victim of family alcoholism.
For every alcoholic, there are many others whose lives are damaged or made intolerable by living with the affects of alcoholism. If you, or someone you know, is in that situation, the details follow. Members of Al Anon do not promote the Fellowship. We merely draw your attention to an organisation you may find helpful.
Al Anon produces many leaflets and books that can be bought on line. But, like Alcoholics Anonymous, it is felt that the main purpose is to provide a safe environment at meetings for people to share their personal stories, confident that they will not go beyond the rooms in which the meetings are held. Living with an alcoholic, particularly one you love dearly, can be a very lonely place.
Lighting a Candle for Diddley.
Whenever Bobby is in London, including every Tuesday with Al Anon, he lights a candle to Diddley. It's often St Martin's in the Fields. A little free music, maybe. Or, book a concert. And usually apple crumble and custard in the marvellous crypt café.
– – – – – – – –
---