The Special One.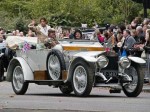 The Special One.
Don't worry about that Portuguese football manager. I am the Special One! It says so on my new membership card for the world famous Brooklands Museum.
---
Bobby: "Bertie! This story is not about you. It's about a very special car. A vintage Rolls-Royce that has given our family some very special memories. Your enthusiasm for going to Brooklands the day after your membership card arrived has brought about this opportunity to tell the story of our two adventures in Nellie. A 1912 Rolls-Royce that had spent most of its life in India.
When we arrived at Brooklands, the lovely lady at reception allowed us in on your card. I was just a guest. But the story is yours to narrate. Of course."
It was cold. Just after the snow had melted. Wet and miserable. The event was a special one. British Marque Day. Lots of old British cars from famous makes. But the weather had taken its toll. Not just on the cars, but on Bobby, who was all for going home. Until he saw that car with all the other vintage Rolls-Royces.
R1487. Taj Mahal. The Lord Mayor's Show, 2006. The Spirit of Ecstasy Rally 2011. Nellie.
The Lord Mayor's Show November 2006.
"Dad… How would like to ride in the back of a vintage Rolls-Royce in the Lord Mayor's Show?" So asked Andrew, Bobby's son, who works for Rolls-Royce.
"Wowww. Can I bring Jasmine? Of course."
The scene was set. The incoming Lord Mayor, John Stuttard, was a Rolls-Royce Silver Ghost owner and asked that the Owners' Club be featured in the parade.
It was so exciting that they decided that, for just one day, they would be "Royalty". Princess Jasmine and the King of Mauritania. Diddley immediately decided that her granddaughter needed a new coat and whisked her off to Monsoon appropriately.
The day came and started inauspiciously for a King and a Princess on a train to London.
They walked along the River Thames. A King and a Princess for one day only. But what a day! And when they got home, the whole family had watched them on television.
---
The Spirit of Ecstasy Rally 2011.
"Dad. How would you like a ride again in Tim and Susie's Rolls-Royce?"
"I have been waiting five years for you to ask."
"We are celebrating the centenary of the Spirit of Ecstasy with a big rally in London. Maybe 100 Rolls-Royces. A parade passing all the famous places associated with Rolls-Royce."
The story…
Ummmm. Rolls-Royces from the last 100 years converged on central London. Maybe 100. But Bobby was a guest in possibly the most beautiful one. A car with an incredible history.
On a sunny day the parade drove slowly round all the famous places associated with the history of Rolls-Royce.
Waiting at traffic lights alongside a bus, the driver stuck his head out of the window. "Ere mate! How did you get in that?" "Connections!"
Iconic pictures landed up in America, South Africa and other countries. All of Nellie. The most beautiful Silver Ghost. And finally purring to Syon House for a glamorous reception.
It was another wonderful day in the Special One. Andrew even arranged a lift home for his old dad with Ted. Ted, who had made a few quid in building and treated himself to a nice car. A 2002 Rolls-Royce Corniche. One of the last truly British Rollers before BWM took over.
It was all too much for Bobby. Arriving home he asked Diddley "Where is our car?" "Where you left it presumably. At the railway station!" An unforgettable day ended with Bobby cycling back to Dorking station to retrieve his own car!
There is a moral to these tales. If you get a chance to do something exceptional, take it. You will never forget. The damp and gloom of a miserable day at Brooklands in 2018 was uplifted by seeing Nellie again. Now over 100 years old.
Jasmine will never forget either. Twenty one years old this week. She is now a mum to Jay. One day, his Great Grandad Bobby will introduce him to that famous car in which his mum was a Princess for the day.
And to close, here is Nellie at Goodwood. The home of Rolls-Royce Motor Cars.
Lighting a Candle to Diddley.
This piece is dedicated to "The Special One'. Whoever that may be. Diddley loved Chrissie Hyde
and this record….
And she loved gaffs and daffs!. So cheap at this time of year you can fill the house with them.
---
---