Mindfully Bertie – The Teddy Bears' Picnic.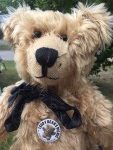 Teddy Bears' Picnic.
Hello there!
My name is Bertie. I am a teddy bear. I do think a lot as many bears do and have done in the past. Bears like Winnie the Pooh and Paddington.
My best friend is Bobby Ballcock. He talks a lot. Everybody says so. Together we hope to bring you a ray of sunshine through our stories. Where we go. Who we meet and what fun it can be. And each week we light a candle to Diddley. Bobby's wife who is now in heaven. Never forget the ones you love.
Coming from a teddy bear shop in Dorking run by an old gentleman like the one in Pinocchio. The toy maker. The shop isn't there any more. When Bobby met Diddley it seemed only right I should be best man at their wedding. Just the three of us. Before that he and I were on our own, and now we are on our own again. It's OK to be sad. but not forever. In our blog we say –
Yesterday is history, tomorrow a mystery, so live for today. And that is what we try to do.
This is a Teddy Bears' Picnic. Sometimes when your life changes you can do things you couldn't do before. Bobby loves trains. And planes. And old cars. And Fulham Football Club. Which club do you support? Me? I support Sutton United. Put it all together and there are so many opportunities. The best one being travelling by train to our favourite place in Austria. A week walking in the mountains. A week to get there by train and a week to get back. On the way I went to Paris and up the Eiffel Tower. To Germany and the BOB train. To Austria and the mountains. And Venice, with all those boats. On the way back through Germany I found the most wonderful upside down railway with a very funny name…..Wuppertal Schwebebahn. Try saying that eating an ice cream.
If you look at my blog, you will see many other stories about the life a teddy bear can have. A veritable Teddy Bear's Picnic. He has a good friend. And lots of grandchildren.
Here is the blog… www.mindfullybertie.org.uk.
There are many stories to write. Last week we went to Brooklands Museum. A wonderful place for bears.
And, of course, we always finish with Lighting a Candle for Diddley. This time here at Laurel Cottage where we all had such happy times. And still do. Where the family and friends and you through this blog are always welcome. Just bring a smile.
Lighting a Candle for Diddley at Easter
---
---