A Day out with Sutton United.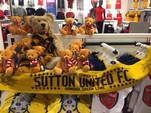 Sutton United: Close Encounters with Another World.
It came from outer space. It was alien. It landed in an area of north London famous for its prison. Its teeming world of struggle. Every facet of human life squashed into an area no different to any other metropolis. It landed next to the railway line. Opened its doors and the population poured in. Grey, damp, misty metropolis. The alien was full of colour. Red and white dominated, but a wall of yellow was there for those who wanted more. Dazzling lighting. A long queue waiting patiently to see the inner sanctum of the alien. Where suddenly green dominated. Not the green of the Cotswolds, the Surrey Hills, but the alien dazzling floodlit green. Flat as a pancake. Cosseted. Heated. The pantheon of endeavour. 60,000 watching the gladiators.
Yes! Our first and only visit to the Emirates, home of The Arsenal Football club, was a bit of a shock. Tuesday is Al Anon day in Islington. A Borough of contrasts. None more so than the Emirates.
Bobby's life long support of the local team to where he came from, Sutton United, had led him here.
Giant killers extraordinaire. The smallest had drawn the biggest in the FA Cup. And here we were. In the land of the giants. Where heros have statues in their memory. Not dead or even old, but heros nevertheless. And then there was the "armoury". A large gun overlooking the dazzling scene of football shirts as far as the eye could see. Even teddy bears. Once outside, we were told "Go upstairs and see Thierry Henri". In the gathering gloom and misty drizzle, we found Frenchman Thierry on his knees. He looked as though he needed cheering up. Round the corner was Tony Adams. Heart of oak captain immortalised in bronze. Dutchman Dennis Bergkamp in full flight, but in such gloom the picture was unusable.
That was enough. A few hours later, 60,000 souls descended on the alien and watched their heros lose a game of football. 60,000 who would probably earn less in a lifetime than some of their heros did in a week! This is worship on a grand scale.
Down the alien's steps and round the corner we were back to the land of corner shops, fruit and veg and "right oh mate" from every colour under the sun. Into the Holloway Road, where roadworks dominate the scene. A crowded No 43 bus and even more laughing schoolchildren fighting to get on.
Back to the Angel Islington, where Bobby managed to fall off the bus. On top of me. I saved him. Two nice ladies got off the bus and helped him up. But, in true reporter style, here is the evidence of an alien existence in North London.
And so to another version of the same story. 11 against 11 kicking a round ball. The world's favourite game. Back home to Gander Green Lane. Bobby's roots. Where before the metropolis crept inexorably south, fields of lavender dominated the scene. Where skylarks nested next to No 138 Brocks Drive. Bobby's family's home for 81 years, and a future blog. Back to the home of Sutton United.
Rose's tea room now a portakabin. Rose, who had been at the club from little girl to old lady. Serving tea and pies in a sweet little condemned chalet for decades. She and her little shop now gone, but her name immortalised.
Here's the club shop. And Frances. A lifelong Sutton supporter and teddy bear lover. Her late husband used to make her teddy bears and she still has "Oscar" made by him. Goes everywhere with her. I let her into the "secret " of Bertie being Oscar originally… (see preview blog).
The shop smaller than Arsenal's. And much more friendly. Selling second hand programmes, as well as scarves and shirts.
Back to friendly United, where the manager is apparently paid a nominal £1 pa. Has provided, out of his own pocket, a controversial artificial 3G pitch, that allows constant use by youth teams, ladies teams and children. Where ambition is to serve the local community with a football club to be proud of. Not aiming higher and higher and higher. And falling like some local rivals further and further and further. But, rather, maintaining a happy medium. Fingers crossed this is how it will stay.
Today was a big game in a non league sense. The FA Trophy is the non league cup with a Wembley Final. Where Sutton are the giants in the highest non league, together with visitors Borehamwood. A hard fought game ended nil…nil. Sutton had two sent off. A replay necessary. The sun shone. The TV tower was empty. 5,000 last week. 5,000 for Arsenal. 849 today.
Do we want United to beat mighty Arsenal? Of course we do. It would be the greatest shock in the history of the FA Cup. Will we be upset If they lose? Of course not. This is a fairy tale. After Monday 20th, they have to face reality and win some league games to avoid being relegated. Far more important. Apart from the financial security this once in a lifetime game has provided.
This blog is posted before the big day, when one of the most famous football clubs in the world comes to suburbia for the FA Cup. The only question is: Do they play their £200,000 per week players, or kids – or a mix? Can Arsene Wenger afford to lose. NO. Sutton United have already won the hearts and souls of football supporters everywhere who crave for a sport that was once so different. As Bobby remembers.
Bobby… Apart from Sutton, I have always followed Fulham. Back in Johnny Haynes day in the 60's, The most famous player in Britain. The first £100 per week footballer. The face of Brylcreem. Captain of England, and never played for any other club. We would cycle from Sutton to Craven Cottage next to Putney. Put our bikes in racks in a back garden for sixpence (2.5p), go in the "boys gate". Buy a programme for sixpence, and watch George Best, Dennis Law, Bobby Charlton, Bobby Moore, et al. And cycle home again. The closest to that now is Gander Green lane .
But there was something missing? Since time immemorial they have played their "club song" before each match. Where was it? I asked why the scratchy old recording was not being played now, and was told the manager wanted something a bit more up beat. And so we got Pavarotti singing "Nessun Dorma" and the Pet Shop Boys. So for the old timers, here is Sutton United"s club song…….
(Did you know there was an original Brotherhood of Man? Before "save all your kisses for me")
If we get a ticket, I'll tell you about the game. There is also a marvellous article, by Michael Parkinson, on the best footballer I ever saw. Johnny Haynes. For a future blog on how the wonderful game used to be.
In the meantime for the smaller clubs the magic of the FA Cup lives on. The big clubs like winning it, but not so much the competing, it would seem.
---
Lighting a Candle for Diddley.
She loved candles and candle holders. Here's a Welsh one she bought in a little candle workshop  near Cardigan back in 1998.
---