Continental Railway Journeys: Paris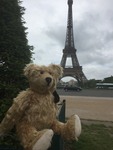 And so to Paris…
As we boarded the Eurostar, I could see that Bobby was deep in thought. Did he wish Diddley was there? He had promised to take her to Paris, but never did. Was he nervous about the adventure? So excited, he had been rendered speechless? No! He was thinking about 1954.
Bobby… "My short career as an OCD trainspotter was from 10 to 12 years of age. Born and lived in Surrey all my life. My home region was the Southern of the nationalised British Railways. Waterloo and Victoria the big termini. The latter having the special platform for trains to France. Over 60 years ago and well before that you could travel to Paris by train. The Golden Arrow left every day. A glamorous steam train, then with Pullman carriages, it was magnificent to a young boy. Late each evening, the other named train left for the French Capital. The Night Ferry. Sleeper carriages. Get into bed in London wake up in the City of Light. The Channel Tunnel a dream. Planned many times, but a far off fantasy in 1954.
(One of the joys of writing this blog is researching old films. Absolute treasures. Health and safety? I don't think so. If you have time carry on from the Golden Arrow film to the French Calais one. Brilliant.)
Golden Arrow
Fleche D'Or
It took 63 years and research this week to find that I had been wrong in one important factor. The Pullman carriages of the Golden Arrow did not go to France. You travelled in luxury to Dover. Walked onto a waiting ferry to Calais where the French version of the train the "Flèche d'Or" would be simmering. Waiting to steam you to the capital. Each day the reverse journey was also done. The journey timetabled at 6½ hours.
The Night Ferry was quite different. The carriages were French built especially for the service and the British loading gauge. I remember seeing them in the sidings outside Victoria station. Very exciting. Each night, two Night Ferries, one each from London and Paris, left at about the same time. The carriages and occupants were shunted onto two special train ferries. They passed in the middle of the Channel. To Dover and Calais and onward. Theoretically, with you fast asleep. The reality being a little different. Through disturbance or excitement, sleep seemed unlikely. The journey City to City took 12 hours. No idea why it should be twice as long, but clearly taking the carriages onto the ship was a lengthy process. The port at Dover was Dover Marine. Mostly redeveloped now. I must go down to have a look at what might be left."
Bertie… "Are we ever going to get to Paris? Don't forget your motto. Yesterday is history… I know you love nostalgia, and so do many of our readers. But please. Tomorrow is a mystery."
"Especially for you."
Bobby… "You weren't even coming four days ago!"
Through the Channel tunnel we zoomed. Across the flatlands of Normandy and into Gare du Nord. Just over two hours. Does it matter how long it takes? For us, the train journeys are as much the holiday as the destinations.
Gare du Nord. Magnificent restored station. Had its own piano player. Trains that looked like double decker space ships. Look at the destinations all over Europe… it was drizzling. The motorbikes looked odd. They were taxis….? We found the modest hotel. Can't use the stairs. Builders in. Felt at home.
Off to the nearest Metro station. Back on trains. In London, the station names are practical. Oxford Circus means… Oxford Circus. Same with Shepherds Bush. In Paris we went to George V, Franklin D Roosevelt, Blanche and Stalingrad. Look at Wikipedia to find 100s of reasons why
Metro stations are named and renamed to what they are now. The Metro is wonderful, as are those famous art deco entrances.
We loved our two and a half days in Paris but, inevitably, we followed the tourist trail – albeit by Metro and tram to satisfy Bobby's love of such transport.
Notre Dame was an experience. The French, understandably, very nervous about security. I was in Bobby's rucksack. Queuing, with every nationality imaginable, we passed the metal detectors. Then, two very serious looking guards indicated with pursed lips to open the rucksack. When I emerged, they didn't even smile, but looked at each other with what might be called "not sure about him" looks, but let us pass. Ha ha ha ha ha.
The American ladies behind were all enthralled with me. Insisting on picture after picture. In fact, many pictures of smiling tourists and me must have flashed across the airwaves from Notre Dame! It was only later that Bobby had business cards made for such occasions. As Ave Maria played, we felt a little irreverent. But to be honest, so did the whole experience. No hunchback either. So, here is one famous one…
Onto the Eiffel Tower, naturellement.
The Arc de Triomphe… C'est magnifique…
The Champs Elysées… Elegant.
Boat on the Seine… Sublimement.
No time for the Louvre, but look at that bridge. Fantastique. Up to Montmartre. Ooh la la… All with a sarf London accent!
Wow. What a bridge….Pont Alexandre III. The bridges of Paris. A tour on their own-
Another Statue of Liberty.
Unforgettable Paris. Bobby satisfied his regrets by knowing in his heart that these two days would have been impossible with Diddley. With her, it would have been romance. With him, it was a boy's adventure. And that is where he is. A love affair cruelly taken away, but now compensated by returning to being a young lad again. On old aching limbs.
Paris… Nous vous aimons…
Lighting a candle for Diddley.
Bobby… Lit fittingly in Notre Dame. Going to the Capital of France was always going to be "mindful". A city for lovers. I truly believe in acceptance. Acknowledging how lucky in love I have been. Not throwing it away in regrets, but making the best of what good fortune has come my way from my marriage to Diddley.
---
---