A Suffolk Adventure.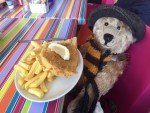 The Adventure Club: Suffolk.
Bobby worked for the Highways Agency for nearly twenty years. During that time he made some wonderful friends that are still friends today. Eight years after he retired. Back in 2006, he suggested one evening that his friends walk with him the long way to Laurel Cottage. Over the hills and far away. Tea in the garden with Diddley.
That walk soon led to more. To long weekends away. All over England and Wales. And, memorably, to Eastern Europe. Bratislava, Krakow and so on. The group became known as "The Adventure Club". As the years have gone by, the group has changed. Some are no longer with us. And now, we have children coming. It's a natural progression. Always dependant on the one or two stalwarts who put all the organising effort in. Our most recent adventure was to Suffolk, and this blog tells the story of that lovely weekend.
Mum Becky and her children, Heidi and Ava, shared Bobby's car. Stopping off for a wild adventure on the way. MacDonalds! On, on we drove for what seemed like ages. Arriving at the rented house after dark. An indoor swimming pool, games room, lots of space, and communal meals. All organised for the lazy ones. Like Bobby. I had a go at pool. Not very good.
We decided to go to Southwold the next day. Famous for Adnams Brewery and those wonderful beach huts.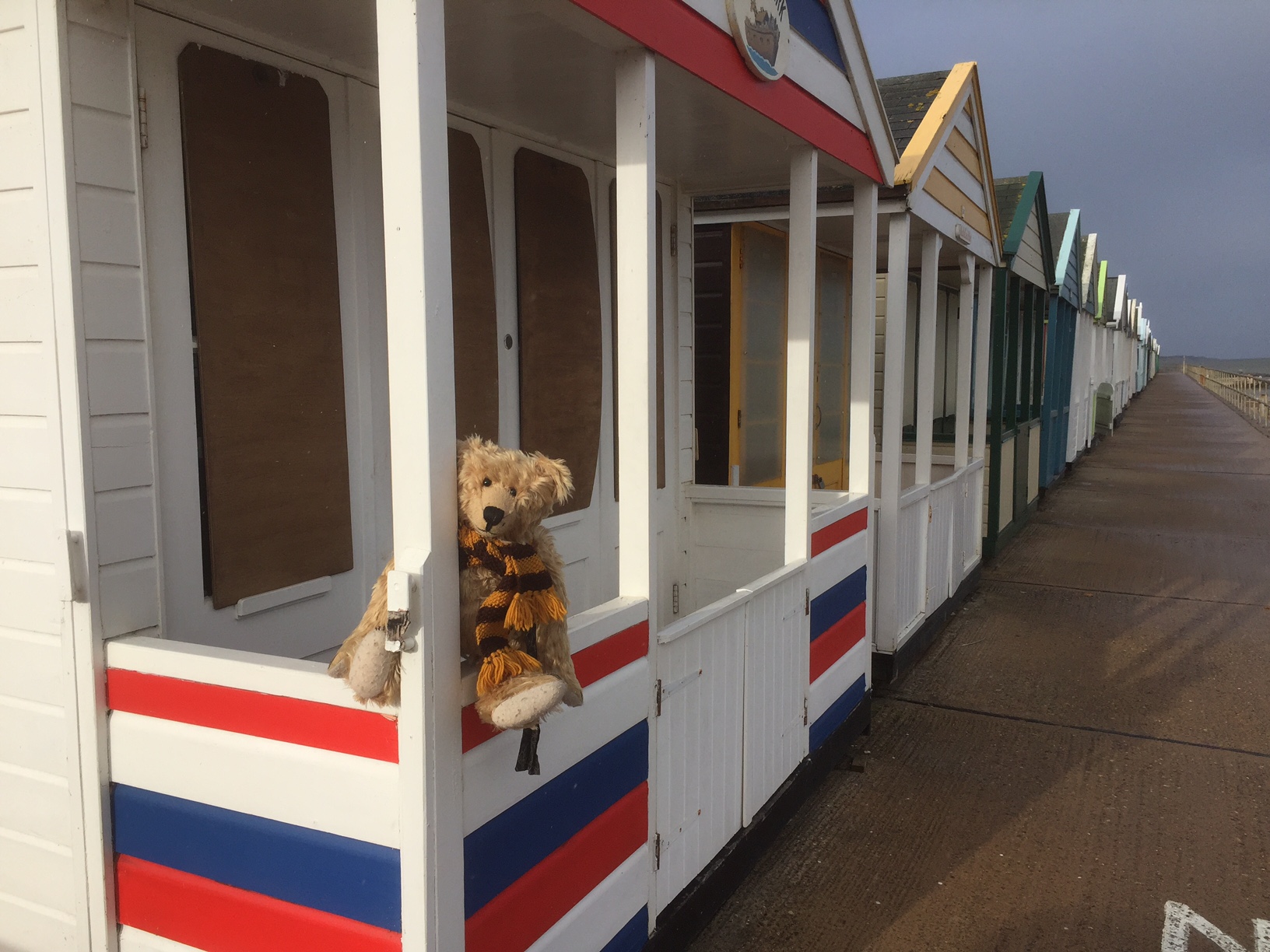 Beach hut extravaganza. Check ITV Hub. Robson Green. Tales from the Coast. Episode 3.
Guess how much for a posh shed that you cannot stay in overnight. That people do not want to sell anyway… £60000 to over £100000!
Oh, by the way. Bertie is wearing his Sutton United scarf for an FA cup tie at Dartford that was won and led eventually to Arsenal. Fish and chips on the pier.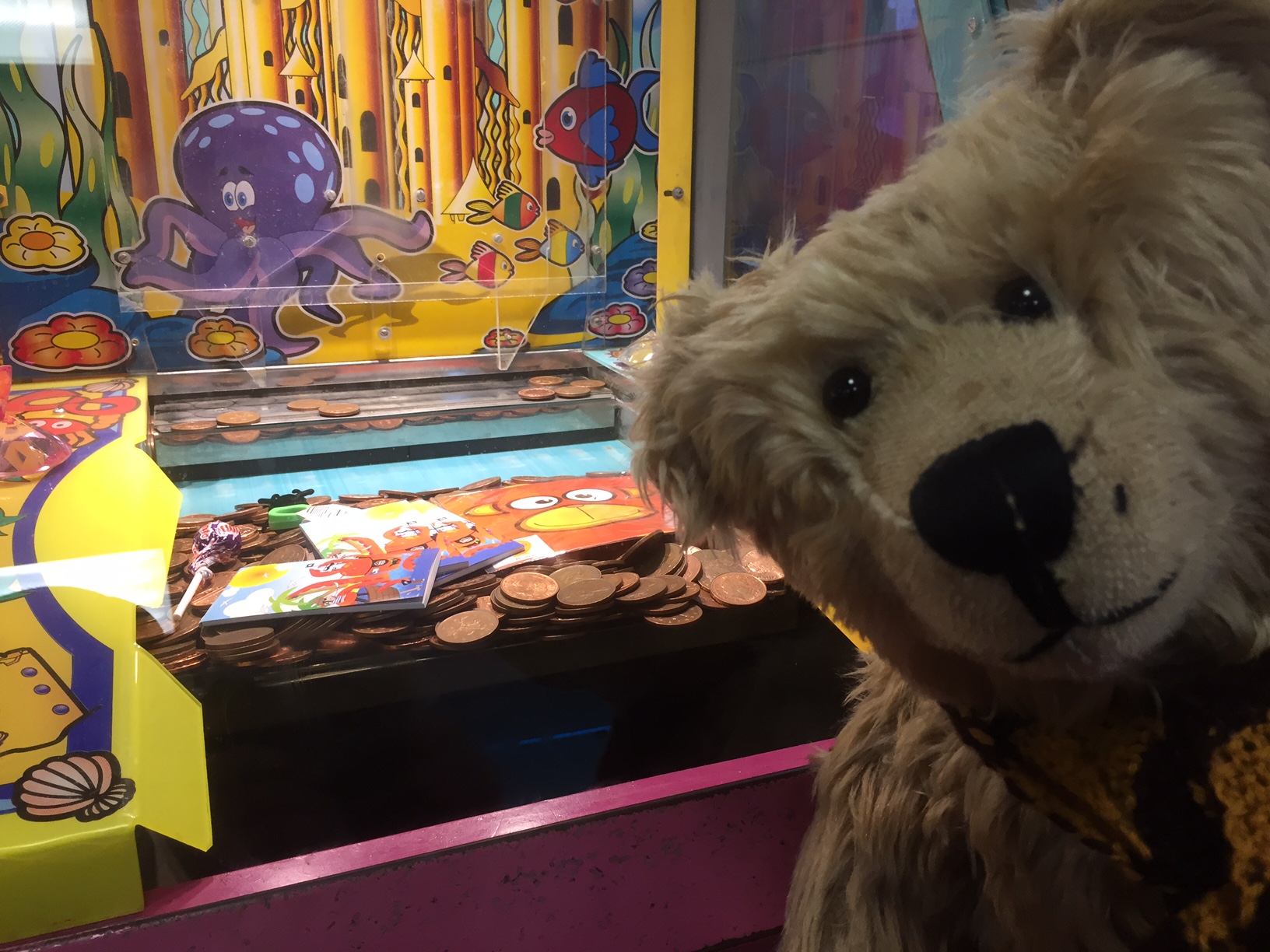 Suffolk and Norfolk are lovely counties. One feature being village signs:
On the way back from Southwold, we found a very strange church indeed. Covehithe. On a wet gloomy night, with the light fading, the church and its surroundings were quite sinister. Shall we just say that nobody else got out of the car. The sea gets closer to the church each year as the cliffs erode. The road passed the church is closed as it disappears over the cliff. According to the web, a la "Thelma and Louise". Had to buy the film, to find out what they were going on about. The story of Covehithe is best read in www.en.wikipedia.org/wiki/Covehithe. But, suffice to say, a big church had been built a long time ago that a small population could not look after. So they took the roof off and built a small thatched church inside the big one, up against the original tower.
It was still raining that Sunday evening, so a few of us drove to Norwich Cathedral for sung evensong. What a wonderful joyous place that is, compared with Covehithe.
Come Monday it was time to go home. Say goodbye to the lovely landlady…
"Anyone fancy the longer, prettier way home?" Becky, Heidi and Ava did, and we landed up in glorious medieval Lavenham. A half timbered village straight out of another age. Home to a glorious "wool" church. From a time when Suffolk wool, like the Cotswolds, brought immense wealth to the County. But how could you show off the wealth? No Rolls Royces. I know – build a whacking great big church to outdo your neighbours. Leaving a glorious legacy and a maintenance nightmare for those charged with looking after them. If this is your thing, there are Wool Church tours in Suffolk. Here's a site to get you started: www.suffolkchurches.co.uk.
Bobby even bought a tea towel. Careful! Not just any tea towel but, as you can see, a quite remarkable map of East Anglia. Where, given its strategic position, every decent field became an airfield during the war. There are remnants all over the counties of farms with unusual shaped barns. Hiding secrets of long ago – and Spitfires… Once.
Lighting a candle for Diddley.
We lit lots of candles in Norwich Cathedral. But this time, remembering a few years ago when she walked into Lavenham church, the candle was lit there.
---
---