A Very Special Night Indeed
Special Night
Back in April, Bobby had been to his lunchtime Al-Anon meeting in Islington. The sun shone and he caught a 205 bus to pursue further peace and serenity in the Tower Hamlets Cemetery Park. Intending to turn his phone off, it bleeped nevertheless. The Bobbys of this world are compelled to look, of course.
A message from the Royal Opera House. There was to be a very special extra performance of Swan Lake on 5 May in support of Ukraine. Four famous ballerinas would share the role of Odette/Odile. Possibly the most iconic role in ballet.
Quick… Press 'Buy Ticket'. They have only been on sale for less than hour. Just six left, all over £100.
Quick… Press 'Buy'. And he did. All in the peace and serenity of the spring flowers and tombstones of the Cemetery Park. Had he finally blown it? Was his gung ho nature going to be his downfall? Could he afford it? Who cares. ELATION had taken over.
He had conquered his hoodoo of never going back to the ROH last November to see 'Giselle'. Now, he was going to see the most famous ballet of all. 'Swan Lake', on a Very Special Night Indeed".
Before
Trevor: "Do I really have to wear this confounded scarf, Bertie?"
Bertie: "'fraid so mate. Bobby wants to take you somewhere special. The scarf supports your droopy head and makes you look almost happy. Let's face it, Trev, you can be a bit Catherine Zeta Jones at times."
Trevor: "My name is Trevor. Kindly remember that. But I am intrigued by what Bobby wants me to participate in."
Bertie: "Well, Trev, sorry Trevor. Bobby clearly thinks you are posher than me and decided you should go instead. I'm not fussed. Been outside once or twice."
Trevor: "So now we have established my credentials where, pray, am I being taken?"
Bertie: "The bleedin ballet at Covent Garden!"
Trevor: "Oh… oh… oh I am overwhelmed with glorious anticipation."
By train to London. Dinner at Zizzi's. And finally, the Opera House. Two hours early. Bobby and Trevor were a big hit (or curiosity, being the only adult there with a teddy bear!). People wanted to take their picture. Bobby had scrubbed up well, and looked the part to take his place in High Society. Even with a teddy bear. Who also was admired by many. And blanked by others.
But this was a world that he felt comfortable in. The walking stick giving him considerable gravitas. On entering the glorious auditorium, they found the seat to be close to where he had sat in the past with Diddley. A perfect view of the stage.
It was a sell out. Swan Lake always is. But this was sold out in minutes. The lights dimmed. And the excitement was palpable. This was going to be 'a Very Special Night Indeed'.
During
The Director came on stage and gave a short speech supporting Ukraine. And mentioned that although Tchaikovsky was Russian, his musical legacy had its roots firmly in Ukraine. Swan Lake owes more to Ukraine than Russia. And that war had no place in the world of ballet and culture in general.
Dancers from an international background would be performing Swan Lake. Four famous ballerinas Odette/Odile and now four famous Prince Siegfried's too. Even the Musical Director for the orchestra was shared.
And then everyone stood for the orchestra to play the Ukrainian national anthem. A very emotional moment.
What followed was three hours of mesmerising music and dance. The change in each performer seamless, and only acknowledged by the rapturous applause of the audience. Three hours in which Bobby didn't utter a single word. Etiquette demands that, and it's part of the joy of being at the ROH. He made up for it in the two intervals!
The lady next to him also on her own. Both realised the ballet was running late. Both with last trains to catch. She Kings Cross. He Waterloo. Both agreed not to look at their watches, or even think about the time until the final curtain. The privilege of being there was far more important than getting home. It was becoming a Very Special Night Indeed.
After
The final curtain fell at 22:33. The last train at 23:10. Allow another five minutes for curtain calls. Say 'goodbye, nice to meet you' to his companion for the evening. And drag himself away to route march across Waterloo Bridge. Well in time for the last train.
For once, the itinerant nature of the passengers on the last train didn't detract from the evening. Even the belching, farting drunk was consigned to the real world. Bobby was still in fantasy land on a Very Special Night Indeed.
Later
Certain parts of the ballet reveal their origins. The Cossack dance in particular, in which we assume they are actually Ukrainian Cossacks. In fact that whilst the ballet was performed in aid of the Disaster Emergency Committee raising funds for Ukraine, you came away feeling a much closer connection to Ukraine and its cultural heritage. The sad thing is that it took a war to enlighten us.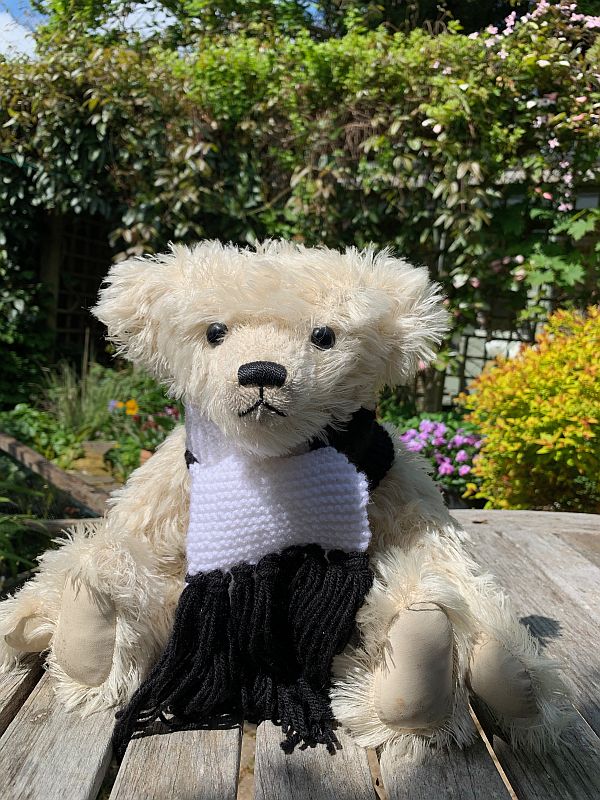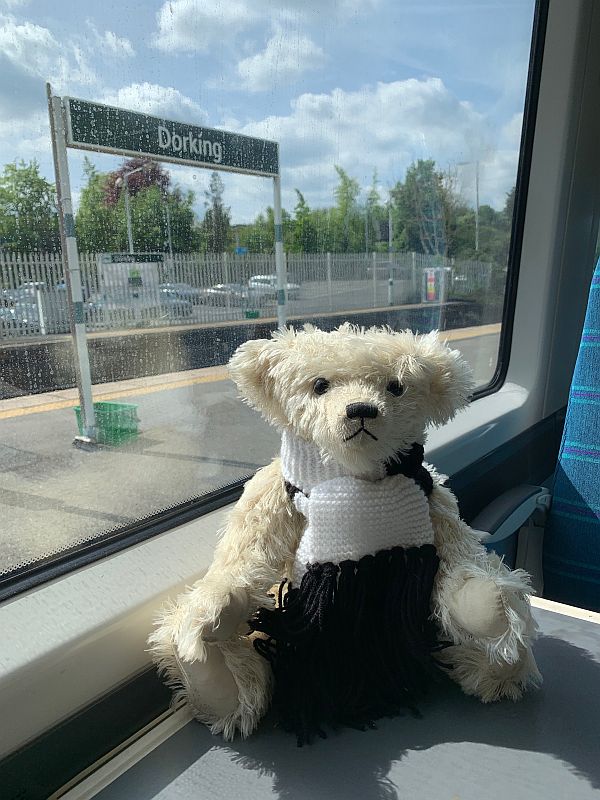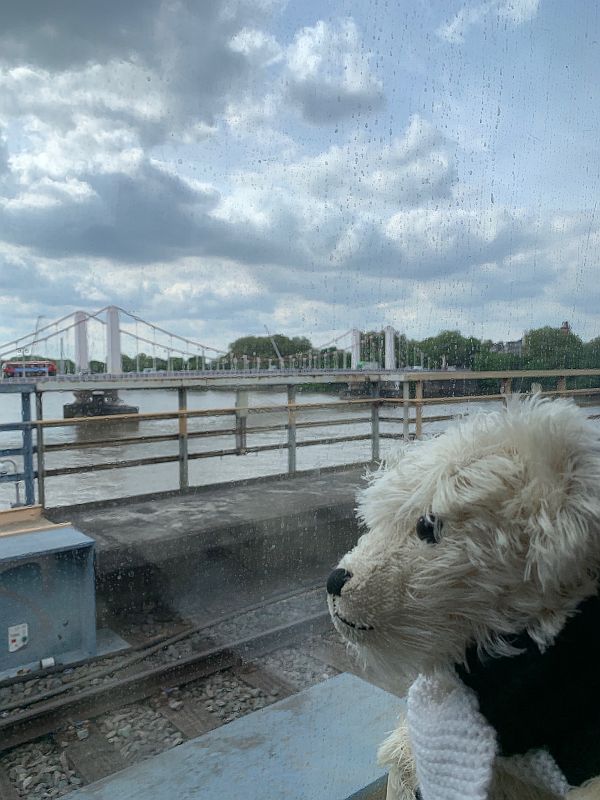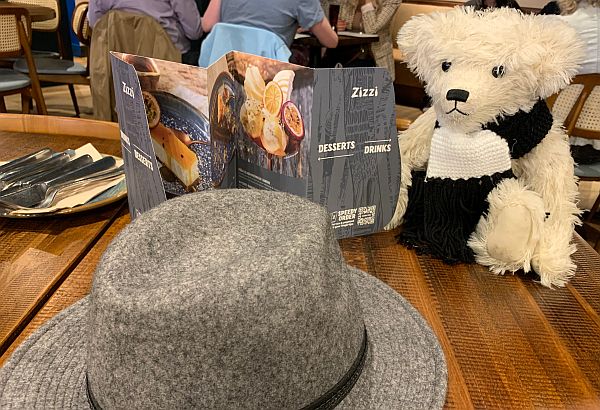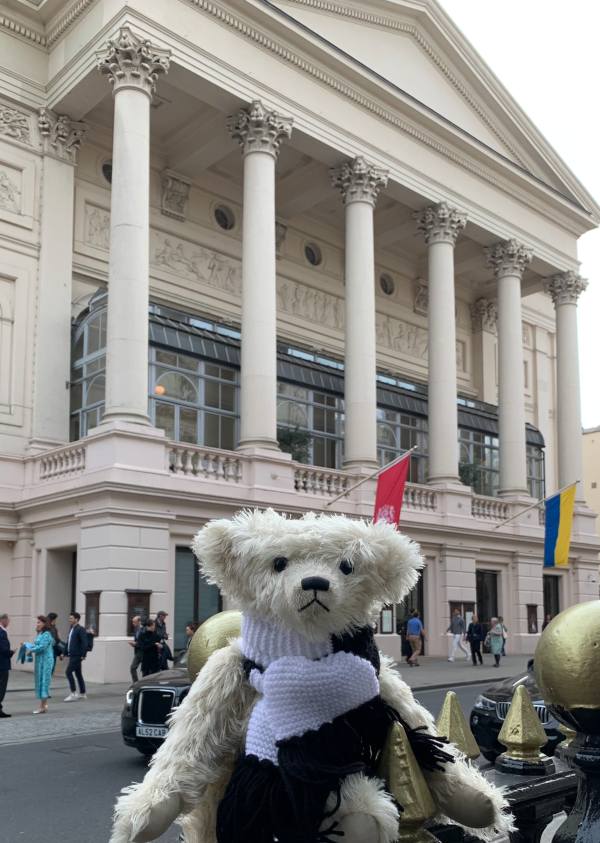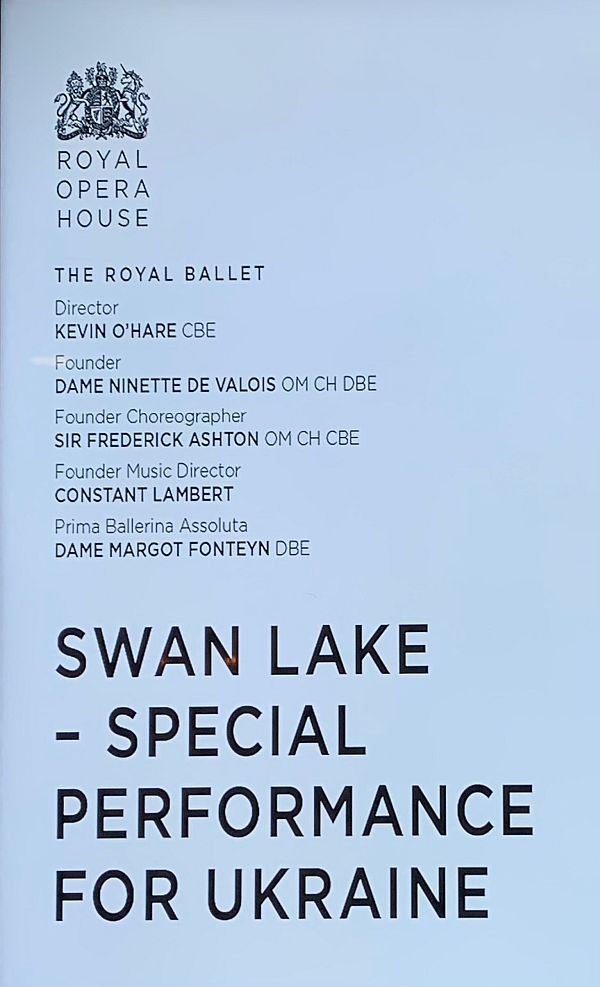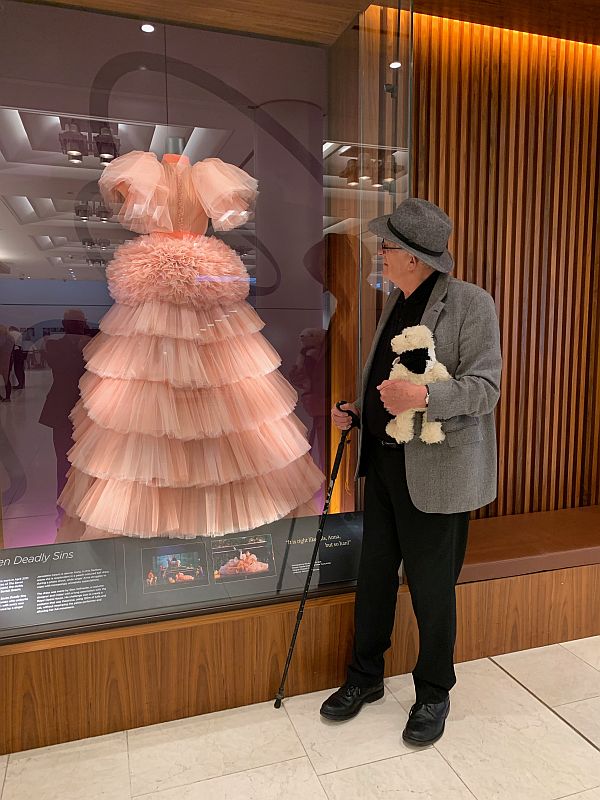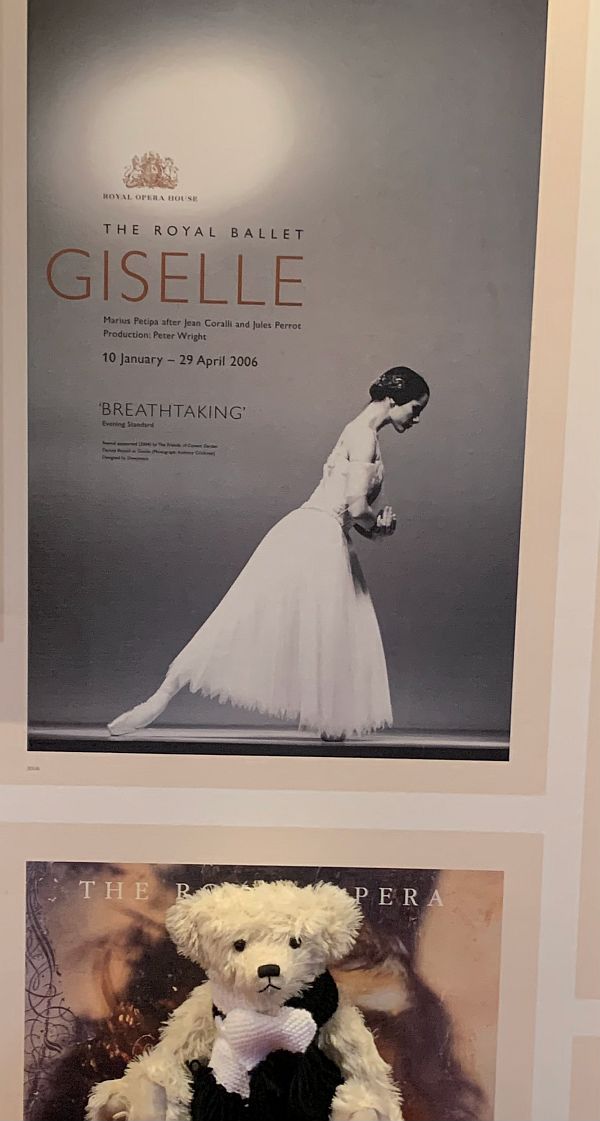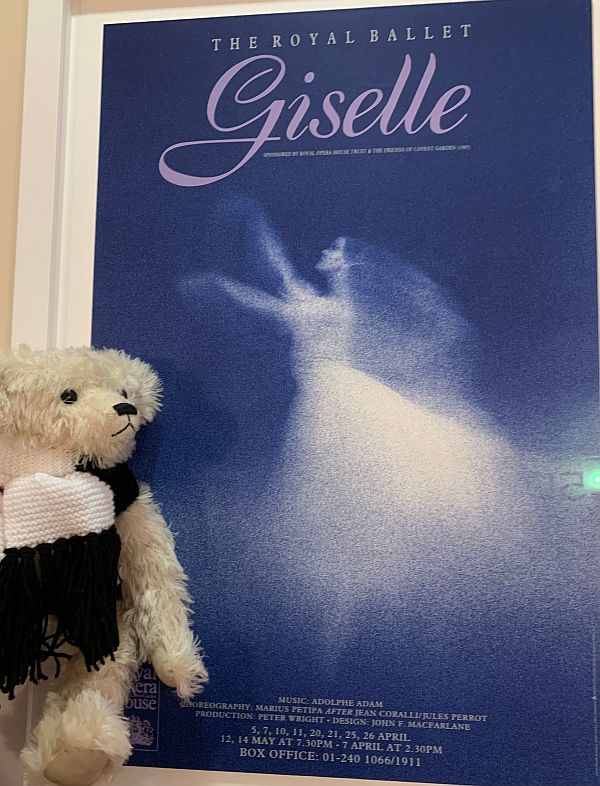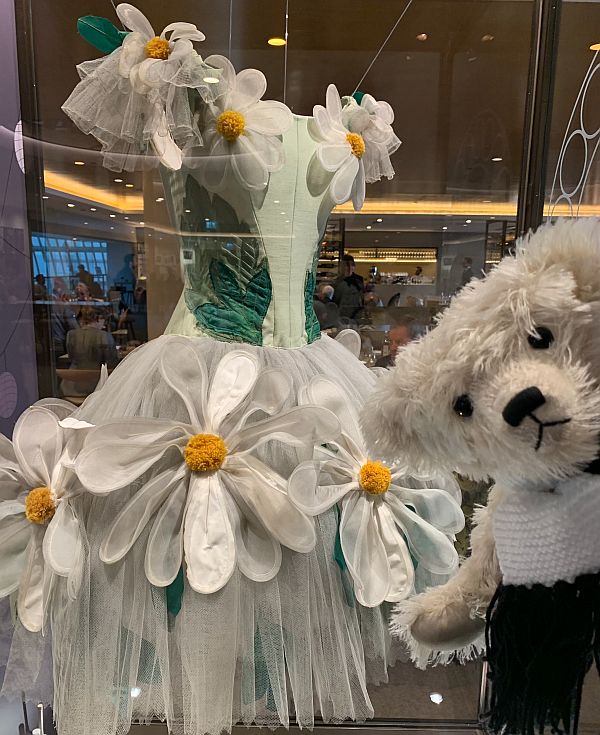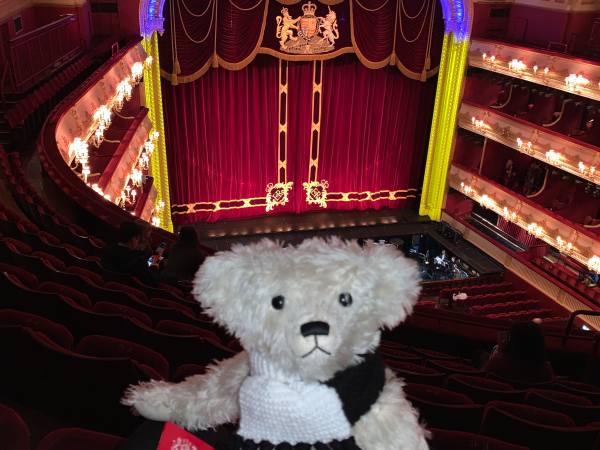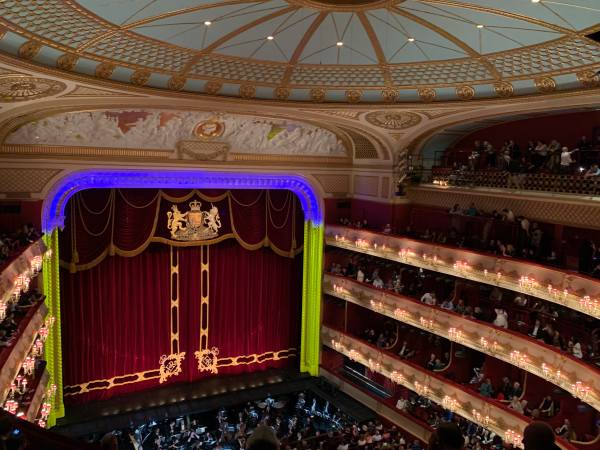 Curtain call:
Final curtain:
Trevor: "I loved the ballet, Bobby. Can I come again?"
Bobby: "The ballet loved you, Trevor. So from now you will be my companion every time I go to the Royal Opera House."
Fantastic videos
Heorhii Shybanov bears the title of Honored Art Worker of Ukraine.

As we can see, an enormous share of Pyotr Tchaikovsky's immortal musical legacy comes from Ukraine, the place of his family roots. The land of his forefathers called upon him to show, by God's decree, in his great musical oeuvres the beauty, grandeur, and creative power of the Ukrainian spirit and the heroic and dramatic of a great nation from which  he had entered the immense world of high art.
It really was a Very Special Night Indeed.
(The scarf worn by Trevor is a Carol teddy bear scarf. Knitted for when Daisy played for East Preston. Adopted for our love of Fulham to celebrate winning the Championship).
Lighting a Candle for Diddley
Ukraine National Anthem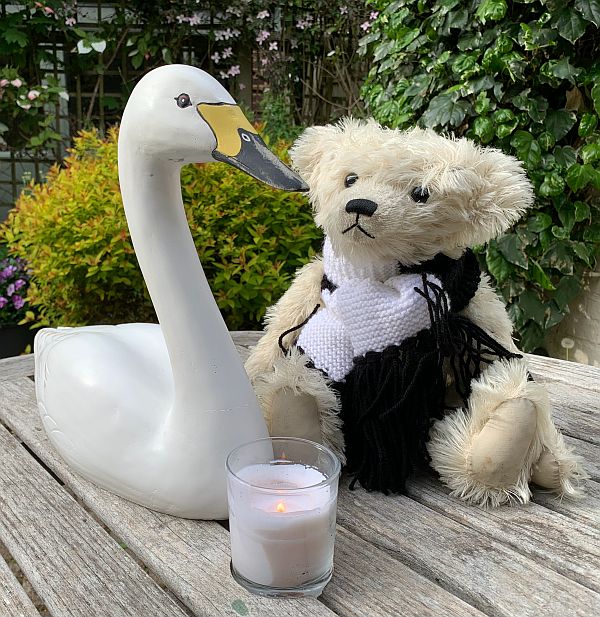 ———-
---