Apricot Village.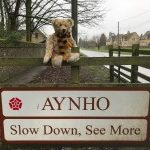 Apricot Village.
Me? I rely on "flashes of inspiration." Often precipitated by Bobby's fond memories of years ago. A classic tendency for "Peter Pan's" (old men in Sarf London) who can remember the bus ticket on the 93 to Putney Bridge in 1959 but not why they just came upstairs.
So. What shall we call this week's story?
How about… "Giantkillers Toppled by Giantkillers"?
Or…"What a Difference a Year Makes"?
But no. I decided on "Apricot Village". "Bear" with me and you will find out why. And, in doing so, see how GAD minds can be used to advantage, if kept under hectic control.
As you know, we here at Laurel Cottage love Sutton United. Last year was so exciting, with that famous FA Cup run culminating in bringing mighty Arsenal to humble Gander Green Lane. We were the toasts of the football world. Proud to walk into Arsenal's Emirates stadium sporting our distinctive chocolate and amber scarves.
Sutton United v Arsenal FA Cup 5th round.
But nothing lasts forever. Remember…
Yesterday is History. Tomorrow a Mystery. Live for today.
So Saturday 3 February 2018 the now "mighty" Sutton United are on the verge of Wembley. Favourites, as the best team left in the FA Trophy. Non league football's big cup competition. Swot aside lowly Brackley Town and move imperiously on towards the Wembley Way.
Bobby: "What happened to Apricot Village?"
Bertie: "Patience, Bertie. All will be revealed."
Brackley. Where on earth is that? Google! Google, oh. 85.78 miles from Laurel Cottage. Just off the M40, near Banbury. Hang on! 5 miles from Aynho. Bobby now had the justification for a long day out.
Sometimes events or just a simple book have a profound affect on our lives. Cider with Rosie is a book that has achieved worldwide fame, as mentioned regularly in this blog. Laurie Lee immortalised Slad and that glorious part of the Cotswolds where Diddley came from.
But Ted Humphris? Doris Palmer? "Apricot Village". "Further reminiscences of the Aynho Gardener"? Not a masterpiece. But still available on Amazon for a couple of quid. Second hand. But, and this is the point with books that can never be replicated electronically, the name and the flyleaf appealed to Bobby in Dorking library over thirty years ago.
He borrowed the book and became intrigued by the story of a gardener, who grew up in a small village in Southern Northamptonshire, who joined the stately home of Aynhoe Park ("e" for the park?) as a boy trainee gardener. Worked his way to head gardener and fame at Chelsea flower show. In some ways, a little Cider with Rosie-ish in describing how life in a big house with dozens of staff and gardeners once was before the Second World War changed everything forever. The changing fortunes of a village and its stately home and incumbent family.
Bobby never forgot that simple book, and vowed to go to Aynho one day. Travelling north on the M40 many years ago he did manage a detour through the village, but couldn't stop due to the demands of getting wherever he was going and who with. A football match in February gave him the chance.
We stood outside the stately home where Ted was once head gardener.
Saw the apricots growing up the front of the south facing houses. The village has a Cotswold air about it.
The Cartwright family owned Aynhoe Park for centuries. Even survived it being taken over in the war as a fuel dump. But a tragic road accident in the village left two Cartwrights dead and the estate dispersed in death duties. The house still stands proud, as a very expensive wedding reception venue.
And later the M40 motorway was driven through the grounds.
We went to the church and met Graham, who kindly lit a candle for us and chatted about coming from Surrey, loving Aynho. And going to football at Brackley. "They will give Sutton a good game you know."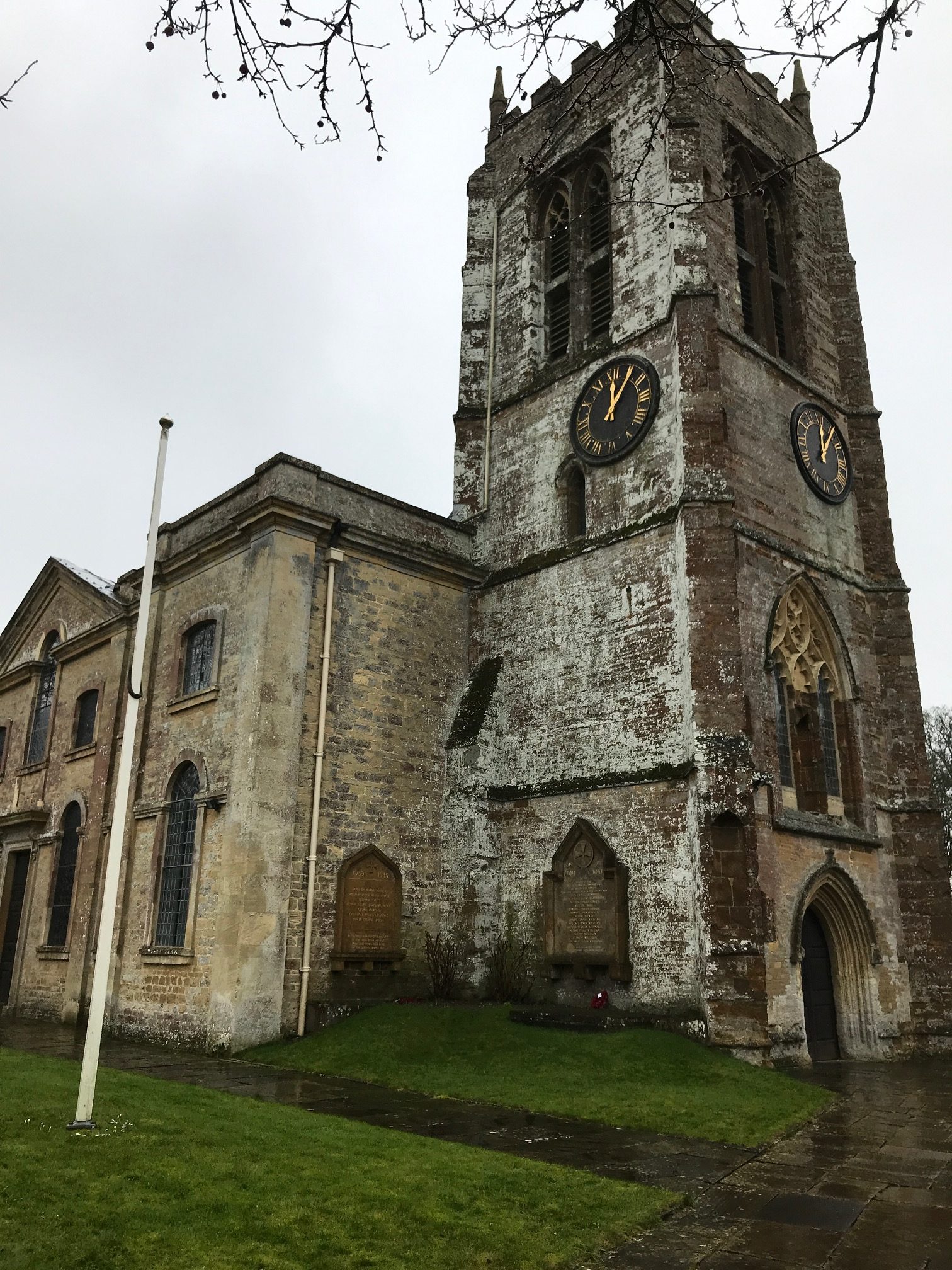 The rain drizzled down and played havoc with my mohair. But still we saw the snowdrop graveyard. We knew that we had to move onto Brackley and football. But not before noticing the highly pretentious coach parked outside the Cartwright Arms. A local chap asked Bobby why the England Football team had come to Aynho.
"It's not England, but Sutton United. They borrow it."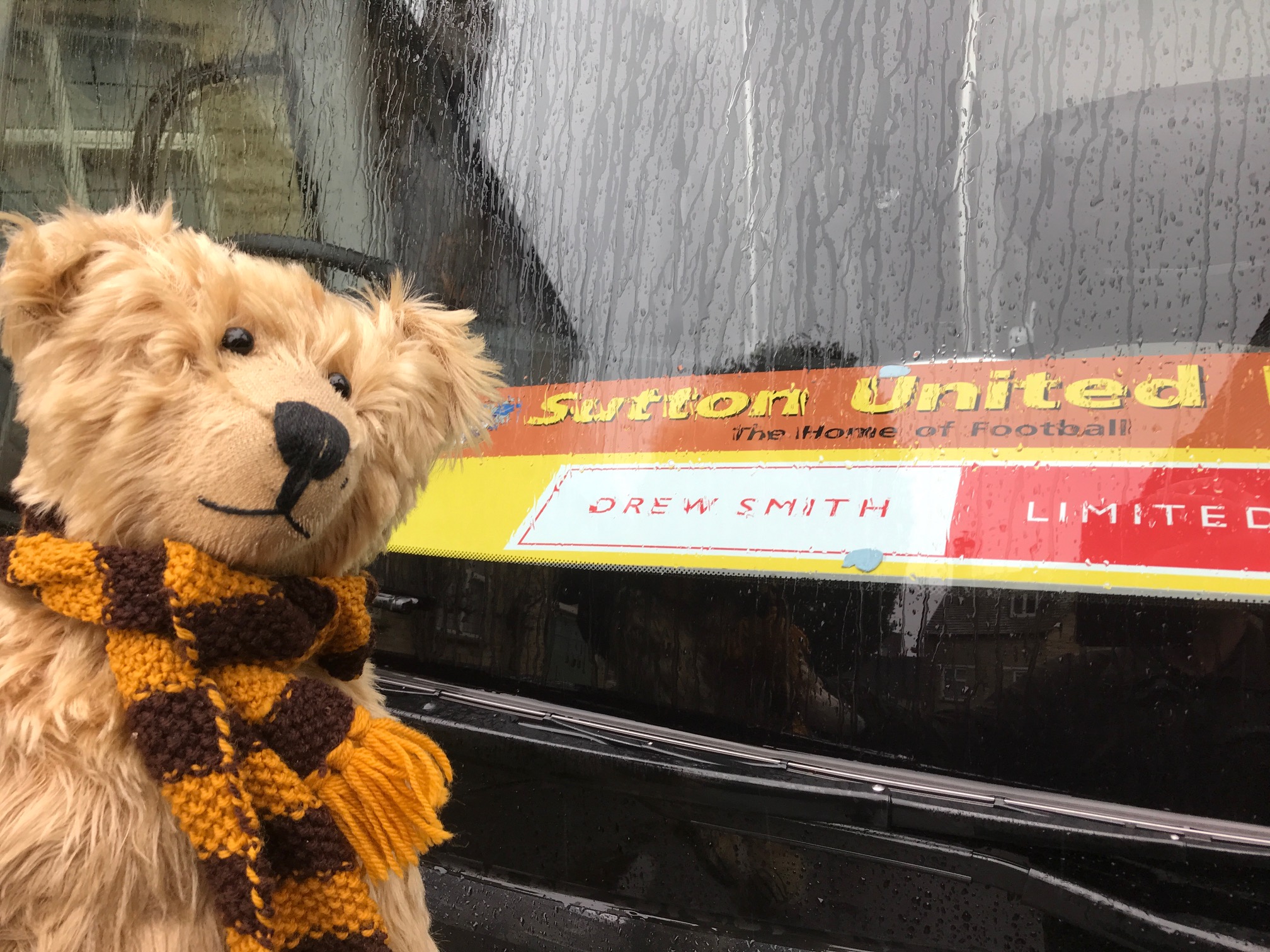 We dropped into Aynho Wharf on the way to see the canal and railway connections going back in history and Apricot Village.
On through the wonderfully named Hinton in the Hedges. On local roads, to see a little of an area we had never been to before.
To Brackley. Unheard of in Surrey, but a Mercedes roundabout announced it was home to the Formula one Team of Lewis Hamilton and Co. Close to Silverstone, we heard.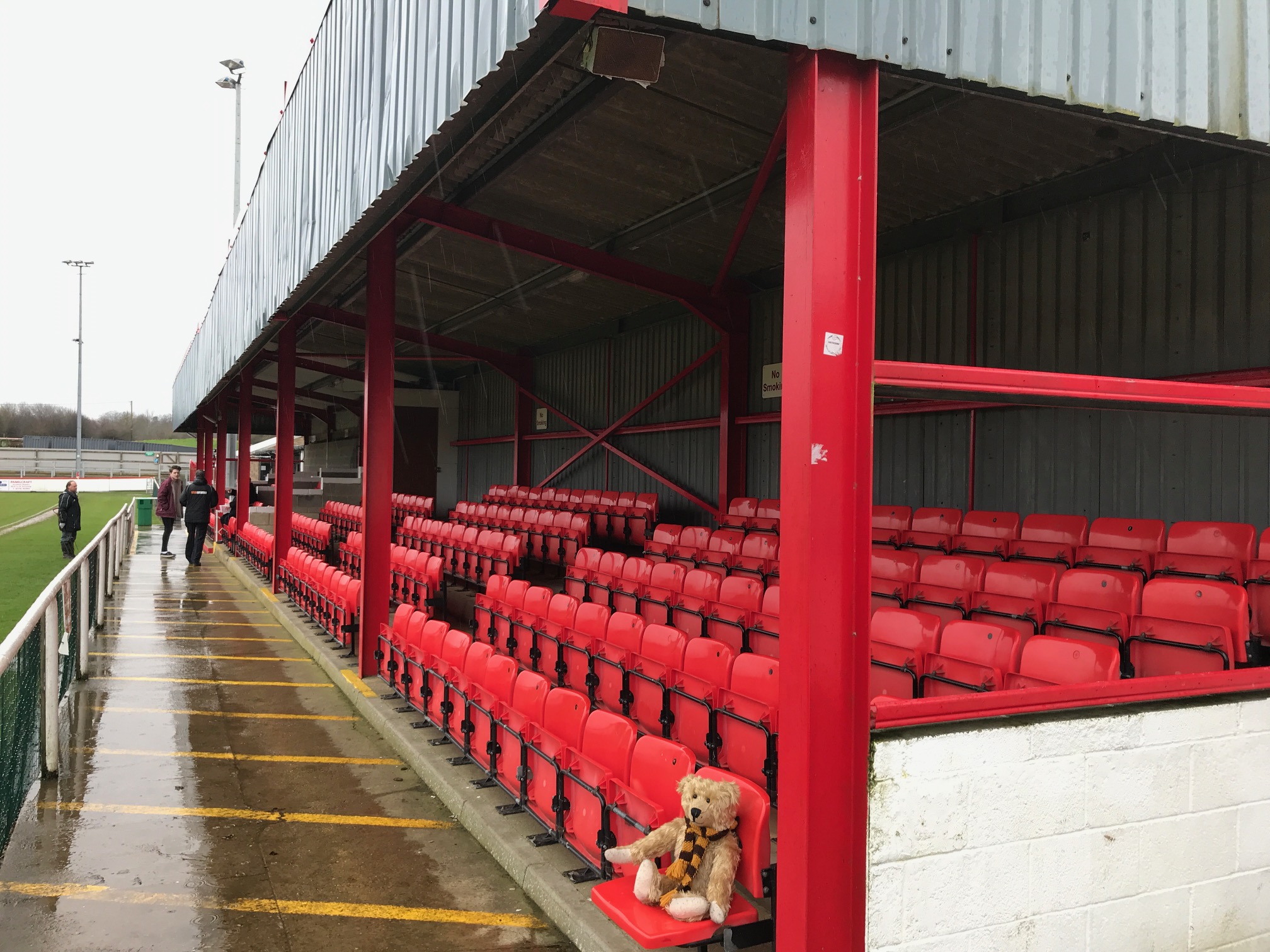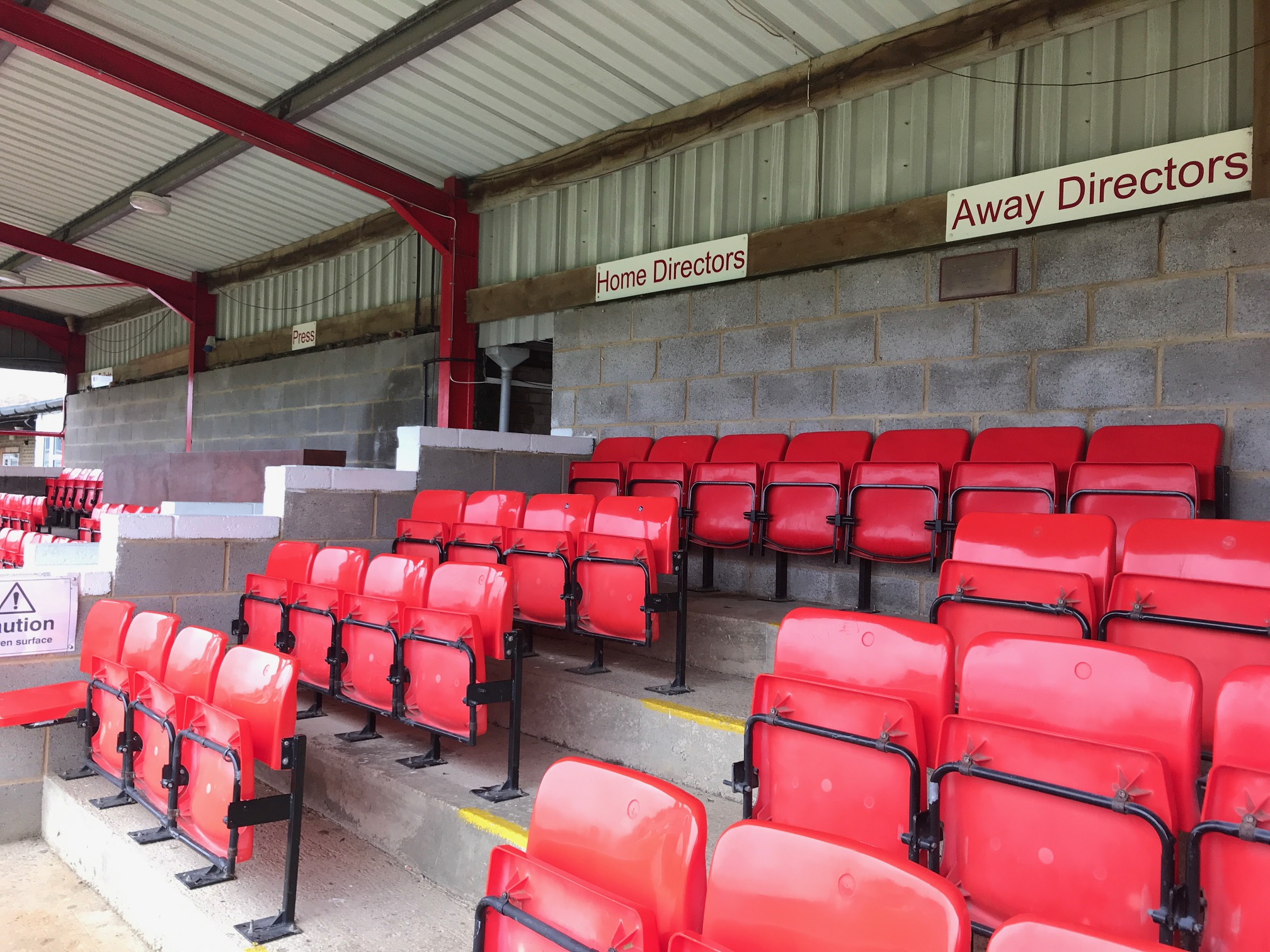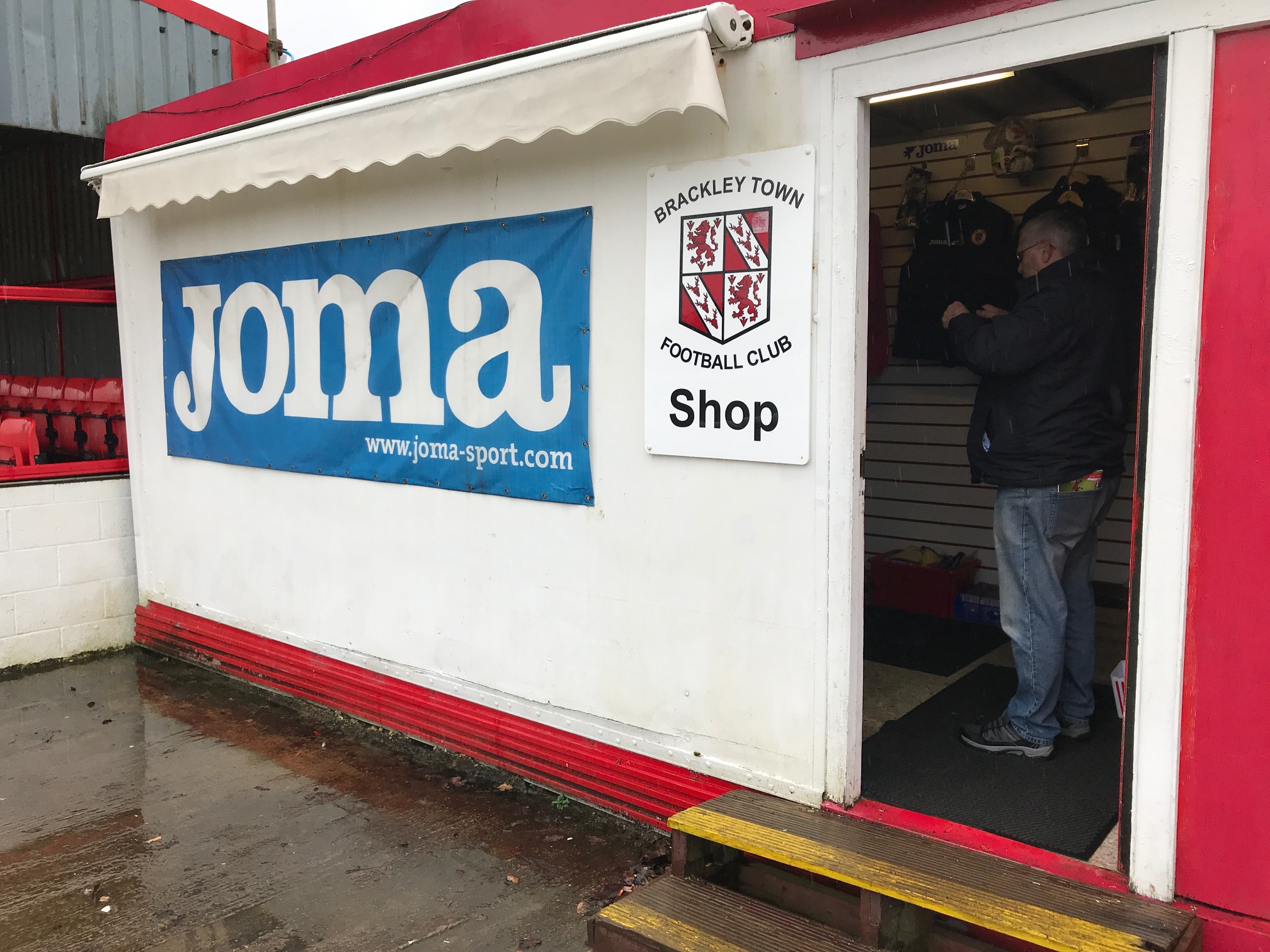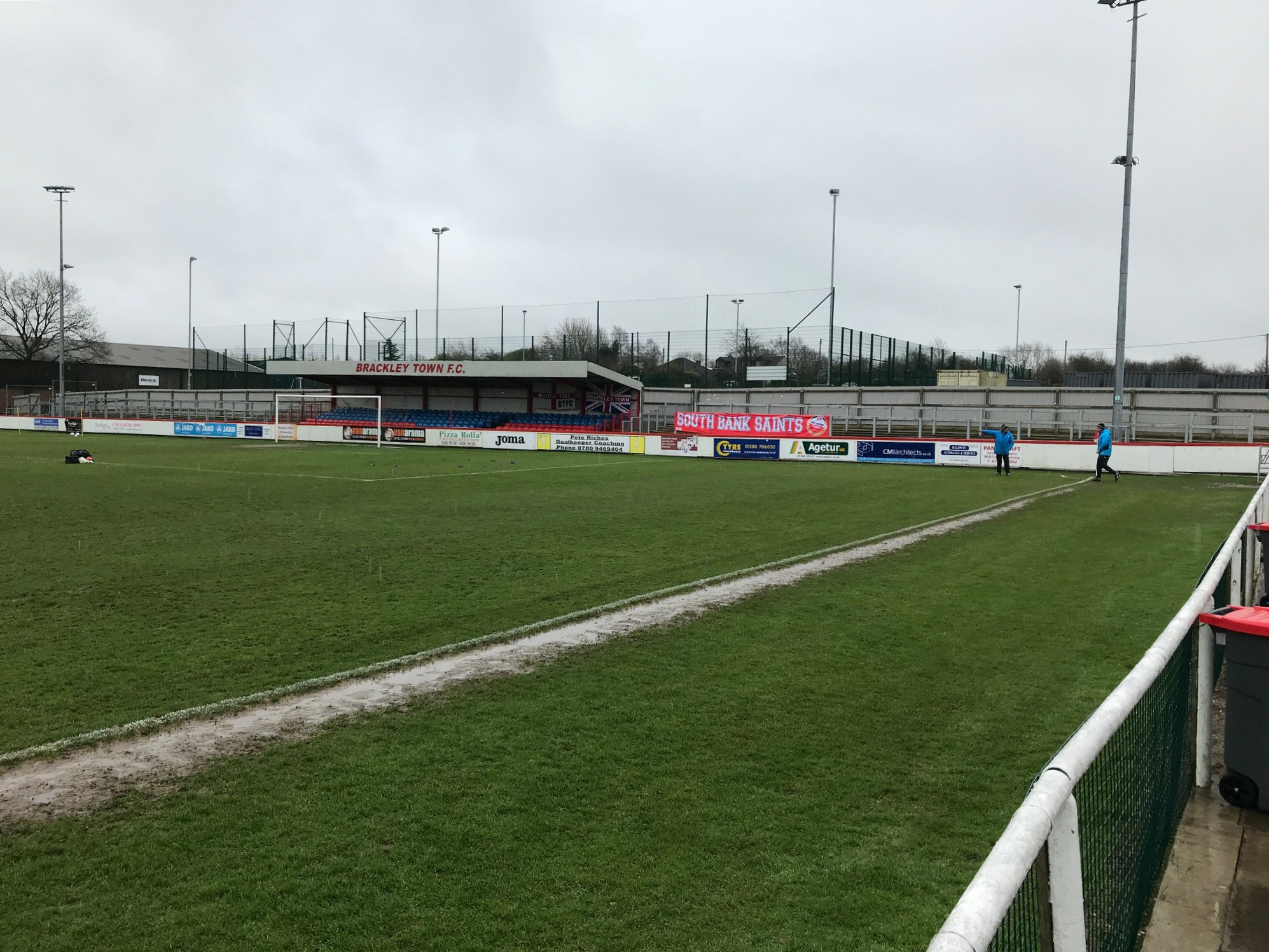 Brackley Town FC is to Sutton United like Sutton United is to Arsenal. We had a little tour of the ground with some very friendly club officials. By now, I was seriously damp. I didn't go to the game. The coach arrived like Close Encounters of the Third Kind. The crowd arrived, dominated by Sutton United chocolate and amber. The pitch, passed fit to play in the morning, was a mud heap. Sutton were being brought down to grass roots. Brackley, for all their smallness, are riding high in the league below Sutton. And they won. Fair and square. Giant killing Sutton United had been Giant killed. Disappointed Sutton supporters moaned about the pitch, but told their counterparts "Good luck in the next round. We hope you get to Wembley. Enjoy the moment. It's flipping marvellous being a Giantkiller."
And it's just a game that brought back all those memories of Apricot Village.
PS
Bobby ordered "Apricot Village" from "Awesome Books" . £5, inc postage. And is the book in the photographs above. Will it still have the same appeal half a lifetime later? I'll let you know.
Aynho is featured in Channel 4's Village of the Year, presented by Penelope Keith.
I don't believe it.
Paying the rent partly in apricots is now regarded as a myth. We prefer the myth!
Lighting a Candle to Diddley.
– – – – – – – –
---