Trevor's Stickies.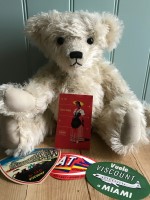 Trevor's Stickies.
Bertie: "Ere Trev, owd you fancy presenting my blog next week? Trevor's Stickies, we could call it!"
Trevor: "Do you mind! My name is Trevor. Maybe I should be grateful to you for running the naming competition. But, let's be honest, it was partly your acquiescence to my anonymity that left me a Bear Without a Name for twenty years."
Bertie: "Or you being bleedin miserable".
Trevor: "Oh dear. Do I sense a little paranoia?"
Bertie: "I was twice as dear as you."
Trevor: "And twice as common. Quality before quantity, say I. Let's desist from this bearish argument and concentrate on your request."
Bertie: "Gawd. Luv a duck. Give a dog a bone and this is what you get. Do you want to present or not mate?"
Trevor: "I am not your mate and unlikely to be your friend, given our cultural differences, but I must express a nascent interest in Bobby's boyhood hobbies. The ones shewn in the blog about me. www.mindfullybertie.org.uk/little-white-bear. You may also note that Kristian from Calimesa, California has not been pictured with his prize for his inspired choice .
Bertie: "Fair dos Trevvvvor. Here's Kristian."
Trevor: "Well done, Kristian. I really like 'Trevor'. Suits me."
Bertie: I suggest you start with some of Bobby's sticky labels. And tell my beloved followers what they are all about."
Trevor: "Thank you. You could have said that from the start!"
---
Trevor's First Presentation.
Bobby grew up in the fifties. A time when all schoolboys seemed to be collectors. There were girls around, but they were avoided at all costs. Especially sisters. The first universal collecting hobby was postage stamps. Most boys had their albums and you could buy packets of assorted stamps from all over the world from WH Smith and other shops. Carefully sticking them in the right pages of your album with special stamps stickers. But this was indoors. Those who sort adventure went out on buses and trains (and trams) with their Ian Allan notebooks (a future Trevor blog). Collecting train numbers and names. Buses and their depots. Even tube trains had a limited appeal for some. Trains, of course, had a massive following and some erstwhile trainspotters can still be encountered all over the heritage railway network. In their seventies and still with their notebooks. Rucksacks instead of satchels. Bobby wants it made clear that he is an enthusiast of trains now. Not a trainspotter.
But one day, after just a couple of years on the stations the dirt and grime of railways were totally wiped out by the glamour of aircraft. He became an obsessive plane-spotter, until the day his girlfriend gave him that ultimatum. "Planes or me". And he made the wrong choice. The hectic years were between 1957 and 1961. During that time he collected everything he could get his hands on to do with aeroplanes. Including a piece of an Indian Air Force Hunter jet that he has to this day. In his shed. Who would guess what it was?
He went to the airline offices in London. He wrote to airlines and manufacturers all over the world, expressing a need for material for a project he was writing. Always addressed as Master Robert Ball, he received back an amazing amount of goodwill literature. Photographs, badges and, for the purposes of this blog, sticky labels. That's why we are calling it "Trevor's Stickies". But they're not mine – there's his! He also exchanged (and even sold) spares on the terraces of Queen's building London Airport. Or simply pinched them from the airline desks.
And he still has more or less all of it. More than anything, he would like to share it with you as, one day, it could land up on a skip or, if Andrew is listening, be offered to enthusiasts clubs.
Sticky labels were a phenomena back then that were an art form in themselves. Designed for baggage, he also has cardboard tie on labels.
The Sticky Labels
For this first presentation, the airlines featured no longer exist. None of them.
For sticky label collectors Sabena had very colourful artwork
Here's some British ones from the past….
Small "I don't believe it." This airline was based at Blackbushe aerodrome on the A30. The hangars and operations were either side of the A30. When they wanted a plane they closed level crossing gates and towed it across a main road.
Bertie: "Trevor! Time to declare. There are masses more. And he really wants to finish on this…"
I Don't Believe It!
The Vickers Viking airliners shown earlier were "a quick fix" to get an airliner into production pending the arrival of the world beating Viscount. Like many post war airliners, it was based on a bomber. The Wellington. This slightly saucy cartoon shows that in their haste to build and operate this small airliner they could not redesign the spars for the wings. As you can see, you had to climb over them! Once again there is an example at Brooklands Museum.
Lighting a Candle for Diddley.
How appropriate that Trevor should light the candle this week in the company of that British masterpiece. The Vickers Viscount. Brooklands has one you can go in.
www.mindfullybertie.org.uk/category/brooklands
— – – – – – – – —
---