Shredded Wheat.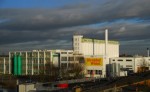 Shredded Wheat:
Bet you can't eat three!
Last week, we promised you ducks. Only one was available. Dusty Duck. Seen here with Bobby and his virtual sweetheart, Merrill. Dusty lives at the Wildfowl and Wetlands Trust. (WWT). In two weeks time we are going back to the Cotswolds and hoping to spend a day at Slimbridge. Headquarters of the WWT. The duck blog will come from there.
But this week, a seemingly sad event has led to an impromptu blog. They are knocking down the Shredded Wheat factory at Welwyn Garden City.
Bobby loves the stuff. When he heard the news, he knew the time was ripe to tell the world of Mindfully Bertie just how much he had to owe to a breakfast cereal.
As far back as he can remember he has had Shredded Wheat for breakfast. The most healthy cereal of all. No additives. No salt. Just wheat. Cold, full milk and a little sugar. A six feet six inch giant , he could so easily have been a 5'5" wimp but for this cereal!
All those years volunteering on Skomer Island you had to take enough food for a week. Plus a little spare if you were marooned by bad weather. Shredded Wheat was easy. 4 times 9 = 36. Which does bring into question those famous adverts years ago. "Bet you can't eat three". Diddley was so impressed by his consumption that she told the world he ate SIX every day. Well now and again this was true if he felt extra hungry. But four is the norm. Remember those famous adverts?
Henry cooper
Northern Soul
Botham
Jaws
Over the years many sports people were used in these adverts. Look at the archive adverts further down the blog.
Time for a confession. He gets fed up with Shredded Wheat. No! Honestly. He really does get fed up with it. Regular forays into Weetabix, Monster Puffs. Even Lidl Mini Fruity Shreddies. But, inevitably, he will slip down the cereal isle in Waitrose and once again succumb to the best cereal of all.
Back in his young days there were far fewer brands. Shredded Wheat, Weetabix, Kellogg's Cornflakes, Quaker Puffed Wheat, Grapenuts. Older readers may remember others but these were the main ones. Interestingly we found out later that Bobby's favourite cereal was made in Southern England at Welwyn Garden City. Weetabix in the Midlands in Northamptonshire. Kellogg's Corn flakes up North in Manchester. Distribution in the war was crucial and led to the cereals dominating their home area to save transport costs.
Bobby had one big ambition. There were many other ambitions, but only one BIG ONE. He wanted to go to the Shredded Wheat factory at Welwyn Garden City. Passing the iconic building on trains right back to his young days he longed to see it being made. Eventually he was promised that on his 50th birthday his dream would come true. Sadly it evaporated on the back seat of a Red Vauxhall Carlton. Ten years later, the new incumbent of the matrimonial title had tried to make him really happy and arrange a tour for his 60th birthday.
"I am really sorry, Bobby. They don't do tours any more. Elf and safety." Bobby was devastated.
That may well have been that if he had not been a keen participant in the British Heart Foundation's London to Brighton bicycle ride. 27,000 riders. He loved it. Arriving at Clapham Common for the start at 06:00 for the 2005 ride, he discovered that the main sponsors were Shredded Wheat. They had their own marquee. And most desirably, a cycling team shirt. Bobby lusted after it. They told him it was for the factory team only, but he persisted and they eventually gave him one. It is still a treasured possession. That first year arriving in Brighton, the Shredded Wheat stand stood and applauded – not realising he was an impostor. But in Surrey, half way to Brighton, he had been rumbled.
"Why are you wearing that shirt? You don't work for us!" Bobby replied "I bet you don't eat half as much Shredded Wheat as me. In fact, you should give it to me as a trophy!" Cheryl (as he found out her name was later) and Bobby cycled together for a few miles, during which he told her of his disappointment in never seeing the inside of the factory. Clearly impressed by his candour, she said. "My name is Cheryl. I am a supervisor. Ring me and I will arrange a special tour just for you and your wife." And she did. On Diddley's Birthday. 19 August 2005. And what a day it was!
The Tour of the Shredded Wheat Factory A pictorial record.
And, finally, we were given lots of freebies. A folder of the history of Shredded Wheat that came from America to Welwyn Garden City in 1935. A bright yellow hold-all. Umbrellas and…
And finally – for many friends the best picture of the two of them ever taken. It was pouring with rain, and Cheryl wanted a picture for their website. She gave them the two umbrellas and they "Sang in the Rain".
It was a wonderful day. In the years that followed, Bobby rode the London to Brighton Bike Ride many times. Always in his Shredded Wheat cycling shirt!
Diddley, with her graphics expertise, made him many cards. The very first being a Shredded Wheat one. The first experience he still has of her extraordinary handwriting.
One day she came home with a centenary bowl from a charity shop. 100 years! 1892-1992. Bobby didn't even remember the offer, but loved the bowl. Encouraged by consummate eBayer son Andrew, he eventually landed up with six. One from Philadelphia.
We hope you can read the offer on the package. These bowls are still used every single day. And there are still lots for sale on eBay at modest prices.
– – – – – – –
I Don't Believe It
How sad it is then that, just three years after our visit, production ended in 2008. A succession of takeovers had led to Cereal Partners, part of Nestlé, taking ownership and moving production to Staverton in Wiltshire. Welwyn Garden City was synonymous with the cereal.
Demolition.
The following are pictures taken from the internet of the current destruction of what was a listed building and the state it was in shortly before.
Lighting a Candle to Diddley.
And to Shredded Wheat. To the British Heart Foundation. And to the years you think will never end of the London to Brighton Bike Ride.
---