I Woz There!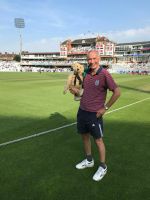 I Woz There!
Just imagine if you were one of those who woke up this morning and thought "I could go to the Oval today" … and did!
Those were the words of Mark Nicholas. Cricket commentator for Cricket on Five. The highlights television programme for the Bobby's of this world who stick to normal TV for the game. Summarising the day's play for the greatest Monday. 10 September 2018.
Bobby was one of 3,600 who accepted the offer of a half price ticket. Bought online late on Sunday night to come to the Oval to see the fourth day of the last test match against India. Joining 18,000 for a day that would see the last innings of Alastair Cook, England's star opening batsmen before he retired. Just so he could say "I woz there!" Could he make a century?
The sun shone as an excited Bobby caught the train to Vauxhall. A journey that brought memories flooding back. His love of the game started with his old dad, Sid. Lame from a young age, Sid never played sport, but loved listening on his ancient valve strewn radio. Particularly to test matches. Even into the early hours, twiddling his knobs to catch the news from Australia, if that's where the England team were. A time when the team went by boat over a few weeks' travel.
Bobby knew he was lucky. Born in England. The best country in the world. In Surrey, the county with the greatest cricket team who won the County Championship year after year in the fifties. His parents owned their own modest little terraced house in North Cheam. So he was rich beyond measure. But the real love of the game was instilled by a schoolteacher. Mr Thumwood, at Cheam Park Farm Juniors, who imparted his own love of the game on a group of boys that went way beyond teaching.
Bobby was a star in that team. Or that's how he remembers it! In later years, at the Grammar School, his star faded. His memories of favouritism are somewhat jaundiced but, eventually, actually playing the game ended before he had even left school. During those years he was a regular at the Oval. Near Kennington. Home of Surrey County Cricket Club, but also one of the most famous cricket grounds in the world. Cycling from North Cheam. Padlocking his bike to the railings. And watching Tony Lock, Jim Laker, Peter May and those other immortals. Sixpence for a cushion to sit on. But never seeing a test match. A step too far for a young lad on a bike and his pocket money. In any event, every ball played was shown on BBC television in those far off days.
Bobby's mum Dorothy loved to tell him how her father, James Bennett, Bobby's grandad he never knew, played cricket for the Putney police force team. Here is a treasured picture of that team.
One vivid memory is being taken with the school cricket team to Lords to see Gentleman v Players matches. Ending in 1963, these matches revealed an archaic retention of the class system. The Gentlemen were amateurs and posh. The Players were professional and working class. At Lords the Gentleman came out the front door. The Players the side door.
The crowds poured off the train at Vauxhall. This was not the first time he had been back, as he had taken me to a limited overs game with his friend David. But this was to be his first test match in 74 years.
What followed was pure theatre. Alastair Cook not only made that century, but captain Joe Root did too. The hours went by in bliss, as two cricketers made an impassioned crowd happy. The beer flowed and the plastic mugs went back for a refund. Record after record fell, until England declared at an unattainable total for India. Even then, there was more. England's most celebrated fast bowler, Jimmy Anderson, needed just three more wickets to become the most successful fast bowler the world has ever known. In ten frenetic minutes he took two. The record would wait until Tuesday.
Throughout, the sportsmanship of both sides shone through and Alastair was given an unforgettable send off.
So that's it. Will he ever go to another test match? Or declare? His record being: test matches attended – one. Just one day, that is, but one of the greatest days for a cricket lover. Or, as Chris Evans just asked on Radio 2 "Are you one of those who can say "I was there?" Well Bobby can say….
"I WOZ THERE!"
The papers went mad…
And the next day, Surrey Cricket Club made the best of their good fortune and stroke of genius in offering all those cut price tickets.
Lighting a candle for Diddley.
This week is all about teams. So here is the latest team at Laurel Cottage. Lighting a Candle for Diddley. We hope to see the technical team soon on their canal boat NB Sola Gratia.
—————
---