Spitalfields Secret Gardens with Eamonn
Secret Gardens
Bertie: "What a lovely garden, Eamonn."
Eamonn: "Ah! To be sure it was, Bertie. Tank you for suggesting I go to the open gardens. 'Twas marvellous to be sure."
We have been to the Spitalfields Open Gardens many times and written stories. This year was a little different. A group of friends. Some with fond memories, others new to the Secret Garden world of Fournier Street and nearby.
It seemed an opportunity to chill out and not write about it. Take very few pictures. But take a bear in recognition of past years. Eamonn proved very popular. He always does with that worn Irish look about him.
Some of the gardens are very familiar, especially with the emotional family connection to 31 Fournier Street. Charlie had reopened her garden, to the delight of Anne and their Huguenot connections.
But there was a new garden to be opened for the very first time. Once again, a secret to be revealed by going through the house; past the magnificent array of cakes and refreshments into a world quite unbelievable in its situation.
Look one way and you could be in a garden in any leafy country village. Look the other and there, towering to the very heavens, is the magnificent Christ Church, Spitalfields.
For the garden is that of the rectory for the church. Famously, a Nicholas Hawksmoor Church, as indeed is the rectory. Both dated 1729. Although there are a number of gardens to visit on the open day, it was hard for them to tear themselves away from this lovely garden. Particularly with the prospect of music at two o'clock.
But Bobby had to light a candle in the church, where Eamonn had never been.
"I'm sorry. We have no candles, apart from some partly burnt ones in the old font. You can light them." said the helpful chap at the desk. And proceeded to find a lighter. Somehow, it became far more emotional remembering Diddley and her daughter Amber who had lived in Fournier Street. Amber had died far too young and her funeral was here in Christ Church in 2017.
Leaving the church, we bumped into the Gentle Author just about to start one of his walking tours. What a pleasure it was to introduce him as Bobby's mentor. The one person that had led to the creation of Mindfully Bertie.
So back to the rectory. Music. Good company. An English country garden party, maybe. In the middle of London's East End.
The sun shone down on a lovely day. Followed just three days later, on another sunny day, on the Grand Union Canal at Ladbroke Grove. There, sitting serenely, was Sola Gratia. The home for Tim and Tracey, Loki and Ozzie. And headquarters of Mindfully Bertie.
Bobby had sent Eamonn to join in a board meeting. Tim Technical Director, Tracey Artistic Director. Loki Guide Dog. Ozzie fun dog (and trainee hearing dog).
Minutes:

You OK?
Yes.
Cup of tea?
Yes please.
AOB
The plan is there isn't one.
Agreed.
Meeting closed.
The real laugh was seeing BFG Bobby trying to get on and in a canal boat without falling in the canal. Poor old sod.
Half Way Down. AA Milne. Bobby's favourite poem
Halfway down the stairs
is a stair
where i sit.
there isn't any
other stair
quite like
it.
I'm not at the bottom,
I'm not at the top;
so this is the stair
where
I always
stop.
Halfway up the stairs
Isn't up
And it isn't down.
It isn't in the nursery,
It isn't in town.
And all sorts of funny thoughts
Run round my head.
It isn't really
Anywhere!
It's somewhere else
Instead!
Apologies for the creatures who definitely appear to come from an American English Country Garden.
Lighting Candles for Diddley and Amber and friend Mick in Christ Church, Spitalfields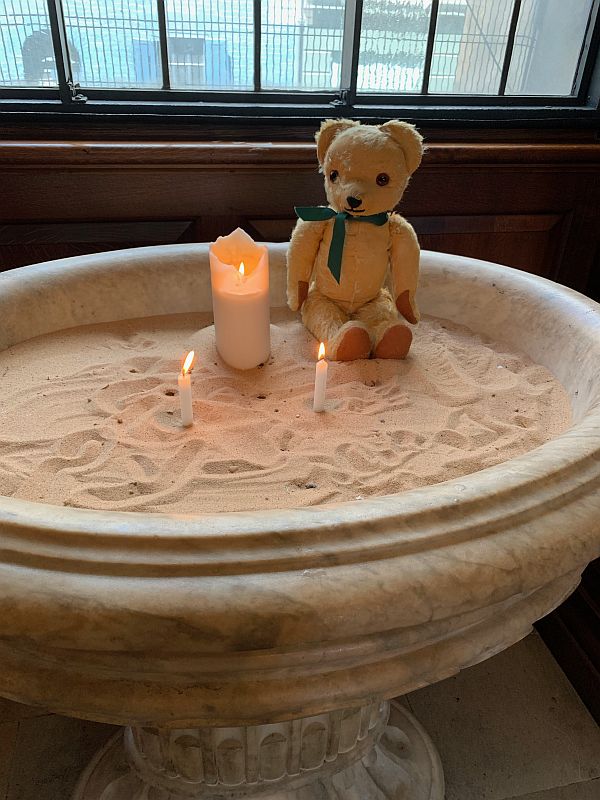 ———
---