The Church, Miserden, Gloucestershire
The Church, Miserden
Many books have been written about the poet and author Laurie Lee.
Back in the 1990s, a television programme was produced based on interviews with him as he talked about his life. The transcripts of those interviews have come to life and been turned into a book.
This is just one of those occasions when you wish that someone was still here to share the words in the chapter entitled "The Church Miserden". Based on a conversation between television programme maker David Parker and Laurie Lee. He talked about his great pal Frank Mansell. In doing, so he revealed things that Diddley either did not know or had forgotten. She would be so impressed to see her mentor in print again.
Such were her stories about Frank that we wrote about him and her in just the second story ever written for Mindfully Bertie. Back in August 2016. You might like to read that before Laurie Lee's account of their mutual friend. (See story here).
The Church Miserden
(as remembered by Laurie Lee)
"This is the grave of my old chum Frank Mansell in the churchyard, quite near to where he was brought up.

We had some grand times together. He was a remarkable fellow, very Cotswold. Cotswold as a dry stone wall. Rugged, windswept, honest, rooted in these hills? He was also a strange mixture, he was a workman, he worked for the post office, he was an astrologer, he was a demon bowler in the local cricket team at Sheepscombe… and he had a feeling for these stones. He was a marvellous local poet.

He showed me some of his ballads, as he called them when I first came back to Slad. We used to meet in the pub and go through each other's work. And his poetry was so direct and so local and so genuine, innocent and strong like him, that we thought we could get it published. So we got together and between us we set up a publishing firm called the Wittantree Tree Press. It was named after an old tree, a windswept tree, which is bent from the west to the east by the prevailing wind. He always felt that the way he walked bore that kind of windswept look about it. And he was absolutely right. It was mostly an inclination from the west to the east which inclined his huge muscular body to the prevailing wind. But as well as that, coming back from the pub in Bisley, after his drink which was known as Old Peculier, this gave him that sort of inclination. An inclination which I shared.

So we got this little printer down in Cairnscross and set him up with a little paperback. Then when we had printed off 2000, we'd go round the pubs with a little box of these, and we'd stick them around the bar. And he sold all 2000, which was almost unheard of, even for a well known London poet to sell 2000. Frank sold 2000 just around the countryside, mostly in the pubs. We had a second printing, and he went into hardback. And at that stage I began to get rather jealous, but I swallowed my pride and enjoyed the fact that we were living off, drinking, our profits as we went around.

And I remember his voice, he read his poems as naturally as birdsong and I can remember them now. I read one at his funeral, 'Cotswold Choice'. My eyes are going, I can't read them now but I can hear him, under this tree, and among these stone walls, I can hear his voice saying:

From Wittantree and Througham fields, From Miserden and Slad
Grand would I walk through summer And happy times I've had.

Frank, you'll forgive me for not being able to remember your verse with all its natural glory, I'm making it up a bit and editing it as I go along, t'wasn't half as good as your original, Frank. See you later in the Butcher's Arms. Sleep well old lad."
(Diddley never forgot Frank. Each year we would come back to the Cotswolds in February and she would put snowdrops on his grave. A record was made of his ballads in which he recited some and others were sung by folksingers. We have that record and by coincidence it was 'Cotswold Choice' that was read by Frank at Diddley's funeral).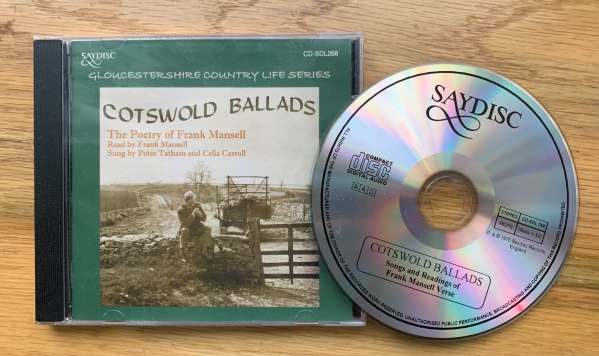 You can listen to the recording here:
Back to Laurie Lee…
"He died young, at 60. I saw him the day before he died and I've got a recording of him telling me of a quick way to go from Slad to a pub that was up on top on the other side of Minchinhampton. And he was telling me about all the shortcuts and all the lanes. I thought I knew them all but he was just telling me, very slumberously, because he was quite ill then. But in this very rough, eloquent, Cotswold voice, he told me how to get from Slad to Tetbury and from Tetbury to Minchinhampton and from Minchinhampton to this pub he wanted me to go to the next day and check up on the sales. But the next day his friend rang me up early in the morning. He had died in the morning, very suddenly, not with the disease with which he was pressed by but something quite different, coronary heart. And he was buried here. And he was so well known, we had a church full and people gathered in the churchyard.

He lived in a little cottage. When we were coming up from Sheepscombe to Miserden and where we are now, there is a crossroads and a little cottage called the Salt Box. In the old days there were salt mines around Droitwich. And they would bring the salt, on pack horses, down over the hills, over Birdlip and across this top road to the Salt Box, where they used to change the horses and take the salt on down to Sharpness, and export it along the River Severn. And so we'd tease him for living in a salt box; peppery old character, but never mind, he was very proud of it and so were we. He is remembered as lord of the manor of the Salt Box, Sheepscombe.

He lived there, alone for most of the time I knew him. He ran a little vegetable garden and wrote these long astrological predications for old ladies. They used to send him a note saying, can you prophesy what is going to happen? Seriously he would write their birth date, and sheets of paper would go out very carefully composed, spinning the most unlikely futures for these old dears. But he believed in it and they believed in it and although I'd tease him about it, I never really said it's a cop out you know very well, because he didn't think it was. He believed he was close to the stars and close to the seasons. And looking back at the old days we had, and remembering the way he talked. I believe he was close to the stars and as far as I am concerned he is always alive to the seasons and the stars when I come back from London or wherever I've been.

First thing, coming through Sapperton Tunnel, I see that old wall and I think, that's Frank, crumbling a bit, a refuge for sheep, standing there in the winds on the top of the hills, dry stone wall. That's Frank. Indestructible.

Frank had this double loyalty or threefold loyalty. He went to the village school in Bisley. Miserden was very much an alter ego as it was part of the triangle with the Salt Box down the road, and he was also very closely connected with Sheepscombe where we've got a seat for him looking out over the cricket field.

He was a demon bowler in the Sheepscombe side. He used to come up the hill, it was a sloping field, and you'd see the top of his head as he was running up, the next you would see his shoulders, furious face, and then the rest of his body. It was like a galleon coming over the horizon, all guns blazing, and he'd whip the ball down and if the ball did not kill the batsman, furious anger and frustration would kill him.

'That should a got thee,' he'd say. 'It should a got thee,' And if he didn't get five bloody heads in one innings he was a disappointed man, a terrorizer.

(In the film that followed this interview the cricket is dramatised with an actor bowling when you really could only see the top of his head as he started his run).

He was a Norman I think in many ways. I used to tease him about it:

'Frank Mansell,' I said, 'you came over, you were a predator, you were one of the conquerors who showed off, you were responsible.'

'Ah,' he said, 'that was in the old days, we had some land then, we lost it all, through bewilderment, and drink and corruption.'

'Not corrupt, not corruption Frank, you were never corrupt Frank.'

You'll find the old Norman names very often amongst the villages. Frank half admitted that Frampton Mansell was part of his heritage and that his ancestors came from there, but he thought that they had lost it, that it had slipped through their hands, largely due to … Let me put it like this, they loved too much, they drank too much and they never put anything by, except his honesty and his character. And that's why he ended up digging holes in the road for the Post Office, and writing this most marvellous poetry.

Which was the true voice of the Cotswolds. And I can hear him now, but I can't remember his style. There is a recording of us giving a double recital, you can imagine the feeling, the daredevil feeling we had at Cheltenham Ladies' College. We marched in together him on the left of the stage and me on the right, and we really played to the audience:

'Any questions?'

'Yes, what makes you a true poet?'

'Never get married,' he said. 'Never get married, it's death to poetry.'

He was married twice as far as far as I know and gave people a lot of happiness, but in dropping that bombshell at Cheltenham Ladies' College, it made the teachers twitch a bit."
Lighting a Candle for Diddley.
– – – – – – – –
---