Unveiling the Bench in Memory of Diddley.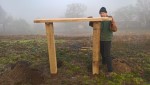 The Bench.

Life goes on when we lose people. Remember "yesterday is history, tomorrow a mystery, so live for today". In doing that we take our memories with us. Particularly of those we love who are no longer here.
For some – a quiet graveyard, a grave and a place to reflect on times gone by. For others, like our family, we were lucky to be able to be part of the new lighting scheme for our local church St Mary Magdalene. See the blog "Let there be Light". Whenever we go in the church her light shines down on us.
But for Bobby the most special thing of all has to be the National Trust's special agreement to place the bench in her memory at Abinger Roughs. Not something the Trust does often. The warden even installed it himself, with Chris seen above. And the volunteer carpenters made it of oak from Bookham Common.
If you love the countryside, in particular the Surrey Hills, there cannot be a finer place to sit and think about the lady who inspired all this. Something for everyone and anyone to sit and reflect on the beauty of the world as they look across "Diddley's View". Sitting on the bench.
---
Abinger Roughs.
Is a beautiful area of mixed wood and grassland. Lying above the village of Abinger Hammer. Famous for its clock on the A25 in recognition of its iron industry past long ago.
The term "Roughs" drawing its name from an area of poor sandy soil, where medieval soils met rough pasture. So says the NTs excellent leaflet…
Bobby remembers the Roughs from walking there a long time ago in his first marriage. Usually followed by a 425 bus into Dorking for fish and chips, and a 470 back to Carshalton. It was inevitable that he should come to live in the Surrey Hills.
Many years later, just retired, he met the National Trust warden Rob Hewer in the car park by White Downs Road. He had become "Ranger" for the new National Cycle Network Route 22 (NCN22), just signed through the Roughs. The signs were being vandalised. A new waymarker sign, designed by Diddley at work, was agreed. That was produced by Sustrans, and installed by Bobby through the Roughs. Still there signing the way for cyclists. Still there to remind Bobby of Diddley.
Ever the opportunist, Bobby asked Rob if there was any spare wood for his woodburner? "Join the Thursday volunteers and you can have all the wood you like". Bobby did. Receiving his long service award, and now in his eighth year of volunteering. Many times working on the Roughs themselves. It's another story for another time, but volunteering for the NT is the best thing he could ever have done in retirement.
Volunteering on Denbies Hillside:

There is lots to see and do in the Roughs. Pick up a leaflet from the notice board in the car park. The notice board itself made by volunteer carpenters and all the rail fencing replaced by Bobby and volunteer friends last year. As a volunteer you do what you are capable of. Bobby's usefulness has diminished in direct proportion to his propensity for accidents…
Make sure you see the Witches Broom tree. Particularly if you have children. Go to the natural play area. Also created by the volunteers. It's all in the leaflets. Including Piney Copse and its association with the author E M Forster. Here's some pictures of the Roughs.
And here's some music for the mood. Composed by Ralph Vaughan Williams, it is thought close by at Leith Hill Place. www.nationaltrust.org.uk/leith-hill-place.
PS
When you read this blog, we will be zooming across Europe on trains. ON HOLIDAY. The blog will be a little smaller each week. Maybe….! I am asking Tim, Technical Director, on permanent holiday with Tracey and Oakley on his canal boat, for a favour. He writes a blog with wonderful photographs… try this:
www.onephotographaday.org.uk/the-wharf-crane-newbury
So Tim, now is your chance to put some evocative photographs on Mindfully Bertie for a few weeks. Thank you!
Lighting a Candle for Diddley.
But what's this…
The eagle eyed amongst you may just see the top of a train. Unobtrusively sliding through the cutting. Heading for Guildford. The Surrey Hills line is renowned for its beauty. But also famous for its main line STEAM TRAIN specials. Last year the Flying Scotsman came through here twice in the summer. So, Diddley, I can even watch steam trains from the bench!
---
---