We Won the Cup!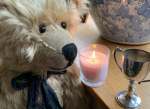 We Won the Cup!
It wasn't the FA Cup. It was better than that!
It wasn't the final of the Europa league. It was better than that!
It wasn't even the final of the Champions League. It was even better than that!
Why? Because long after those big cup finals are consigned to history and largely forgotten, this cup final will be remembered. These youngsters will move on to under eleven football next season and one day they will grow up. But they will never forget the day they could say "We Won the Cup!" – their first cup with East Preston Football Club.
It was grass roots football at its very best.
The Arun and Chichester Youth League.
The under 10 Trophy Final between…
Littlehampton Town Youth Black v East Preston Youth Black.
Bobby tells me that he has supported both Fulham and Sutton United for over sixty years. And yet, football has never been so much fun as when it is a family thing. That family starting with grandchildren and sons and encompassing everybody else involved with running and supporting a football team for boys and girls under ten. Including all the spectators and Laura, who makes the half time tea and bacon butties.
Basically, it is honest and an education for youngsters learning how important team spirit is. Being relied upon. How you must learn to accept defeat with grace and cheer the roof off when you win. Always respecting your opponents, but playing the game to the utmost of your ability.
The Programme
Yes, they even had a programme! Both teams have black in their title, because they have been so successful in attracting youngsters that they have two teams each. Blacks and Whites. We have copied the programme notes for East Preston Blacks here, who are the team we are supporting with pride.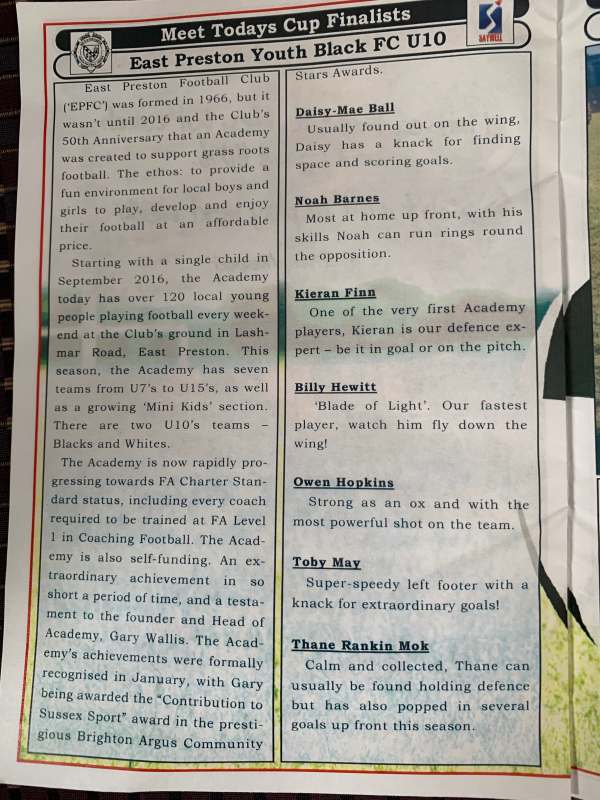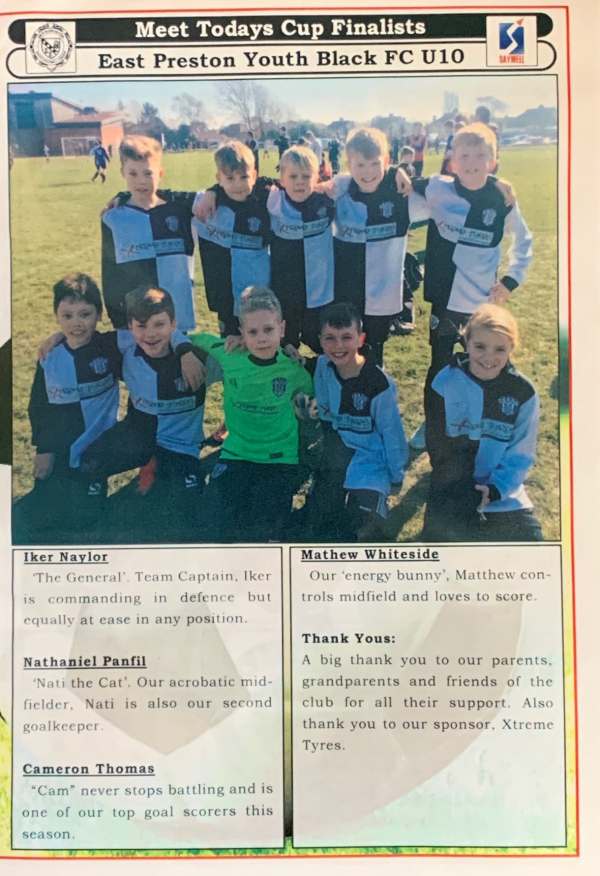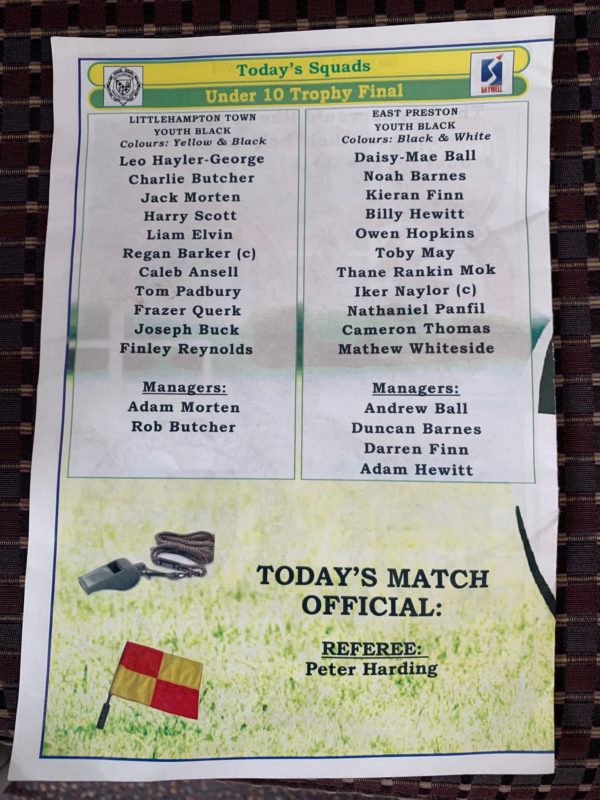 The Game.
Was very close in the first half. At 1:1 and full of drama, it promised to be a very exciting second half. It was, for East Preston, who came out transformed with energy and passion. Rattling in five goals. We won the cup at 6:1. Even then, the opposition was gracious in defeat. The players and the coaches. And there lies another very important aspect of grass roots football. The families and friends. The Mums and Dads, Grannies and Grandads, friends and cousins. In the case of East Preston, four Dads in particular, who give up most of their spare time for their children and their passion for football.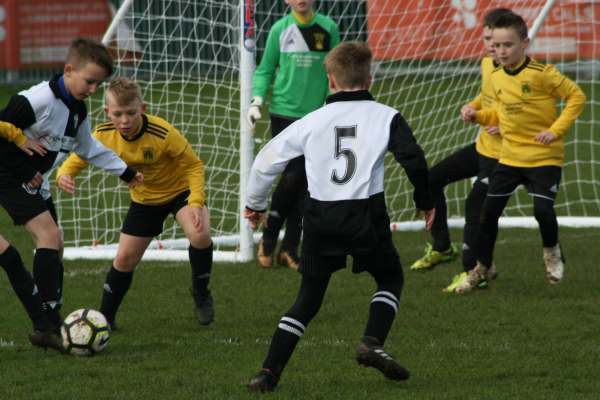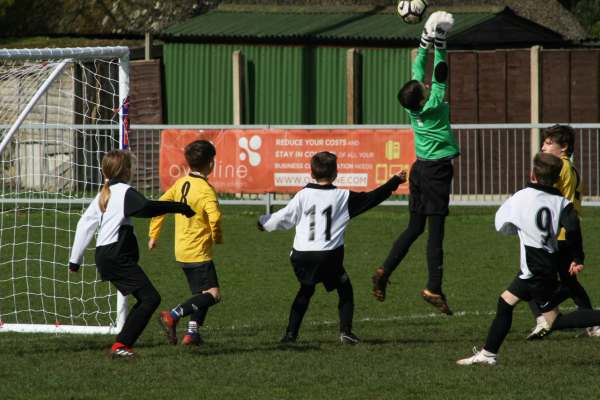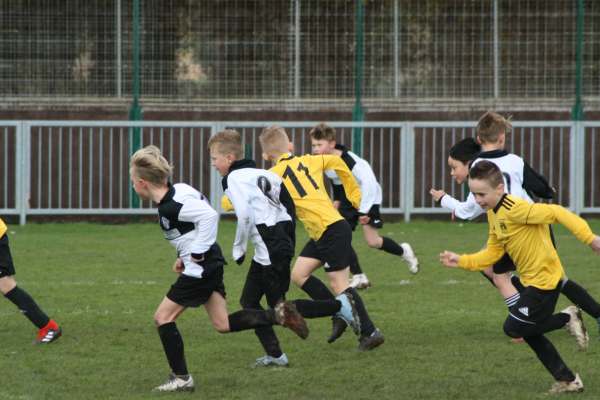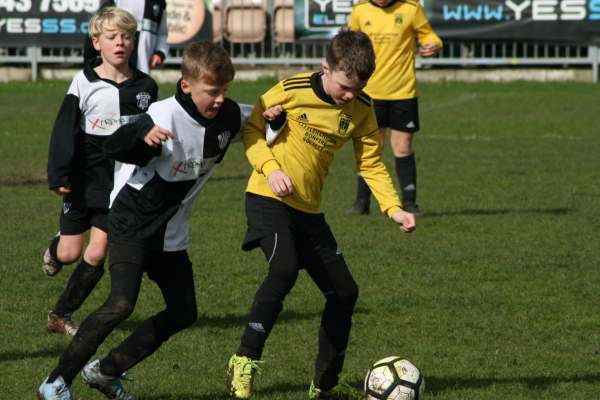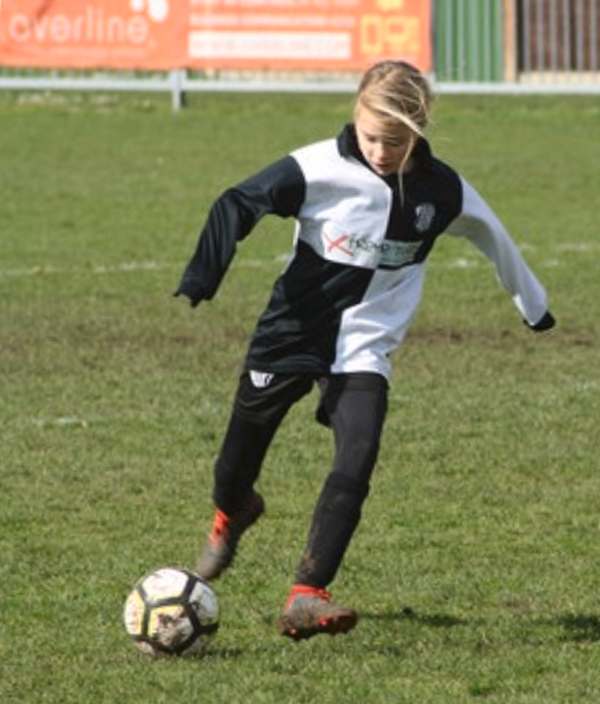 The Presentation.
PS
This week's poem from Frank Mansell will be next week now.
Lighting a candle for Diddley
Bobby won his first (and only) cup in 1965 in a photo competition. It's tiny, but polishes up with Brasso. The base disappeared years ago. But here it is on the sideboard, fifty four years later. Let's hope the mementoes of the current day heroes (and heroine) stay with them forever. Just as our memories of Diddley will.
– – – – – – – –
---