---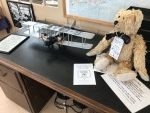 Croydon Airport.
It's 1958. Bobby and his plane-spotting friends at Sutton Grammar School (tie blog) are just twenty minutes by bike to Croydon Airport. Long past its glory days (and heading for closure just a year later) there are still plenty of planes for the spotters. And a grapevine.
"Ere Trebor"… "there's a Beech Bonanza at Croydon! "Coming with us to see it?"
So off they went on their bikes after school to the Purley Way running alongside Croydon Airport. Passed the front entrance and climbing up hill, they turned for the big dash. Rumour had it that the Bonanza was in the big hangar. Gathering speed they shot through the entrance to the airport hotly pursued by a ginger haired copper on a bike. Onto the apron passed the open hangar and there there it was. If only they had cameras. Not one between them. Couldn't stop but shot out down the side of the hangar.
---
---
---
---
---
---
---
---
---