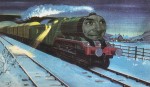 Bob the Big Noisy Engine.
This is the story of Bob the Big Noisy Engine. A tale of triumph over adversity. Honesty over lies and deceit. Contentment over greed. Happiness over anger.
It is a true story. All the characters are real. Bobby wrote it in 1999 on a bike ride. In his head. The card and story were posted as part of a legal requirement. Always hoping that the opportunity would arise one day to publish it. Bearing in mind I was part of the adventure and ultimately best man at the wedding in Scotland. This is that opportunity. The reader is asked to consider Sir Walter Scott"s famous words:
'Oh what a tangled web we weave when first we practise to deceive'.
---
---
---
---
---
---
---
---
---
---