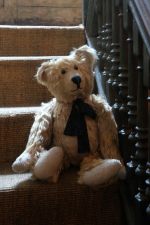 One Hundred!
Bertie: "Stone the crows and strike a light mate. One Hundred? Are you sure?"
Bobby: "Yes Bertie. This is your… ONE HUNDRETH BLOG! A century of stories. A week late after last week's headache." (Trevor is getting a little full of himself. More later).
Bertie: "Crikey! I wonder what Diddley would make of it?"
Bobby: "Well I can tell you that she knew, like all of us, she would meet her maker one day. More than anything she hoped that she would not be forgotten."
Bertie: "Fat chance of that mate!"
This 100th blog is spread over two weeks, centred on where it all started. Spitalfields. The National Garden Scheme's Spitalfields Open Gardens (see 31 Fournier Street) has been featured by the Gentle Author. All the gardens are behind the houses and you have to walk through them to the gardens. Here's his take on it:
His student Bobby has a rather different take, dominated by me. The Bear that he created as Mindfully Bertie. And has now given rise to one hundred blogs!
Townhouse Fournier Street
---
---
---
---
---
---
---
---
---
---