Changing the Guard at Buckingham Palace
Changing the Guard at Buckingham Palace
They're changing the guard at Buckingham Palace.
Bobby and Bertie didn't take Alice.
Whose Alice?
Dunno

Bertie: "Wowwww. Bobby – are we going to see the Changing the Guard?"
Bobby: "Nope… Cancelled due to Covid-19."
(See note later about Changing the Guard)
Bertie: "Ohh! Where are we going then?"
Bobby: "Buckingham Palace Garden!"
Bertie: "Wowww. Were we invited by Her Majesty?"
Bobby: "Errr, no… We bought a ticket!"
Bertie: "Can anyone buy one?"
Bobby: "They could, but they are sold out now."
Bertie: "Can we go by train? I love trains!"
And that's what we did.
It was wonderful being back on a train. In the last carriage. All on our own. Watching the fields slip by. Looking into people's back gardens.
A few people got on at Sutton, and soon we approached the big city. Battersea Power Station now a rich city of its own. The River Thames and Victoria Station. These days we try to be early. Hate rushing. An hour before the entry time, we thought we would chat to the lady steward at the entrance.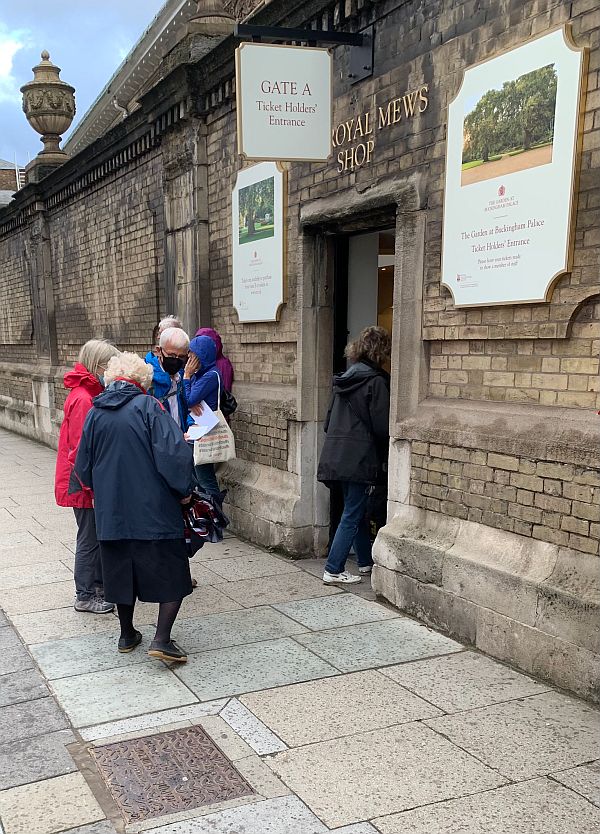 Bertie: "Excuse me! Are you the Queen?"
"Queen": "I could be!"
Bertie: "Wow. Can I have my picture taken with you?"
"Queen": "I am afraid not. I am incognito."
Bertie: "Queen Incognito?"
"Queen": "No no, little bear. I am here in secret. Please don't tell anyone."
Bertie: "Your Majesty. I am your humble servant. I promise not to say a word!"
"Queen": "Good. Have a lovely day in my garden. But you are an hour early and should come back nearer the time."
Bertie: "Time to go in Bobby. Got the tickets?"
Bobby: "Bears don't need one."
The "Queen" had gone, and in we went past airport security. X-Ray machines et-al.
Bertie: "I didn't like being shoved through that X-Ray machine."
Bobby: "You could have been a bomb."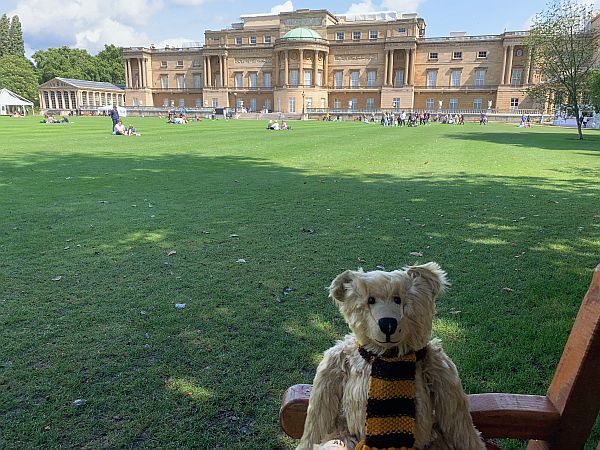 The sun shone and it was a lovely day in a special place. Not a garden to excite a horticulturalist, apart from the magnificent trees. And the lake. The lawn was enormous to accommodate all those garden parties. The stewards very friendly.
The shop, in a marquee, impressive. As was the cost of a cup of tea! We walked round the garden and then sat on a bench and watched the world go by. People kept asking about me. Bobby loved telling them. It felt very special to be there, in what seemed like a country estate, knowing that it was surrounded by central London.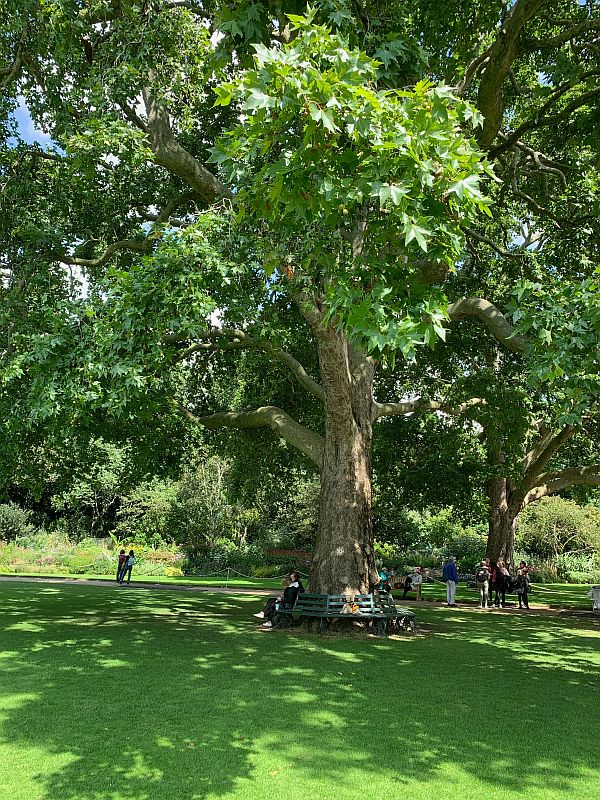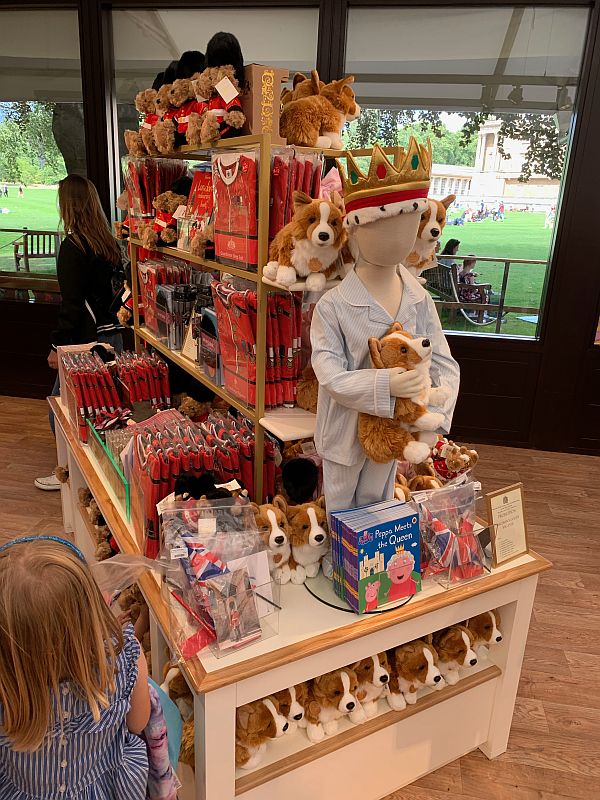 – – – – – –
We left by the back door in the wall, and found ourselves immediately in the real world. Traffic, noise, sirens, people, hubbub. He had put me back in that horrible haversack that flattens my ears. Suddenly I was not needed. Bleedin' cheek!
He told me we would walk down Constitution Hill towards Trafalgar Square. Until something came over him. He suddenly remembered his Mum and had to check something out. It's best I hand over to him now.
Bobby: "Looking across Constitution Hill, I remembered my Mum. Dolly. It was I-Spy London all over again, and we were going to see the Porter's Rest. It's still there and this is an introduction to a story in a couple of weeks."
Cutting across Green Park to the Mall. Through Admiralty Arch to Trafalgar Square and possibly the most important visit of the day. Our favourite church. St Martin-in-The-Fields. Our weekly visits to Al-Anon in Islington invariably took us home via the church. Lighting a Candle maybe. Watching a concert.
We love St Martin-in-The-Fields. It was an emotional moment to walk in and sit there full of memories. Nearly 18 months since we last sat there. Lighting candles and walking back through St James's Park in torrential rain to the station. It was a perfect day.
Changing the Guard at Buckingham Palace
And the news is that the Changing the Guard will resume on Monday 23 August 2021. Here are the details: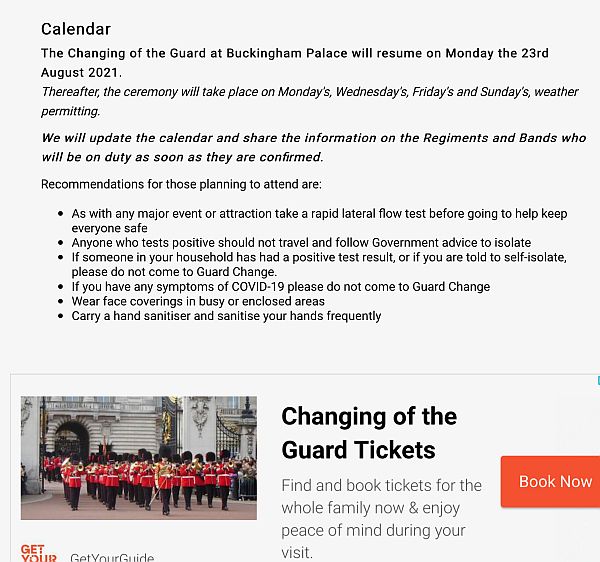 There are lots of videos about the Changing of the Guard and other Royal interests on the Royal website.
Dolly loved history and facts. It was she who told Bobby that the Guards had five regiments and you could tell each one by the button spacing on their tunics.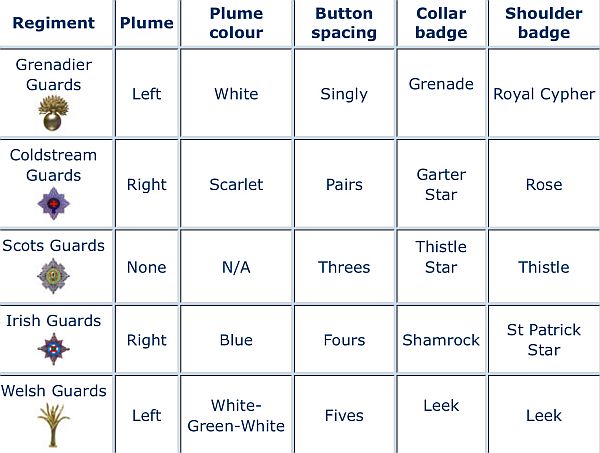 There are lots of YouTube videos of the Changing of the Guard. Here is just one.
Lighting a Candle for Diddley and for Peter in St-Martin-in-the-Fields
– – – – – – –
---