Contre-jour et Layla.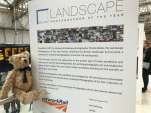 Contre-jour et Layla
Bertie: "Bobby. We get lots of compliments about the photography in Mindfully Bertie. Have you got any favourite types you would like to share?"
Bobby: "No not really! My technique is scatterbrained. Loving the actual taking of pictures as much as the results. With modern cameras and mobile phones anyone can take "good" photographs. But, to take "very good" photographs demands application, discipline, an eye for composition, true artistry and so on. I would hope we are somewhere in the middle. When I bought my first camera as a teenager, I had a boss at work whose philosophy I have never forgotten. Never stuck to it, but never forgotten either. Way back in 1962, KRH told me "always have a camera with you wherever you go." Nowadays, it's easy with mobile phones, but not so then. Bearing in mind, if you remembered the camera, you still had to get the pictures developed. But, of course, today's ease does create its own problems. Particularly when accompanied by social media.
We did, of course, have Amber, my stepdaughter (RIP 2017) who was a top professional photographer. She had a technique that was so individual that I recognised her photographs in magazines before reading the credits."
We have our friend Kat, who is developing her own technique in pursuing her interest in photography. Doing very well and finding one of her photographs just recently a finalist in Women Street Photographers' competition to be exhibited in New York… Here it is.
We also have Layla. Amber's niece, who says she wants to be a photographer. Time will tell. Part of picture taking is recognising opportunities. We were driving along Worthing seafront last week and saw this remarkable sky. Layla already had my phone… and took the picture.
Bobby: "But if you insisted, I would probably say landscape really enthuses me. Particularly the technique known as "Contre-jour". When I bought my first camera in 1962, I went to the library and borrowed books on photography. The term  either had a romantic sound about it, or was simply… French! Even now, I am always on the lookout for suitable subjects. Put simply, taking pictures against the light. Producing images that are maybe more dramatic – or quite the opposite with diffused colours and simplicity of content."
Here are some Contre-jour pictures of Bobby's.
Three seascapes:
Tim, our very own Technical Director, is also a little partial to this style of photography. Only a couple of days ago he took this shot looking down the Icknield Port Loop in Birmingham. Straight into the sun!
But Bobby is brutally honest in realising that his humble efforts pale into insignificance when compared with top landscape photographers. He will never be interested in what has become a vital part of top photography nowadays. Computer enhancement of images. There was a time when some regarded it as "cheating". Far from it. It's no different to Picasso or any other form of art. Creating beautiful images that enhance your soul. But then he sometimes crops pictures so, in a very limited way, he does enhance pictures on the commuter screen.
Which leads us to…
The 2018 Landscape Photographer of the Year.
Each year a selection of the best entries are displayed on the balcony at Waterloo station. A brilliantly accessible venue. Try to go. They will be there until 3 February. We will show a few next week.
Lighting a Candle for Diddley.
– – – – – – – –
---