Covid-19 Guided Walk for One. Number 4: West Park, Wolverhampton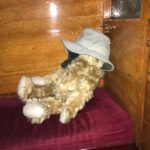 Bertie: "'ere, Bobby. Tim, our Technical Director, says we can have this weekend off. He says he wants to show you that you are not the only one who can go out for a walk and take lots of photographs! Apparently there are green spaces even in somewhere they call the Black Country."
Number 4: West Park, Wolverhampton.
For those who are not aware, my wife (Tracey) and I live a nomadic life on a narrow boat. Well, almost. The nomadic life has been temporarily suspended due to Coronavirus, so the last 9 weeks have been spent in Wolverhampton. We do like it here. We are especially grateful to Aldi as, since we were last here, they have built a new store 5 minutes down the road from where we are moored (sorry, Bobby, no Waitrose round here!). However, we are beginning to get itchy feet now – normally we only stay in one place for up to a fortnight and then move on to explore somewhere else.
One of the benefits (if that's what you can call it) of this lockdown is that it can focus the mind on other things. On the other hand, as plenty of people are finding out, it can get quite boring. I have been fortunate enough that I have two things to keep me occupied. One, if I might be allowed to mention it, is developing our own website for our Doggie Boat business. Usually, we trade from the boat – either on our own or at festivals. Obviously we can't do that at the moment, so we have had to work on the online side of the business. My other interest is photography and I am currently running my "One Photograph a Day" blog, which is forcing me to explore this fascinating city.
We have a dog (Ozzie), who needs his daily exercise, so I have managed to combine this with my photography mission. We discovered a park on the eastern edge, which then led to the discovery of West Park, Wolverhampton. This, I felt, would be right up Bobby's street.
So this week I shall take you on a circular walk that we have discovered, starting from where our boat is moored.
Having walked around the usually quiet ring road, we turn off and after a short walk we arrive at the Victorian West Park, Wolverhampton.
Apparently, the whole park is designated Grade II Listed because it is one of the finest surviving examples of a Victorian Parkland. Obviously certain things have changed over the years, but with very little imagination you can envisage Victorian couples in their finery promenading round on a beautiful Sunday afternoon. As, indeed, we did for this blog (although being dressed in our "finery" may be stretching it a bit!
Apart from the trees, shrubs play a key part in the history. As far as possible, the layout reflects the original designs.
Now, I would be the first to admit that my horticultural knowledge is not that great. I enjoy these gardens for their beauty and am not over bothered what anything is called! Having said that, I was armed with a phone app which was helping to identify what I was photographing in West Park, Wolverhampton. However, this struggled on the next tree. It suggested it may be some sort of Spruce. But it had even proved something of a challenge to Bobby, who had to go away and think about it. Eventually wondering if it may be a Monterey Pine. We shall leave it to you, dear readers, to research and maybe come up with the definitive answer.
Of course, any half-decent park worth its salt will have a lake and this one is no exception. A boating lake normally, but of course this activity is currently suspended. So the wildlife can at least enjoy it to themselves.
And here we must end our virtual tour of West Park, Wolverhampton. We have a choice of routes back to our boat – in the event, we returned the way we came. Otherwise, we could head into the City and take in some of the sights there. Or, we could go the long way round and continue along the ring road. But it was too hot. Ozzie has a tendency to overheat in this weather.
Oh, and yes. We realize this was a Covid-19 walk for two – and a dog. Artistic licence!
But we hope you've enjoyed the interruption to normal service. Bertie will be back as usual next week, no doubt extolling the virtues of leafy Surrey suburbia. Our plan is to continue our journey where we left off and carry on heading north up into either Staffordshire or Shropshire. Depends how we feel when we get to the junction!
PS
We have Moondaisies here too!
Lighting a Candle for Diddley
As usual, we light a candle for Diddley. But this week we also light it for my Mother-in-Law, who's birthday was 30 May – the day this blog was actually written.
Arnold, a rather large yellow plastic duck is on the front of our boat as a mascot. Long story…
---