Covid-19 Guided Walk for One. Number 8: Gower. Rhossili to Mewslade Bay.
Gower. Rhossili to Mewslade Bay.
And so we finally got to the Gower. Driving west from Swansea as far as you could go to beautiful Rhossili. Memories of the early eighties came flooding back. The weather was glorious and we decide to do the simple walk to Mewslade Bay that we had done half a life time ago.
The walk starts in the National Trust car park at Rhossili.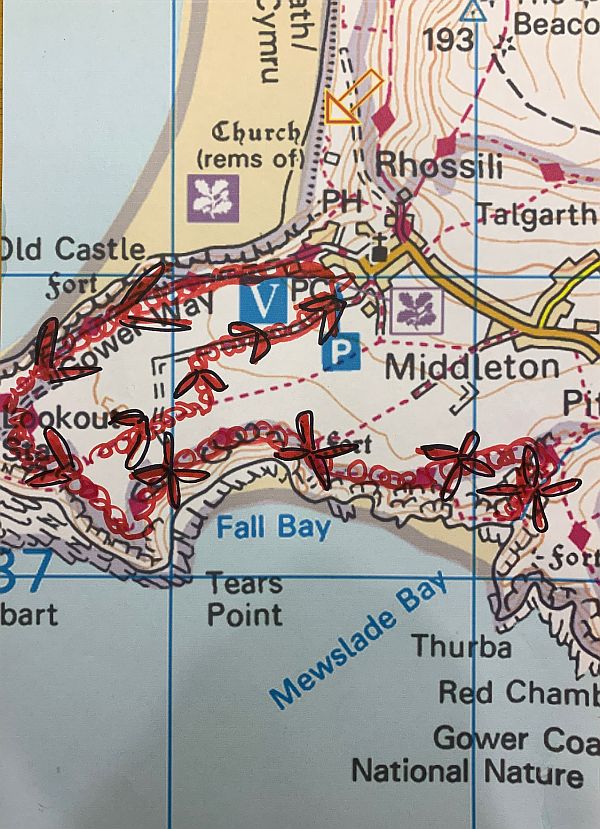 Rhossili to Mewslade Bay and back is a round trip of about five miles. It is nearly all on the coast path, which has spectacular views. It's undulating, with one or two steep climbs putting it in the "challenging" description for some. But you don't need to walk the whole way for a lovely experience. Please note that both Worms Head Island and Mewslade Bay are inaccessible at high tide. Rhossili has lots of cafés and the NT has a shop. Leave the car park and head down the main track towards Worms Head Island.
This is accessible either side of low tide for the adventurous. The times the causeway is safe to cross are displayed on a prominent notice board. DO NOT GET CUT OFF.
Turn left past the Coastguard building and head east reaching Fall Bay first and, eventually, Mewslade Bay.
The path down is quite steep and reveals a beautiful valley that leads down to the beach through a rocky gulley. It's a bit of a scramble over the rocks to the sandy beach. Surrounded by cliffs. At low tide, caves are revealed and you can walk to Fall Bay next door.
Retrace you're steps up the valley to the coast path and head back to Rhosilli.
Staying close to the dry stone wall above Fall Bay, you bypass Worms Head through the Vile. An ancient field system, which the NT has planted with sunflowers in previous years until Covid struck. This year, the sunflowers self sowed. Whilst looking a little bedraggled, the birds will have a feast. The path zigzags across the fields back to the car park.
Lighting a Candle for Diddley.
——————
---