Eamonn and The Landsker Line.
The Landsker Line.
During my "genius period" with Rosemary, I wrote one or two stories. In Welsh! To celebrate and close our season of stories from West Wales, I have translated just one into English for you, my admiring readers. It is very appropriate, as this story is all about "Language".
Bertie: "Do you realise, Eamonn, that you are sitting on the Landsker Line?"
Eamonn: "Am oi? Oi can't see or feel anything!"
Bertie: "That's because it is a mythical line that stretches across Pembrokeshire and Carmarthenshire. It starts out at sea. Over there. Over the centuries it has even moved, but folklore has decided where it is now."
Eamonn: "Oi haven't a feckin clue what you are talking about!"
Bertie: "Now now Eamonn, me old mate. Shall we just say that you are sitting on this beach at Newgale in Wales. The Landsker Line goes between us, which means that I am sitting in 'Little England beyond Wales'."
Eamonn: "Errr?"
Bertie: "Pin back your lugholes and allow me, a genius, to explain using these maps."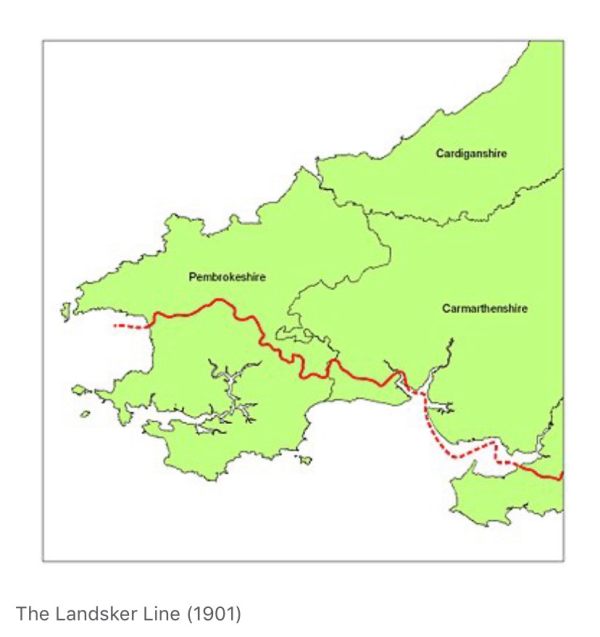 The Landsker Line is a term used for the language boundary in Wales between largely English speaking areas and Welsh speaking areas in Pembrokeshire and Carmarthenshire. South of it has become known as 'Little England beyond Wales', despite being a very long way from the Wales/England border.
Why this should be goes back over hundreds of years. Many Norman castles were built in Little England to subdue the Welsh. Manorbier, Pembroke, Haverfordwest and so on. The arrival of Flemish settlers gradually led to the southern part becoming a non Welsh settlement with much closer ties to England. The much less populated north retained its distinctly Welsh heritage.
The most obvious evidence of the affects of the Line are in the place names. Go back to Newgale on the map. Immediately north is Pen Y Cwm . In Welsh, 'the head of the valley'. South of the line is Nolton, Haroldston and Broadhaven. Check the other place names above Newgale and you will, with the exception of Whitchurch (Tregrose in Welsh), see mostly Welsh names. Including St David's itself. In Welsh, Tyddewi. The House of David.
And finally, in this genius piece, we have other place names that have a distinctly Scandinavian feel about them. Centuries before the Normans. Usually close to the coast, they are evidence of places that fell prey to Scandinavian pirates. Including, of course, Skomer and Skokholm. Followed by the other islands of Grassholm and Gateholm, Even the administrative town of Haverfordwest is know in Welsh as Hwllfordd, And you don't get much more Nordic than that.
We could have called this story 'What's in a name?' for, as you can see, Pembrokeshire has a rich history particularly visible in its place names. Its Bobby's favourite part of Britain. After the Surrey Hills where we live.
Bertie: "It's nice to be back home in Laurel Cottage, Bobby. Sorry I was rude to you Eamonn. I'm glad you enjoyed the islands. And you certainly cheered up Bobby in Swansea Hospital. You must write some more."
Eamonn: "Well, Bertie. Bobby has promised to take us to Ireland and I can show you where I came from."
Lighting a Candle for Diddley.
—————
---