Eamonn goes to Skomer.
Eamonn goes to Skomer.
Bertie: "Corrrr- I dunno. Just before we came to Wales, a friend of Bobby's asked what has happened to the Irish bear. Well, we had to admit, not much."
Trevor has found his niche. Betty Boop is a little inflexible, but will get her chance. But Eamonn? Dunno. "Tell you what", said Bobby. "How about me taking him to Skomer and Skokholm instead of you? He's much smaller, and you keep moaning about being shoved in the rucksack".
Bertie: "Well… wouldn't you? Flattened me bleedin ears!"
Bobby: "Anyway, he could write some stories for you and give you a break."
Bertie: "Suppose he isn't any good?"
Bobby: "You wont know until he has a go!"
Bertie: "OK. See how he gets on with a day trip to your favourite Islands."
Eamonn goes to Skomer
"Bye bye Rosemary. Cheers Bertie. We are off on an adventure to Skomer Island" Just for the day. Bobby is going back to his first love for a very special reason. To write letters to each of his grandchildren and his great grandson. Asking them to keep each letter for posterity. Just as he had done in 1995 and all the years in between. So that one day, when they grew up, they could look at a letter written to each of them personally from Grandad Bobby's favourite place. He had even printed special notepaper for the purpose. As Diddley had done for him in the past.
"It's a very nice shop at Martins Haven. Lockley Lodge. The shop for the Wildlife Trust and buying tickets to land on the island."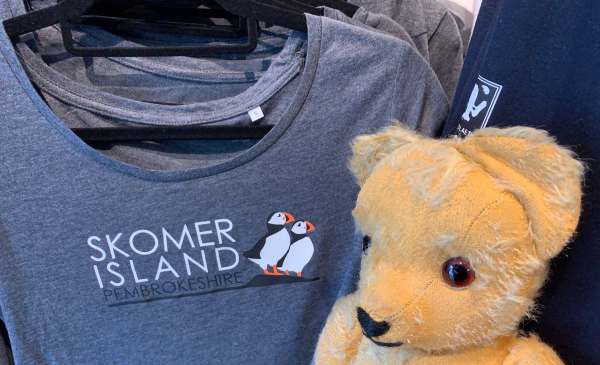 Down to the Dale Princess. The skipper is Bobby's friend, Karl.
Karl: "Where's Bertie?"
Bobby: "Having a rest at Rosemary's. This is Eamonn, from the Emerald Isle. 79 years old."
Karl: "Is that older than you?"
Cruising out across Jack Sound (between Skomer and the mainland), I could see that Bobby had seen it all before. Nearing the island, the other day trippers were desperate to see a Puffin. Searching the sea as we approached the island.
"There's a Puffin!" Just a handful on the sea. Back in June, they had estimated 24,108! Like their auk cousins, Razorbills and Guillemots, they only come to land to breed. As soon as the youngsters fledge, they all leave. Quite often with the youngsters still unable to fly. Swimming away with their parents. The deep ocean is their true home.
We promised Eamonn some Irish music. Cara Dillon was on at the Union Chapel in Islington and it wasn't difficult to fall in love with her.
Cara Dillon – "Dubhdara"
Bobby was very quiet as we reached the island. He had told me in the car that suddenly those steep steps he used to run up had become a real problem. And so they were. Given the knowledge of what happened a week later, his struggle up those steps could have been the final straw. Puffing and blowing he sat and listened to the introductory chat. Met the new wardens. Nathan and Sylwia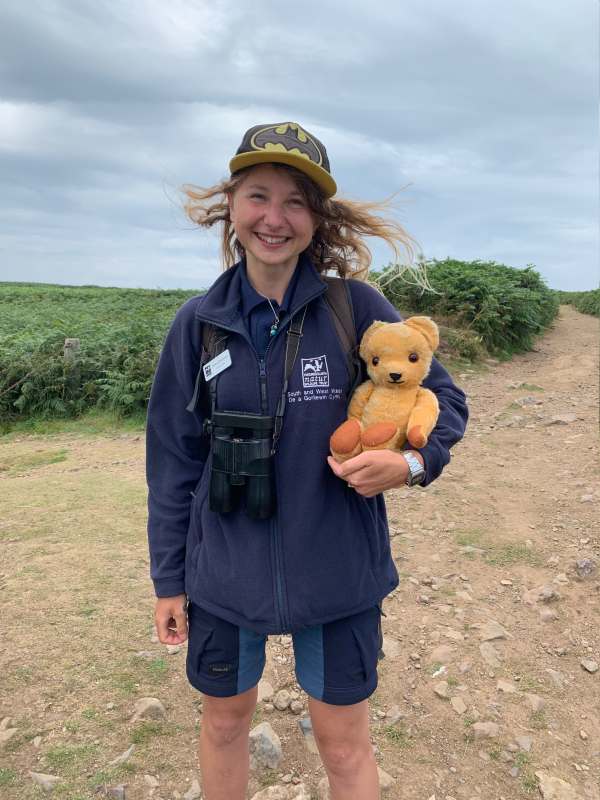 He walked slowly to the farm. The centre of life on the island, where the volunteers and assistant wardens lived. And where you can also stay self catering.
Bobby: "More than anything, I realised that this had become a young person's island. Yes, some of the old stagers were still volunteering, but I felt that the time was right to say it's yours. My future is relaxing on Skokholm. Thanks for the wonderful memories."
We never went round the island, but relaxed. He wrote his letters. We saw the visitor centre. Met some lovely visitors .
Even met Tim, the Skomer vole man. An old friend who told a story.
Tim: "I first came to Skomer in the 1970s, before they had built the steps up from the boat. There were rough steps, much like you see on National Trust properties. I was the only one there with the warden. He had to leave the Island and asked if I would be OK? I said yes! Good. Please milk the goat. Which I did for a fortnight."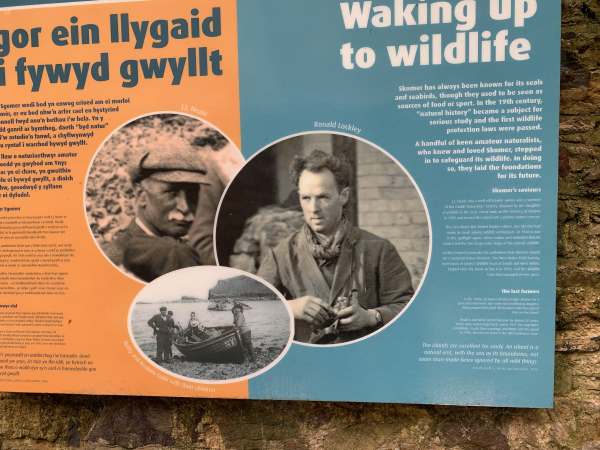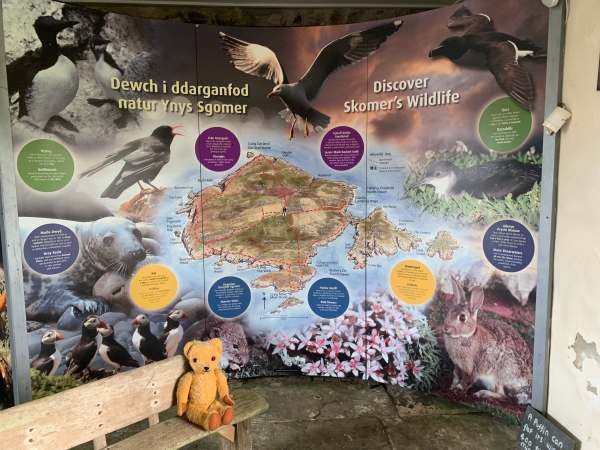 Slowly we made our way back to the boat. Down to the very lowest step for the lowest tide we had ever seen on Skomer. And waved goodbye to the island.
Cara Dillon – "The Leaving Song"
Back to the car. Back along those wonderful Pembrokeshire lanes, we decided that tonight would be a good night for fish and chips at "Something's Cooking". Towards Fishguard, at Letterston. We have been customers there for over 30 years. For far less years we have been friends with Tunde, and look forward to seeing her each time we come back to Pembrokeshire.
Cara Dillon – "The Lark in the Clean Air"
Lighting a Candle for Diddley in Pembrokeshire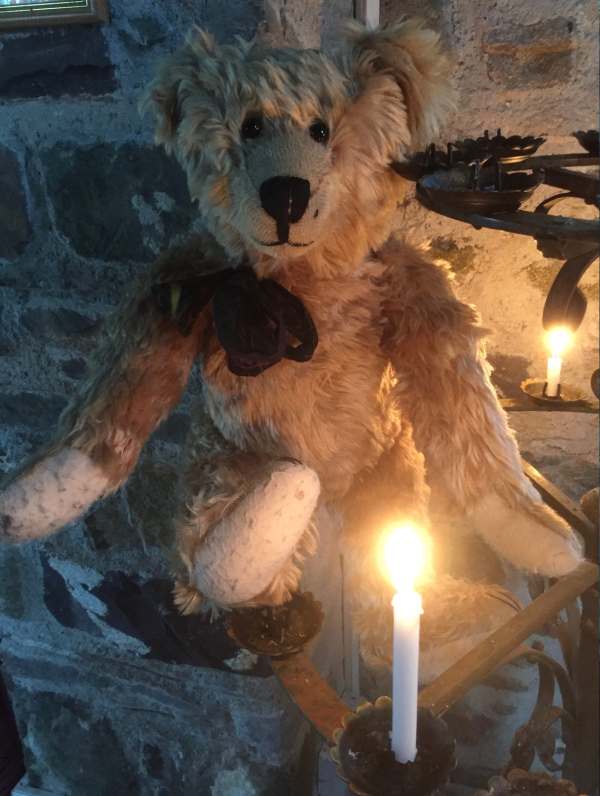 – – – – – – – – –
---