Life as the Other Half of an Alcoholic.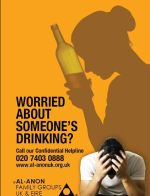 Life as the Other Half of an Alcoholic.
Mindfully Bertie commends the Daily Telegraph for publishing the article below. In doing so, we see an opportunity to also commend an organisation whose sole purpose is to help those who suffer from other people's drinking. Those affected by an alcoholic.
Al-Anon. Does not promote itself, but offers you and everybody else reading this blog the chance to find serenity in the mad world created by alcoholism. It may not be for everyone. All we suggest is that you give it a try. Bobby is convinced that the combined affects of his own anxiety (GAD), and his beloved Diddley's drinking, would have been unsustainable had he not found the rooms of Al-Anon.
We urge you to read the Daily Telegraph article that follows. And consider if you or someone you know is struggling with life in the way in which the writer so eloquently describes it. Situations so familiar to members of Al-Anon.
Daily Telegraph Article
This article is about the affect of one person's drinking on another. In reality it goes far beyond that in affecting a whole raft of people. Family and friends. Even after you have lost the alcoholic the affects of their disease will continue to affect their loved ones long after. This is the case in Bobby's family.
Diddley would have hated her name being used in this manner. She didn't have a problem. For she was a functioning alcoholic. She didn't hide drink. Really! Never humiliated Bobby. Really! Always loved him and never meant to hurt him. Even when declaring that life was not worth living when told officially that her body could no longer survive alcohol. So Bobby says sorry to the love of his life and hopes that by telling the story that others may gain some comfort and knowledge.
---
Lighting a Candle for Diddley.
This week's candle is lit in St Anne's church, Soho. Just a few yards from Shaftesbury Avenue and Theatreland. A church founded in 1686 and destroyed by a German bomb in 1940. Leaving just the steeple. For years, the church grounds were used as a car park and complete demolition forecast. Until a committed set of determined people re-founded the church by building modern rooms within the grounds and turning the remainder into a garden. It's a remarkable story of fighting adversity. One that I doubt I would ever have known had it not been for writing a blog dedicated to those l love and their memory.
---