Paris to Munich.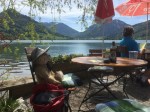 Railway Journeys: Munich.
Clerk Ordinaire, pen pusher, in civil service parlance… an "inky" to a civil engineer's "oily". Bobby is all of these things. When Diddley died what was the first thing to do? Correct. Set up a file. With a stationery cupboard looking like a mini Rymans, it was all there. A ring binder. New, A new pack of coloured dividers. All soon labelled with headings for all the activities that would dominate the next few weeks. It was, of course, bereavement therapy. Time for tears later.
Less than a year later, he was at it again. This time, a file for Continental Railway Journeys. A plastic wallet for every single day of the adventure. Labelled. Containing travelling and accommodation details. Tickets. Printouts. Local trips. So here we are at day three. Paris to Munich.
A new station. Paris Est, to catch the 15:25 TGV to Muenchen HBF. A vast double decker streamlined wonder train. Our reserved ticket miles away at the front of the train. Downstairs. The train full but all tickets reserved so no standing. A little claustrophobic maybe. Upstairs, a standing only buffet observation car to watch the world go by.
Relatively featureless countryside. At one time, the speedometer in each carriage clocked 326kph. (202.5mph). Now that is shifting. Nearing Muenchen for 21:36, the German couple opposite told Bobby about their hometown Ulm and its famous Minster. Where they were getting off. Bobby told them about me. As you would expect, they wanted to see me. Ursula fell instantly in love, as many ladies do. Now, ten months later, I find that Ulm Minster is the tallest church in the world. Beating Lincoln by 6 feet.
At 21:36 precisely (Southern take note after 20 miles to London) the train was dead on time. We had booked a hotel outside the city centre. At Messestadt Ost. Only in retrospect did we learn that Messestadt means Festival Town. A new town of hotels and business centres. Reached by underground U2 (red line), with an underground map of Munich ready in the folder. Of course. No human beings involved in getting a local ticket. Work it out. German as well. A seemingly new line. Austere bare concrete walls. Station names just stencilled on the bleakness. Escalators with a mind of their own. Only working either way when you approached. Impressive engineering, but somehow lacking soul.
Bleakness personified. See the stencilled station names. Maybe it isn't finished? Maybe this is it.
A beautiful hotel. Brand new, perfect, with nothing at all to look at apart from exhibition centres. And a bar full of Bayern Munich fans watching the German Cup final. They tried to annoy Bobby by saying they were best at everything. Who won the league last year?… BAYERN, the year before? … BAYERN, before that?… BAYERN. In Germany, football is a man's game played by real men. And BAYERN win. They were a little disagreeable when he told them that in the clearly superior Premier league the players were a bunch of lying, cheating, overpaid wankers. And Leicester would win the League. Men! If they could get a rugby team together they would be destroyed by England. In desperation they mentioned cricket. A sport harking back to Imperialism. As he told them, it's a game for gentleman. For those who love a sport you can play for five days and hope it rains. And nobody wins. And despite the wall to wall adulation of the German National team in every window in Munich, they didn't win the the Euros as they expected to. National mourning must have been dreadful. Nor did we. Thankfully we were back in Blighty when we succumbed to Iceland. We are such good losers.
To be honest he loved my evening with them.
Just one day in Munich. Bobby's son, Andrew, often goes to Munich for his job. For his dad, he asked a friend there where to go for just one day in a big city. She told him. "if it's raining, the transport museum. If it's sunny, the BOB TRAIN." It was sunny.
BOB: Bayerische OberlandBahn. A private, non electrified, mostly tourist railway.
https://en.wikipedia.org/wiki/Bayerische_Oberlandbahn
The BOB train beckoned. Saturday morning. Sunny. Men in Lederhosen. Ladies in national dress. Standing only. Crates of German beer. It was Brighton on a Bank Holiday. With a difference. I liked them, and they liked Bobby and me.
The attraction was Schliersee. An alpine resort. Close to the Austrian border and beautiful. Just an hour from Munich. A day in the sun, and a lot of beer. Here is Gerhard, who loves English football. Comes over every other week. Been to all the big clubs and many of the smaller ones. Barnet, Luton, Fulham, Brentford. He knew them all.
Schliersee was really beautiful. But, like Austria, so beautiful it lacked a certain reality. Too perfect and manicured for a lifetime there. I longed for British wildness, yet admired the contrived nature of natural beauty German style.
It was my first exposure to the continental catholic church in all its gaudy, extravagant glory. Breathtakingly over the top ornamentation, lovingly cared for by the local population. So different to England.
We absolutely loved our day there before the BOB train and U2 Underground took us back to Festival Town. I had hardly seen anything of Munich, but was as content as it's possible to be surrounded by beauty. No more words for Schliersee. Just pictures that are a treasured memory.
"PS".
ITV PLAYER ….http://www.itv.com/hub/tales-from-the-coast-with-robson-green/2a4398a0002
See Robson Green in Pembrokeshire. Staying on Skokholm Island with Richard and Giselle. See "Dream Island" last year. Recommended.
BBC iPLAYER ….http://www.bbc.co.uk/iplayer/episode/b08fp59t/countryfile-winter-diaries-series-1-episode-1
See inside Boulby Mine.
Lighting a Candle for Diddley in St Sixtus church Schliersee Bavaria
---
---