Three Lions, the Lionesses and some Cubs.
Three Lions, the Lionesses and some Cubs
This is a story of hope, excitement, thrills, disappointment and reflection. It is told through the medium of three football matches. But don't worry. The football is incidental to the stories and all the games were lost. What we gain from team sport in terms of winning and losing is far more than just that. As team sports go, football is the world's game. And now the women and the children have a much larger impact than they ever did in wanting to be an equal part of it.
Three football matches. One in 1996, narrated by Bobby. One a week ago, narrated by "Ellen" (a new member of our team). And one the day after – narrated by me.
1996. Football's Coming Home. (By Bobby).
Brilliant video.
The Three Lions would surely win the tournament in their own country. ENGLAND. We had the team. Shearer, Gascoigne, etc. We had the support. We wanted it so badly. At the time, I had an acquaintance. "Sweetfa" is not his real name. But Sweetfa had connections. A Surrey FA (Football Association) referee, he had influence. You know…
England had reached the quarter finals and were playing Spain at Wembley. "I can get you in" said Sweetfa. "Just meet me in the car park at Wembley, dressed smart. White shirt, grey trousers, black jacket. No trainers." I agreed. 'Er indoors, (not Diddley) was aghast. "He is a crook. You must be mad!"
I still went. Even more determined to prove her wrong. In the car park, Sweetfa gave me a Surrey FA tie and a pass with his face on it! Led to me to the entrance where we were bound to get in. He went in first. I was thrown out and watched the game outside on a big screen. England won on penalties. I heard the roar. Never saw Sweetfa again that day.
'Er indoors was triumphant. "Told you so. When will you listen me?"
A few days later, he rang. "I am really sorry, Bob, but will you trust me to get you in against Germany? "Errrrrr … Yes." I told 'er indoors, who couldn't be speechless but mocked me for my gullibility. I went. Same clobber. Said 'hello' to Gary Lineker walking across the carpark. Put the tie and pass with Sweetfa's face on and approached a different entrance gate. The Press one. Sweetfa went first. Got in and disappeared again. Amazingly, so did I and found myself sitting in the press box. Fantastic. The Red Devil parachutists flew in. One with an enormous Union Jack. The other with the German flag. Tina Turner was smashing out "Simply the Best" at five million decibels. Fantastic. That was on tape. Just a month later, she was at the stadium in person rocking the world. What a performer…
And, for the record, and following an incredible life of ups and downs she is now a Swiss citizen. Her native country. 80 this month. November 26.
Until… "WHAT ARE YOU DOING IN HERE? GET OUT." I was thrown out of the inner sanctum, but not the stadium. Wandering around the hideous concrete back, out of sight of the pitch. I spoke to a friendly steward. Tried the "let's be dead honest" approach and he said "I'll get you in". And did. Posh seats. Later, found I was just above the celebratories. Frank Bruno. Franz Beckenauer et al.
Shearer scored for the Three Lions in that ghastly grey strip. Stefan Kuntz equalised for Germany. Extra time was played, using the golden goal rule. First goal ends the game. England so nearly did but, in the end, Germany won on penalties. As they always did. It was epic. Unforgettable. The sun shone that summer of 1996 and we were on the crest of a wave until that last kick. Worse still, was the reaction of the goalscorer. Andreas Möller.
Walking back down Olympic Way we were friends with the German fans. And, of course, they beat the Czech Republic in the final. With a Golden Goal. (Golden goals have not been used in the men's game since 2002).
In the end, the occasion was much bigger than the result. In England we are used to disappointment. In Germany, losing is disaster. Never forgotten it and now I have relived it all. Back home, 'Er indoors was even more triumphant. "I told you, didn't I!" I doubt she believed that I got in. No camera phones then. It didn't matter. I WOZ THERE! Watching the Three Lions.
Some time later, Skinner and Baddiel reissued the "Football's Coming Home" video. I think it's hilarious. Hope you do… Check out the German team shirts. Hahahahahahaha
The Lionesses. (Told by Ellen).
Back in 1996, Women's football was a joke to real men like Bobby and co. Not only couldn't women play a MEN's game, but were subject to sexist remarks that have no place today. A true red blooded male couldn't even watch a women's game without insinuations why he was there. But now, the world has changed forever. It took sometime before we caught up with other countries. Particularly Germany and the US. We still are catching up but, in the last year or two, we have finally made the big stage. Whoever dreamt up the term The Lionesses made a master stroke. This summer's World Cup opened our eyes to just how good women's football can be. For Bobby, it had come earlier with a granddaughter Daisy-Mae loving football.
And here they were back at Wembley. The new magnificent Wembley. Once again playing Germany. A friendly, rather than the intensity of 1996, but just as important in its own way.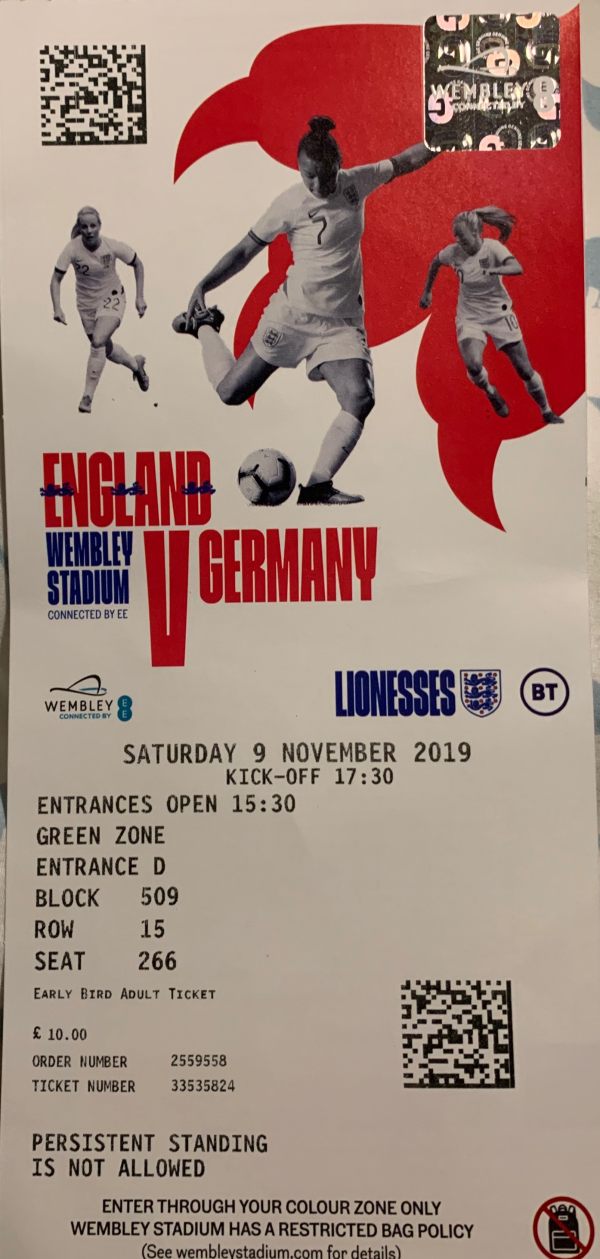 But this time, the Lionesses against the team ranked second in the world. An enlightened decision to make ticket prices accessible to all. Just £10 adult, £1 child. Led to it being a sell out. 87,000 tickets sold. 10,000 didn't turn up in dreadful weather unnoticed by the 77,768 who did.
An England flag under every seat. Much tighter security. No chance of taking a big bear, so Bobby bought me. He got there as the gates opened. Two hours before the kick-off. Thousands of children by then enjoying an experience they will never forget.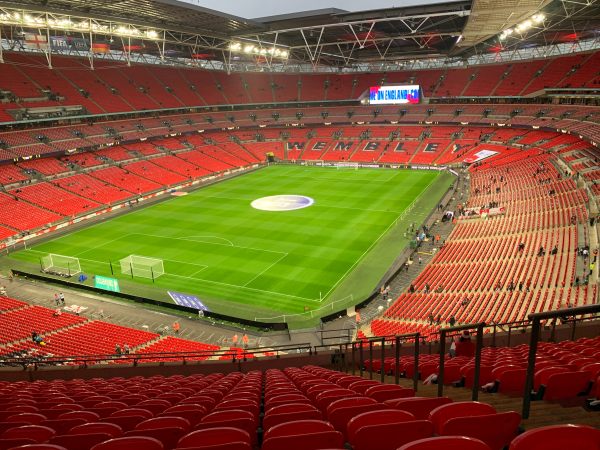 Remembrance Day observed with the "Last Post" and a silence before the game started. Germany scored, but then Ellen White did for England and the roof nearly came off. And, as usual, Germany pinched it with virtually the last kick of the game. Disappointment rained down, to be quickly replaced by WE WOZ THERE. With family and friends. A night to remember.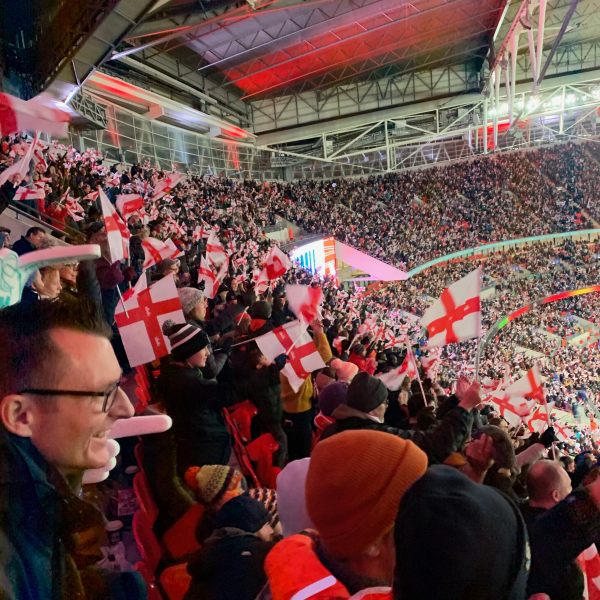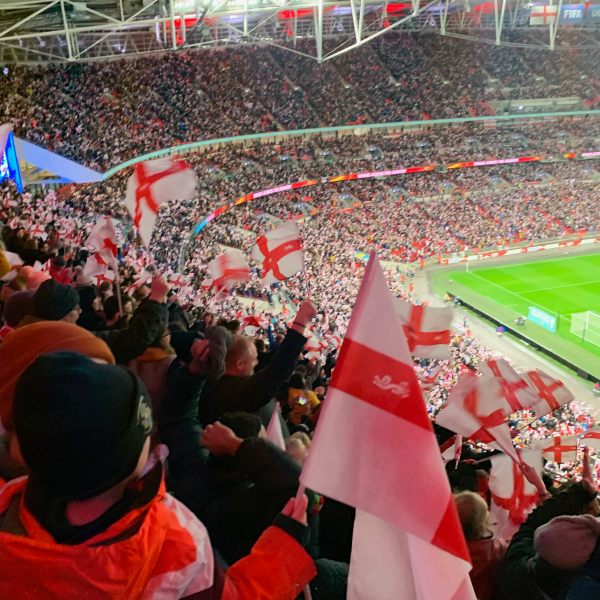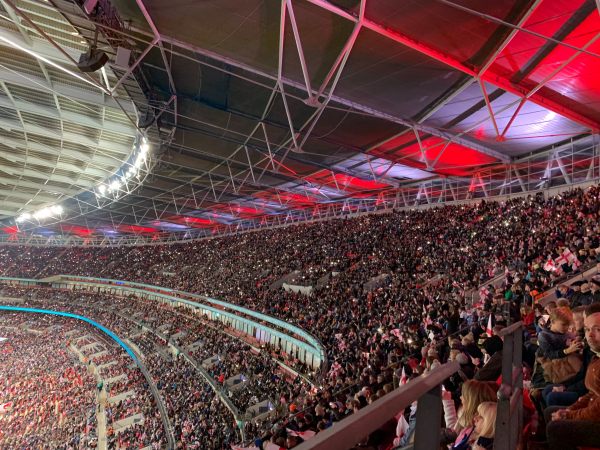 Down on the underground, heading for home, the girls decided that I should be called "Ellen" in recognition of England's goal scorer. So Ellen I am. The First Lady in the Mindfully Bertie team, with duties involving football and very tiny places where big bears can't go.
The Cubs. (Told by me).
East Preston U11 v Wick Dynamos.
The very next day. The crowd had shrunk from 77,768 to just twenty grandparents, parents and friends. Remembrance Day was observed in true reverence at exactly eleven o'clock.
A great game ensued, eventually won in good spirit by the Dynamos. It didn't matter… Well actually it did. But then it didn't. This is grass roots football, where characters are formed and all the old cliques still matter. Yes they lost. This week. Next week they could win. In the end, it was the most important game of the three. This is growing up playing for your team. Respecting your opponents and loving the beautiful game. Bobby has been to Wembley just twice in twenty three years as described above. He watches East Preston under elevens every Sunday and, maybe, one day, it will be Daisy playing at Wembley.
Lighting a Candle for Diddley and for the beautiful game.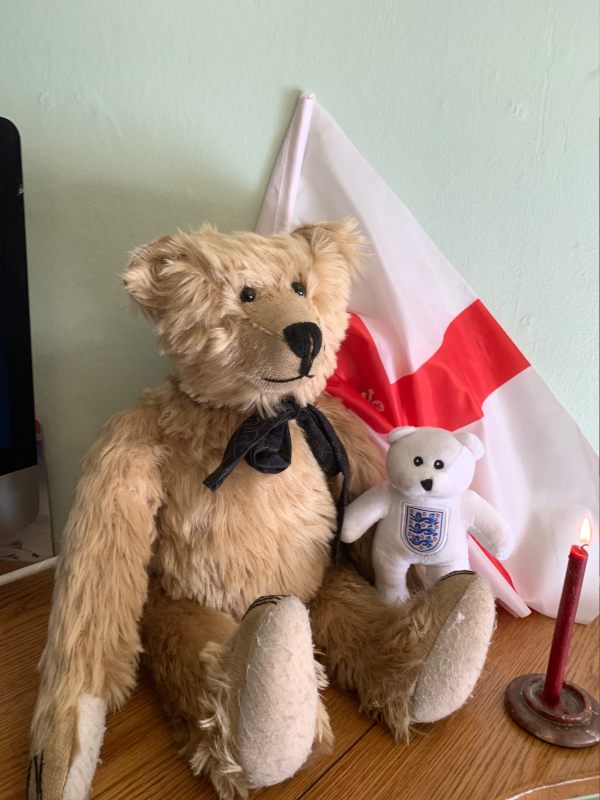 – – – – – – – – – – –
---