Uncle Dick.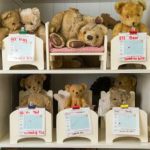 Uncle Dick.
Dear Friends
Today is our ONE HUNDRETH BLOG. Or would have been. I am sick as a parrot, and decidedly Uncle Dick. The symptoms are… my bleedin 'ead is coming orf!
It had been such a wonderful day. Escaping the heatwave on the river. Hampton Court to Richmond and back. A future blog maybe. Lots of admiring ladies.
Les girls: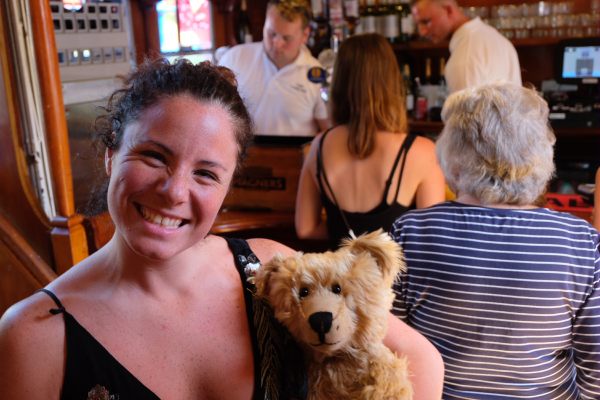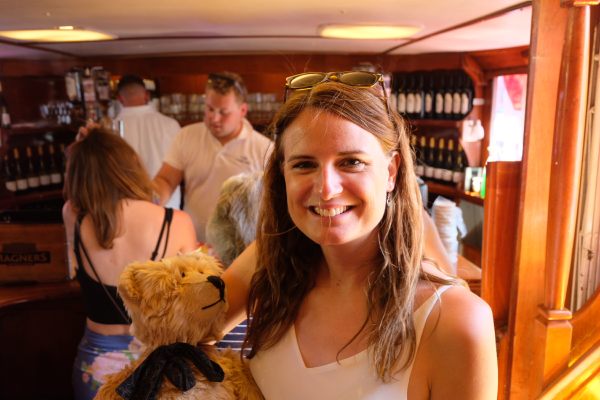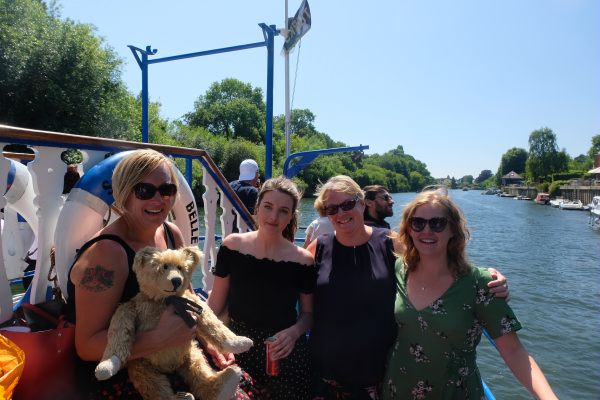 But, even on the river, it was still exhausting. Lying in the shade on the river bank later, where Henry the Eighth may have canoodled with Anne Boleyn, Bobby noticed I was Uncle Dick … my head was more wobbly than usual. It's major surgery, I am afraid. Fur transplant, probably. The inevitable wear and tear of what has been a fantastic adventure.
Look on the bright side. My bonce was close to coming off. How embarrassing would it have been if it had parted company with the rest of me overboard. Last seen floating towards Putney.
So it's the Teddy Bear Hospital. And here we see another side of Bobby. Or two, actually. Anxiety strewn opportunism (see GAD). Put it this way. I remember when he took Diddley to hospital in Kent. The Civil Service hospital, near Tenterden. He stayed in the B and B attached, because of the distance and his anxiety about her welfare. She asked why he had his bike in the back? He replied. "The hospital say you must have plenty of rest and I should only come in the evenings." "Really?" He cycled all over the place, including the Romney Hythe and Dymchurch Railway, which we will feature one day. But that was not as indelicate as the preceding appointment for an investigation. With a camera. She was very nervous and in a bid to cheer her up he came out with. "Cheer up. At least it's not a Canon SLR!
Bobby's insecurity will not allow me to go by post. He will take me in person. Narrowing down. Dorset or Cornwall. He has chosen Lyme Regis.
The hospital is very busy. I am booked in on 20 August 20. Bobby is staying down there. Messages of goodwill, chocolates or just money to pay for his "holiday' will all be gratefully received.
For now, Mindfully Bertie carries on, even though I'm Uncle Dick. There are stories lined up, but I am not in the mood. Instead, until I have sorted out my Otis Redding, Trevor has his chance to carry on where he left off…
Lighting a Candle for Diddley.
Here in the garden of Laurel Cottage, with the sweet peas she loved.
– – – – – – – – – –
---