You're a Twat!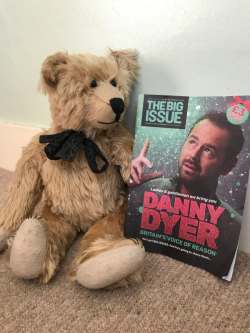 You're a Twat!
Bertie: "Bobby… Wot's a twat?"
Bobby: "It's a word used as a derogatory epithet to accuse someone of being obnoxious or stupid."
Bertie: "Errr… If I ignore your Clever Dick words, why are you insulting all our readers?"
Bobby: "I'm not. This is a misunderstanding exemplified by jumping the gun and making politically incorrect accusations by assuming that the words are spoken or written in a certain way."
Bertie: "No idea wot you are talking about mate."
Bobby: "'You're a twat' could be an insult as you suggest. But it could also be the title of this story, for which the explanation will be found further down. In particular, it illustrates how in this age of mass media quite innocent remarks can be misunderstood. How minority views can be used to create ridiculous situations. How, if I suggested you don't understand what I am talking about might be misconstrued by you and lead to you accusing me of you being stupid or just a brainless bear."
Bertie: "Oi. Wotchit, mate. 'Oose blog is this? Bleedin' smartarse!"
Bobby: "Calm down, Bertie. For your education and, hopefully, some entertainment for our readers, I will try to illustrate what this about. First with a song that some loved, but others thought awful. Diddley loved it and Ian Dury. Predictably."
Billericay Dickie: Ian Dury and the Blockheads
Bertie: "So, Bobby… Does this include Political Correctness?"
Bobby: "…Yes!"
Bertie: "…I have heard one or two people say some of our stories are not politically correct. Or PC for short."
Bobby: "The trouble is, Bertie, a lot of it's opinion. What may not be PC to one person may be no problem to another. It's become a much bigger problem nowadays, when more and more people moan that things are not PC. That's the problem with Social Media, Instagram, Twitter and so on…"
Bertie: "Like what?"
Bobby: "…Well, let's see now. Imagine that someone said that all grown men with teddy bears are gay."
Bertie: "You are… Most of the time…"
Bobby: "…Yesss? Put it another way. Grown men with teddy bears as best friends haven't grown up."
Bertie: "You haven't!"
Bobby: "…Look, Bertie. Many people think PC has gone too far. Let's think about where we are now and where we used to be. All the comedy shows you are about to see could not be shown on TV today…"
Benny Hill.
Benny Hill. "Sale of the Century" 1970s.
Alf Garnett.
Alf on Europe
Dick Emery.
Dick Emery – "the milkman"
Kenny Everett.
Kenny Everett as "Cupid Stunt", talking to Michael Parkinson
Kenneth Williams.
Kenneth Williams – Chat show with Joan Rivers
Spike Milligan.
Spike Milligan – The Irish Astronaut.
Frankie Howerd
Frankie Howerd – Ode to Flavia
—————————————————
Bobby: "So, you see, Bertie times have changed. Our view is that they want to lighten up. It's our opinion that these shows are no more provocative than seaside postcards."
Like these:
Seaside Specials
And not in the same league as reality shows today like "Big Brother", "Love Island" and "Naked Attraction" et al. And, ultimately, you do have an "off" button on your TV. But then, you would miss our beloved former Prime Minister David Cameron.
So here he is explaining his attitude to Twitter –
And now for the main course…
You're a Twat.
The inspiration for this story comes from an article in the highly respectable "i" newspaper (above). Entitled:
"The voice of reason or a loud-mouthed caricature?" An article that starts…
Dyer has always been an easy target. His patter over the years has evolved him into a character that is almost beyond parody. How is it, then, that Dyer of all people, has quietly become our political voice of reason?
Bobby, from his own experience, really identified with what followed. Although much of this story may involve the ascendancy of the "thought police" into every aspect of modern life. Personified above by what we may have lost. There is one area where we have gained immeasurably. The acceptance of regional accents. In his young days, anything other than a traditional southern "Oxford" accent was seen to be a handicap in life. Nowadays, every accent under the sun is prevalent on television and all the other media. Regional accents are celebrated.
It took years for Bobby to shake off accusations of being common as muck. Not coming from London, but Surrey. Don't you know. Being cajoled for calling himself Bob Ball rather than the far posher Robert and feeling undermined and humiliated in having a working class chip on his shoulder. His success at a posh grammar school ignored. His parents may have christened him Robert but called him Bobby/Bob from day one and ever more. It's a minor complication in which name to use on official documents. His salvation finally came when, at his son's wedding in 2005, he was first to sign the register. And triumphantly signed it "Bob Ball. Father of the groom."
So finally, here is what Danny Dyer thinks about Brexit. As told to Piers Morgan on Breakfast TV and in this month's Big Issue.
"They have been given this thing called fxxking Brexit because of one man (Mr Cameron). 'One man', says the Eastender's actor. 'Who we voted in to be our Prime Minister; who purely for his own ego decided to call a referendum just to get rid of Nigel Farage.'"
Then it was Farage's turn: "Another prick in a suit who tapped into something and I suppose it is that white working class, middle aged man who lost his voice slightly. He tapped into what he felt maybe they wanted to say and twisted it. He got a bit of a following, so Cameron decided to call a referendum just to get him".
Then it was Boris Johnson's turn. "Running around with his stupid haircut, talking bollocks".
He added: "Well fxck you Cameron you posh twat. Sorry. It backfired on him. Didn't it? And what's he do? He fxcked off. He doesn't like the way it went and he fxcked off. Young people look and think 'If these are the people running the country why shouldn't I go and loot and riot?' They just don't give a fxck.This them against us vibe has got worse. We are living in an age of food banks. How the fxck did that happen? Seriously!"
On Cameron: "He called this on. Where is he? He's in Europe. In Nice, with his trotters up, yeah where is the geezer? I think he should be held to account for it."
As the "i" observed… With politicians alienating people on all sides, Dyer is cutting through the crap – and, importantly, getting angry. His penchant for the word "twat" might make it easy to dismiss Dyer as a loud mouthed cockney caricature. As some have done.
But Bobby and I, from Sarf London, salute you, Danny Dyer, for saying what many are thinking (without so many "Fs")!
And finally watch this to the end. Absolutely hilarious… Be sure to watch it to the end.
Lighting a Candle for Diddley.
Here's the Lord's Prayer, by Ian Dury:

– – – – – – – – –
---