A Perfect Day
Perfect Day
This story started as 'Coming Home'. Then became 'How Important is it?'. Almost declared at 'People'. But definitely rests now at 'Perfect Day'.
Is there such a thing as a perfect day? Or a perfect anything? We learn in Al-Anon that the pursuit of perfection is often the cause of untold mental strife. It also represents insecurity in the perfectionist, being unable to accept that the world will always be imperfect.
Doing your best, and accepting the result, is one way of seeking serenity. In retrospect a day may have become perfect. Through rose coloured spectacles maybe. Achieving triumph over adversity. Surviving another day. Making someone happy. If it makes you happy, it could be a perfect day.
People
'People who need people are the luckiest people in the world.'
There are times when the emotions run so high that we forget what really is the most important thing of all. People. And our relationships, or lack of them, when we need them most. Or when they need us.
How Important is it?
As we sat in the pizza restaurant in the Strand, we knew that the anticipation of days, weeks, even months was finally coming to fruition. The plans, one by one, being dashed by simple signs on doors. CANCELLED.
But not this time. The Adelphi were still selling the few remaining tickets on line at 12:00. 'Back to the Future' awaited, just a few hundred yards down the Strand. The phone pinged. Bobby read the message and without saying a word passed it to Andrew, Marie, Giselle and Daisy-Mae. The disappointment was immediate.
The solution soon followed. Nobody had died. Well, actually Archbishop Desmond Tutu had. DJ Janice Long had. Thousands had. Millions, even. But not at the Pizza Express. Very quickly we decided how to make the best of it.
"Just think of all those people who had lost their wages or even their jobs." we were reminded by young Giselle.
Bobby quoted Al-Anon slogans: "Live for today" "How important is it?"
"Tell you what!", said Bobby. "How about I take you on a tour rather than just going home. Provided you come into St Martin in the Fields next door to light candles."
"Who for?" asked Giselle.
"Anyone or anything."
"Marmite?"
"Fine, but don't tell anyone. It's your special candle (Marmite was her cat. See 'Cats'.)
The rain had stopped, and off they went. Despite the pandemic and its effects, people were happy. Everywhere you looked. People with people. Apart from that homeless chap sitting on the wet pavement with his cardboard cup.
"Any change mate?" Ignored by most, as he didn't really fit the happy bill. Anyway, he was soon chatting on his smartphone. St Martin would restore our optimism. Closed. The Coliseum. Closed. Theatre after theatre closed. 'Performance cancelled' on the doors.
St Paul's Covent Garden. The Actors' Church closed. The Royal Opera House closed. The café at the London Transport Museum – OPEN. "Sorry sir. We've just closed!"
"What's a football team beginning with 'O'?" asked Daisy-Mae.
"Oldham Athletic." Whatever happens for Daisy and Andrew there is always football to fall back on.
Somehow it became funny. 'People' itself sung by Barbra Streisand came from 'Funny Girl'. The highlights of the day became Mooboo, and a café. The buzz of Covent Garden. Deciding how lucky we were to be together in London. Planning how to rebook the shows with the credits we had. And to walk back across Waterloo Bridge after dark. Even see the ice skating at Somerset House first.
"Please leave the ice. This session is ended." just about summed it all up.
Walking across Waterloo Bridge in the dark mesmerised by the glorious lights of London reflected in the Thames, it had become a perfect day for a family.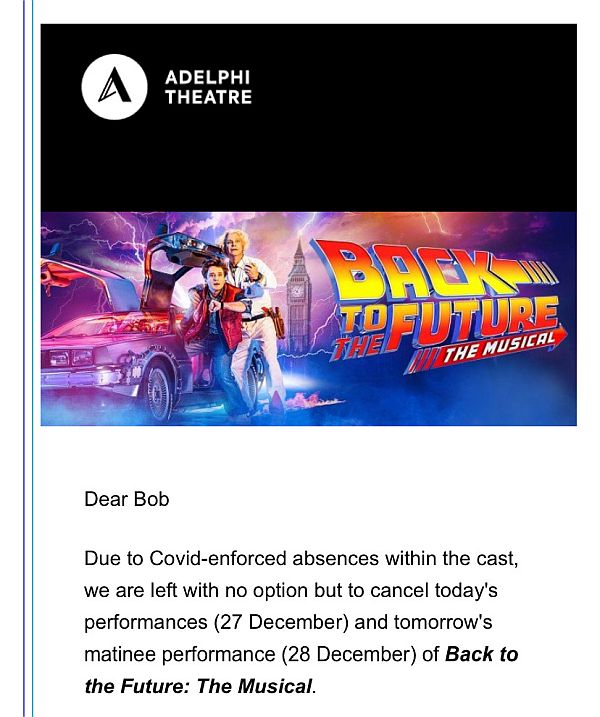 Mooboo. The Best Bubble Tea in London.
Coming Home
Bobby and I came home twice on Christmas Eve 2021. Once to Laurel Cottage and once to St Martin in the Fields. Laurel Cottage is, of course, the home of Mindfully Bertie. Full to overflowing with memories of a wonderful romance.
Once ringing with the sound of grandchildren, it is now a peaceful retreat from the trials of the world. Where the birds are our honoured guests and we revel in their company. Whilst buying enormous sacks of food to satisfy their hunger. We love living here and count ourselves lucky to call this 'home'.
St Martin in the Fields is more than home in the spiritual world. It is a sanctuary. Whilst the love of churches has often been explored in Mindfully Bertie, there is only one that really fulfils every emotional need you could possibly have as we travel through life. Only one.
It could be, of course, the familiarity of a place we visit virtually every week. A place we missed dreadfully during lockdown. A place we visited first when we finally had the courage to go back to London.
On Christmas Eve afternoon we had booked the Garrick Theatre as part of a Christmas holiday in London. The show 'The Drifters Girl' really appealed to us. Full of wonderful music.
As we approached Christmas Eve, the Covid concerns exploded. 'Omicron' was on everybody's lips. London shows started to be cancelled. Should we just stay at home? Should we/shouldn't we? In true Christmas spirit, we Lateral Flowed, checked the show was on; caught a half empty train to London. Ate M&S sandwiches by the Thames.
With time to spare, we walked across the Jubilee Bridge in a light drizzle and headed for the Garrick. Passed the front of St Martin's. Time to light a candle. A concert was on. A baby donkey the centre piece of a Christmas celebration. We couldn't stop. But noted two family carol concerts at three and five o'clock. Should be able to go to the later one.
On through the drizzle we approached the Garrick. Nobody around. There's a sign on the door…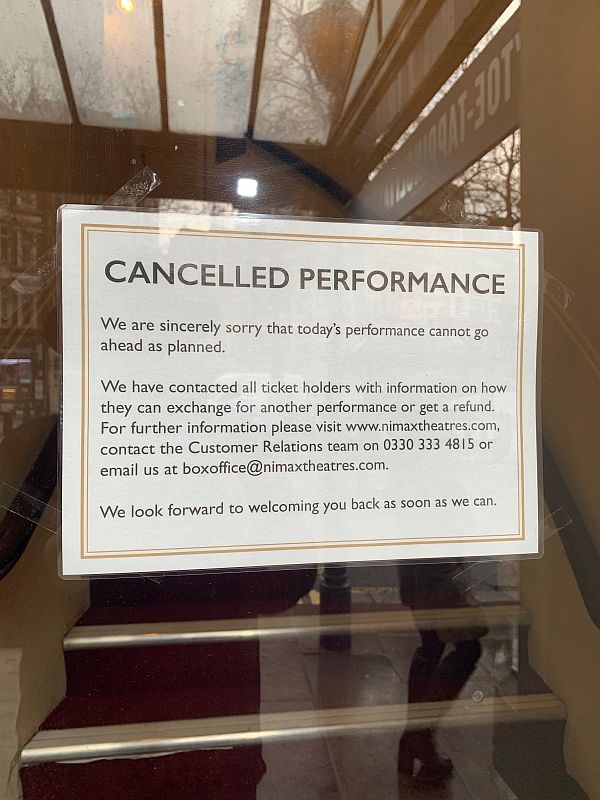 In true Al-Anon fashion we thought "How important is it?" Well, not at all really. Our nervousness at going into a theatre somewhat assuaged by the knowledge we could go to the carol concert at three. The church was almost full, but spread out. The large doors left open for ventilation. We had come home.
Later, walking in the rain back across the Jubilee Bridge, we thought how much we loved London. Wet pavements reflecting lights have a very special appeal. We knew we could go to see 'The Drifters Girl' another time but, for now, we had left our home in London to go back to Laurel Cottage. It had become a Perfect Day.
St Martin in the Fields
On the edge of Trafalgar Square, opposite the National Gallery, it is very different to the glories of St Paul's, Westminster Abbey and so on. Whilst undeniably majestic, it retains the common ground. Free to sit in whenever you like. Light candles to those we miss. Most famously, a stronghold of music. Concerts all year round. Handel's ' Arrival of the Queen of Sheba', famously played at the funeral of Diddley, was recorded in St Martin's.
And how can we leave out the wonderful crypt café and its celebrated apple crumble with custard. Or, indeed, the most public toilets down in the Crypt.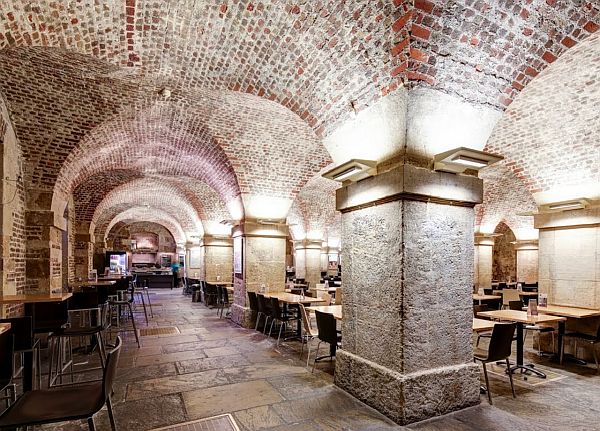 And finally
We discovered something very special. Bobby's grandad, George Balls from Thetford in Norfolk, brought his future bride Miriam from Mildenhall in Suffolk to London in the late nineteenth century. Undoubtedly seeking work from the poverty of rural England.
Elizabeth, our resident genealogist, discovered that they they married in London on 27 September 1898. In St Martin in the Fields! We are tracking the archives and hope to post more details eventually.
Lighting a Candle for Diddley in St Martin in the Fields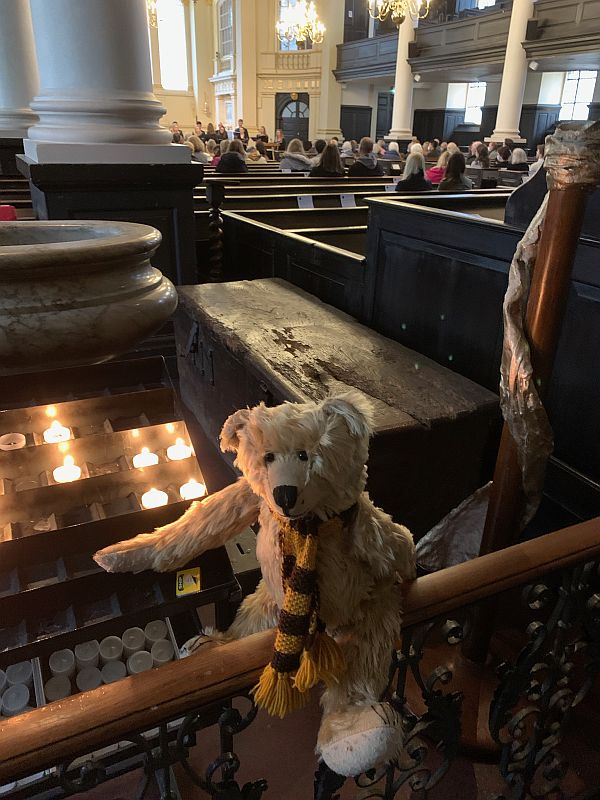 – – – – – – – –
---