April in Paris – Pt 1
April in Paris.
Bertie: "What's the matter with you, Bobby me old mate?"
Bobby: "Gout!"
Bertie: "They took my bleedin 'ead off last year. Anyway, wot about our 'oliday round Europe?"
Bobby: "Well, it's just two weeks away and I can hardly walk."
Bertie: "Do you know what mate? I don't think you really want to go."
Bobby: "'Course I do. I've booked all the tickets and reservations."
Bertie: "Well, in the past you were dead up for it mate. Full of it. Over excited, even by your standards. This year hardly said a word. Be honest. Do you really want to go?"
Bobby: "Those first two trips all round Europe on trains were fantastic adventures. Look where we went. Paris, Venice, Rome and lots of other places."
Bertie: "…and you had won that money. Bereavement was the excuse to blow it. Not just holidays, but all that new furniture. Doing the house up. Buying Eamonn. And anyway, let's face it… you are getting old, Bobby!"
Bobby: "So what to do?"
Bertie: "You keep banging on about your 'higher power'. I reckon gout has come from there. Given you an excuse not to go and save face!"
Bobby: "The train fares are lost, but most of the hotels can be cancelled. All apart from Paris."
Bertie: "Righto mate. Here's the plan. Go and see Dr Moffett and get her to recommend not going due to serious gout. Tell everyone and they will feel sorry for you. Then cancel everything, apart from Paris."
And that's what we did. Spending three days in Paris, spread over two blogs.
April in Paris
Arriving mid afternoon, the hotel was close to Place de la République. Gout or not, we were going to enjoy this April in Paris. This square was renovated a few years ago to provide a large pedestrianised space. One end is dominated by the statue of Marianne, personifying Liberté, égalité, fraternité (liberty, equality, and fraternity), the values of the French Republic. It's a great place for people watching. And has become the focal point for rallies and demonstrations. Much like Trafalgar Square in London.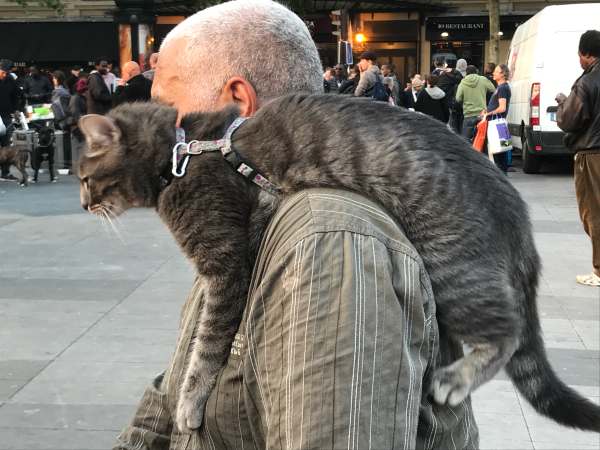 Gamelles Pleines volunteer. Translated "Full Bowls". Les Restaurants du Coeur. Translated "The Restaurants of the Heart". An animal welfare charity. Their website is only in French. If that is your hidden talent, try this: www.gamellespleines.fr. However, by the wonders of modern technology, Google very kindly does a reasonable job of translating the website, so those of us who are less fluent can also benefit. The translated website can be found by clicking here (link correct at the time of blog post).
It was quite an experience watching the sun go down over Place de la République. Loved it there. We did have just one planned visit. Predictably, the Musée de l'Air et de l'Espace.
This is the subject of next week's story. For now, we head on to our last day before heading home on Eurostar in the evening. With no plan, we noticed a leaflet for "Basilique Saint-Denis" (the Basilica of St Denis). Looked interesting. Had its own Metro station. So off we went.
We were quite unprepared for just how important this Abbey Church is in French history. Basically, nearly every French king has been buried there. The French Revolution brought vandalistic desecration and the removal of the bodies into mass graves. De-consecration followed, to be reversed by Napoleon in 1806. The full story would take a book. But, we can recommend en.wikipedia.org/wiki/Basilica_of_Saint-Denis, for far more detail.
When we arrived at the church, the door was locked for a funeral. Waiting by a café, in a pleasant garden area with seats, we were surrounded by school children and their teachers. All in school tabbards. Clearly waiting for a history lesson in French royalty before the Revolution. All very well behaved as we entered this magical place.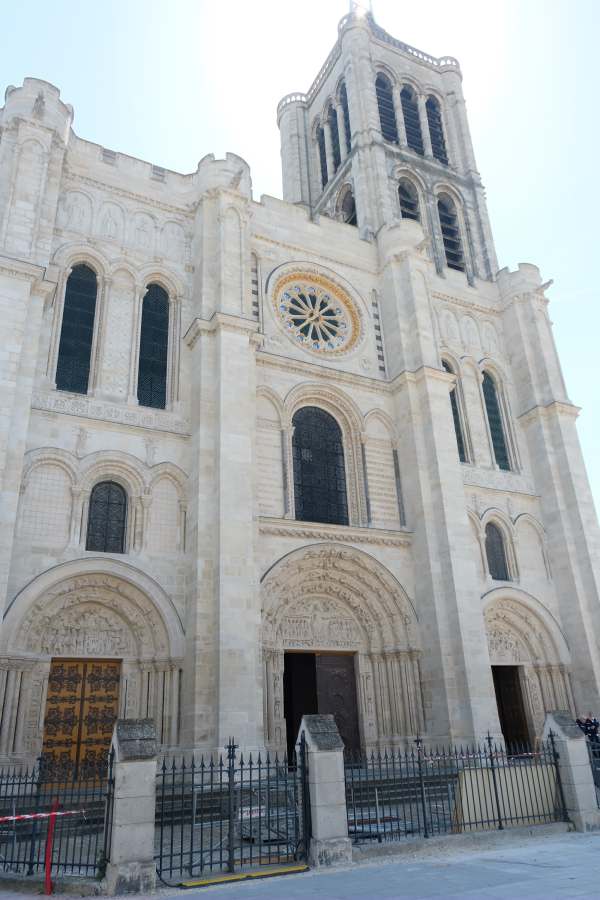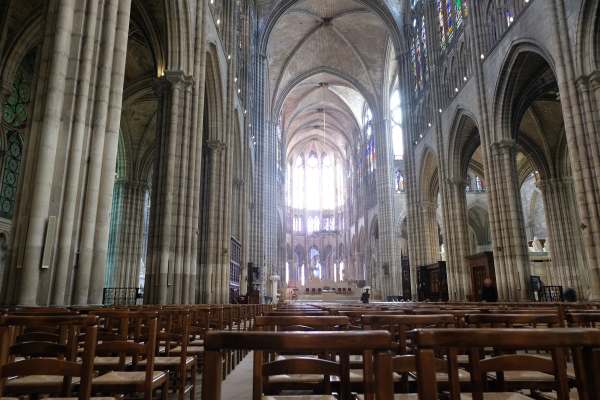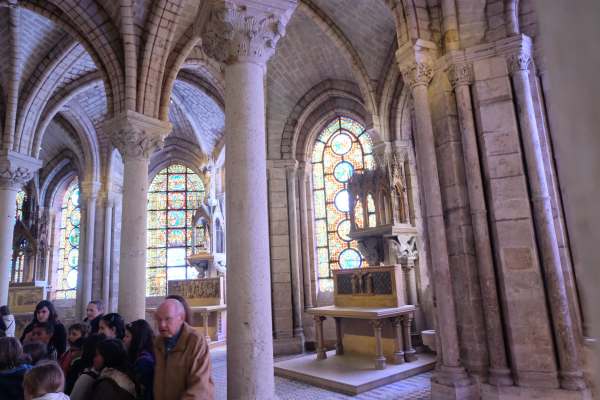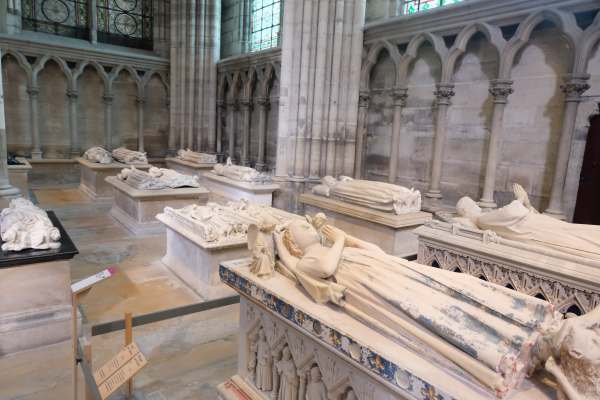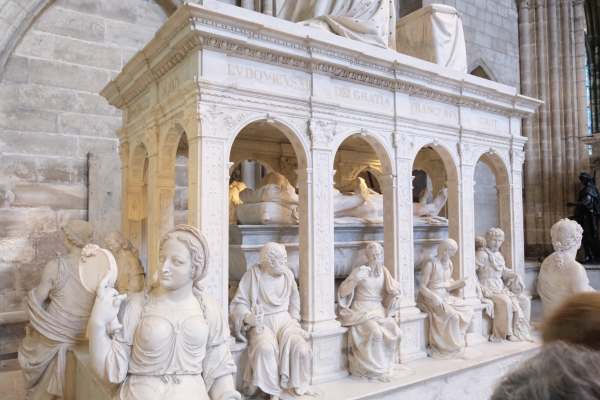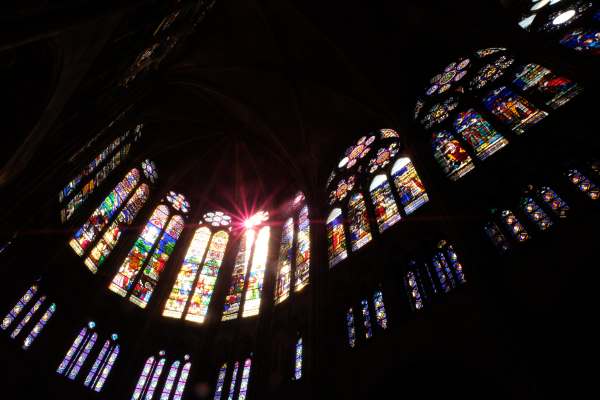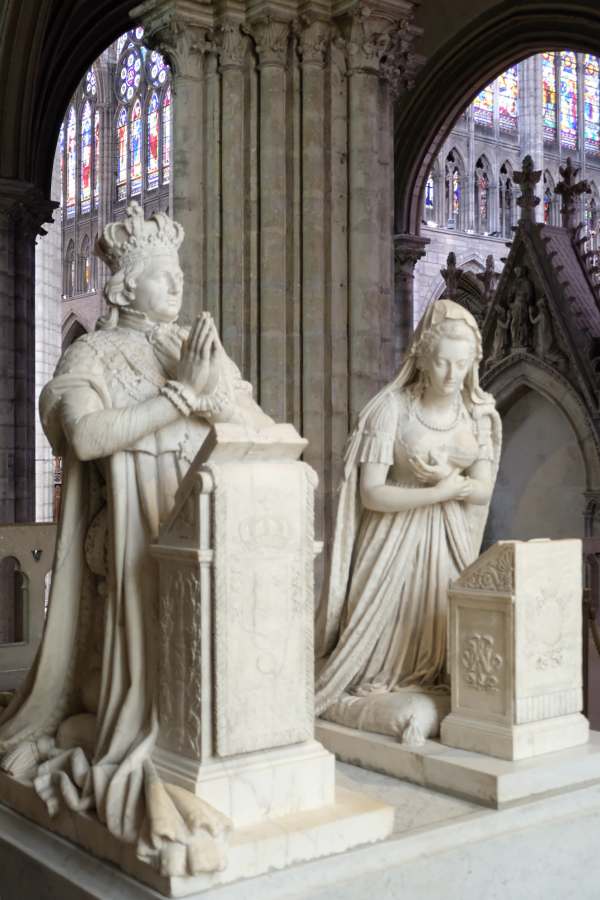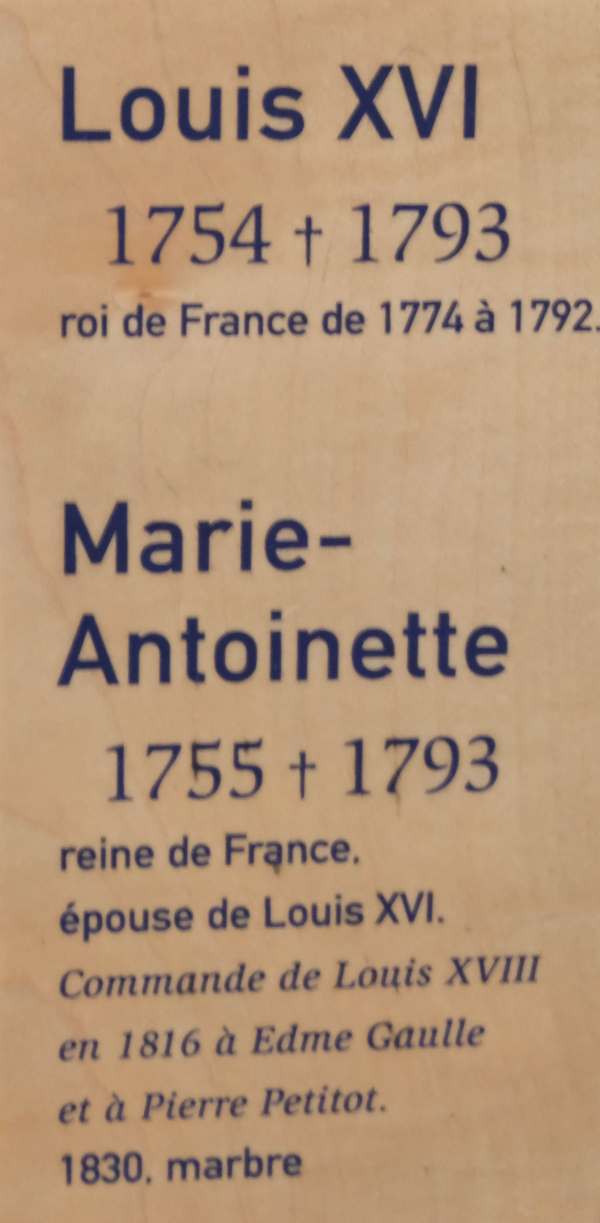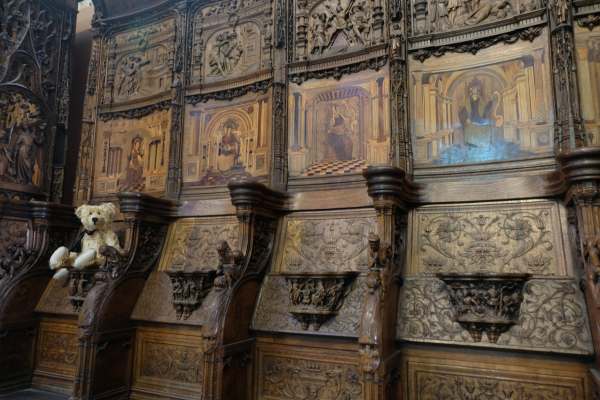 With an afternoon spare, we had a few rides on the Metro. A visit to PSG (Paris St Germain) football club and a boat ride on the Seine.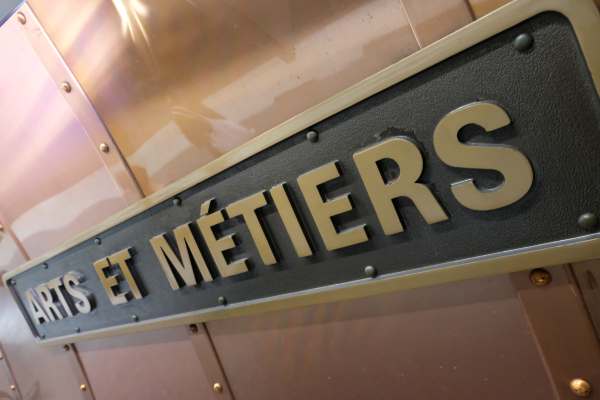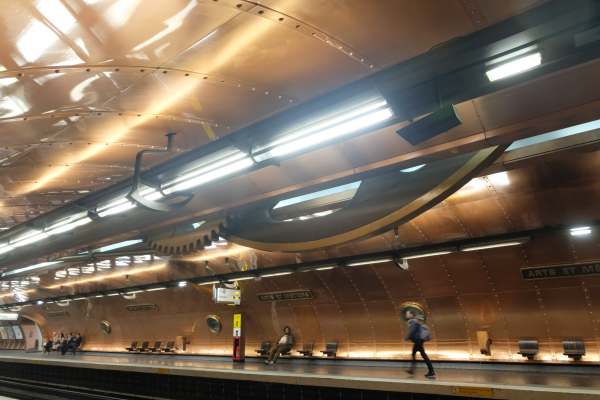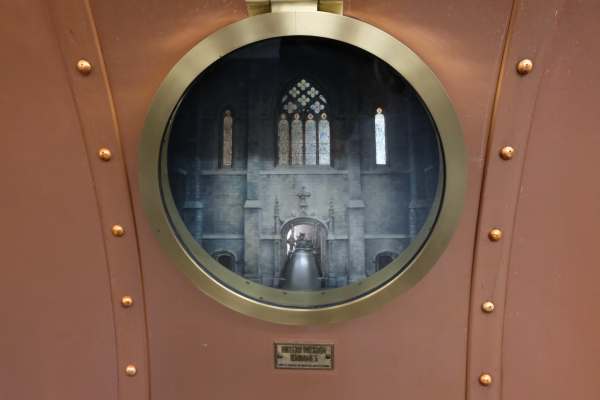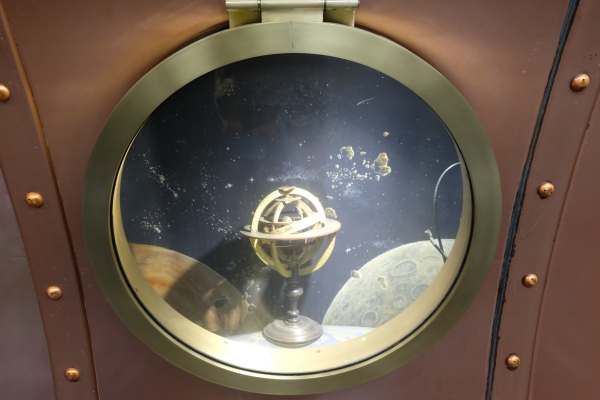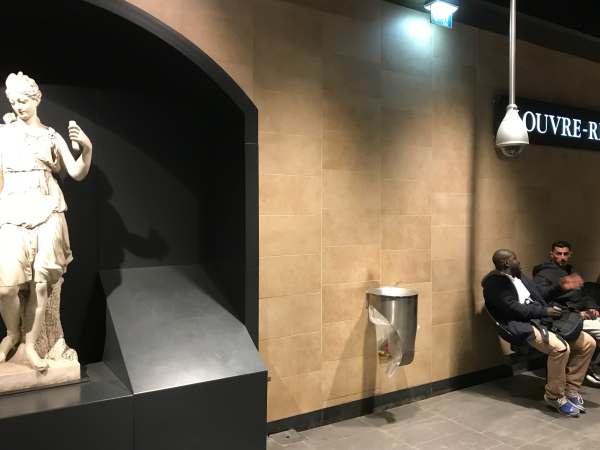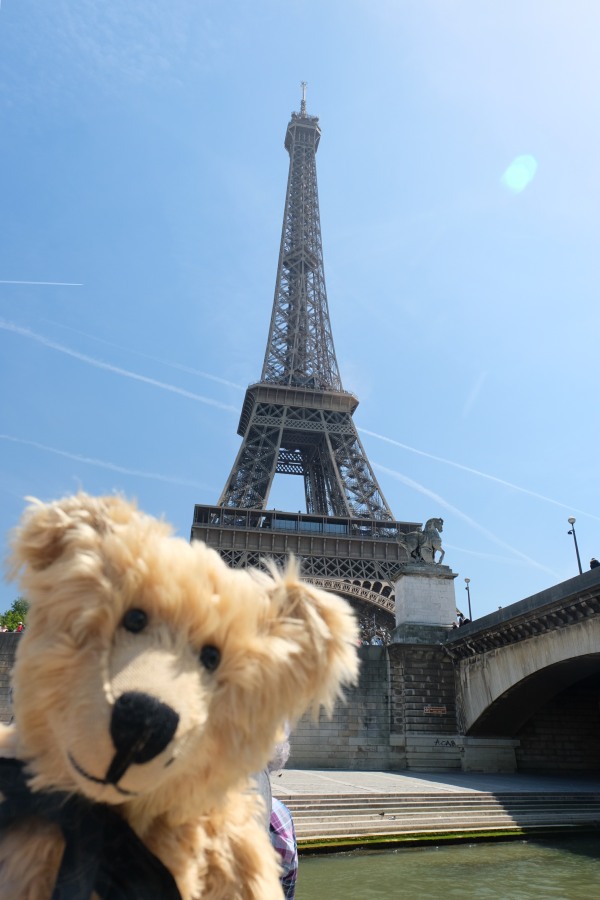 Next week:
Lighting a Candle for Diddley – and Notre Dame.
It's a stark reminder of "living in the day". One day, she will undoubtedly rise from the ashes.
---